Daily Business Report — Nov. 28, 2011
SD Metro Daily Business Report — Nov. 25, 2011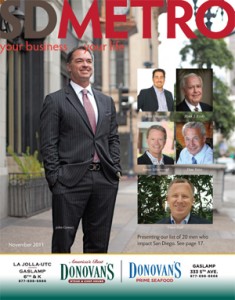 METRO Movers to Watch
SD Metro is soliciting nominations for our annual Metro Movers to Watch awards, which will be published in January. Send your nominations to Rebeca Page at rebecapage@sandiegometro.com. Nominate a man or woman you believe will make outstanding contributions in San Diego County during the new year. Nominations will close on Dec. 22.
City to Ask Port District to Help Fund Convention Center Expansion
The Board of Port Commissioners has scheduled a special meeting for Tuesday to consider a request from the city of San Diego to help fund the $550 million cost for the proposed expansion of the San Diego Convention Center.  The meeting is scheduled to begin at 2 p.m. in the Port Administration Building's Board Room, 3165 Pacific Highway. Mayor Sanders appeared before the board on Nov. 8 and asked that the port contribute $3 million a year, or $60 million over a 20-year period.
Stem Cell Research Facility Completed
Construction has been completed on the research laboratory housing the Sanford Consortium for Regenerative Medicine (SCRM), which will serve as the hub of San Diego's stem cell research community. The 150,700-square-foot building is at 2880 Torrey Pines Scenic Drive. SCRM is a consortium of five local leaders in life sciences research: the Salk Institute for Biological Studies, The Scripps Research Institute, the Sanford/Burnham Medical Research Institute, UCSD and the La Jolla Institute for Allergy and Immunology. Lankford & Associates Inc. and Phelps Development were chosen by the consortium to assemble the design and construction team.
Designed by Fentress Architects of Denver,in association with Davis Davis Architects of San Diego and Jacobs Consultancy, the SCRM building features the latest innovations in research and sustainability. It includes offices, open labs and specialized lab cores with advanced imaging, state-of-the-art robotics, and protein and nucleic acid analysis facilities. The adjoining conference center, accessible from the main lobby, features a 150-seat auditorium, divisible conference spaces, and a café. The $127 million center is funded in part with a $43 million grant from the California Institute for Regenerative Medicine. The project also received a $30 million donation from Sioux Falls, S.D., philanthropist T. Denny Sanford, for whom the consortium is named. He also serves as the consortium's co-chair, along with local philanthropist Malin Burnham, Qualcomm Chairman and co-founder Irwin Mark Jacobs, and San Diego Padres Chairman John Moores.
Gubernatorial Appointments
Henry Abarbanel of Del Mar and Thomas Morales of San Diego have been appointed to the San Diego Regional Water Quality Control Board by Gov. Brown and Eric Anderson of Escondido was reappointed to the board. Abarbanel, 68, has been a professor of physics at UCSD and a research physicist at the Scripps Institution of Oceanography since 1983. He served on the Del Mar City Council from 1992 to 1996 and 2000 to 2008. He was chair of the San Diego Metro Wastewater Commission from 2005 to 2008. Abarbanel received his doctorate in physics at Princeton University. Morales, 48, has been a partner in Golub and Morales LLP since 2004. He was an attorney with Thorsnes Bartolotta McGuire from 2000 to 2004 and a partner with Strong and Morales from 1994 to 2000. Morales received his law degree from Harvard Law School. Anderson, 54, has served on the board since 2002. He is a farmer and vice president of La Costa Flower Shop and Nursery. He has been a member of the board of directors of the San Diego County Farm Bureau since 1991 and was president from 1996 to 1998. The appointments require Senate confirmation and the compensation is $100 per diem. Abarbanel and Morales are Democrats and Anderson is a Libertarian.
Padres Keep Radio Broadcast Team for 2012
The San Diego Padres and Broadcast Co. of the Americas have agreed to keep  Padres broadcasts on XX 1090 AM Sports Radio for the 2012 season. All spring training games and all 162 regular season Padres games will be broadcast on the station next year. The current broadcasting team of Jerry Coleman, Ted Leitner and Andy Masur will return for 2012, with the addition of former Major Leaguer Bob Scanlan. Scanlan will share color commentary duties with Coleman, while Leitner and Masur will share the play-by-play role.
Advertising Club Announces Board of Directors
The San Diego Advertising Club has announced its 2011-2012 board of directors. Serving as chairman of the board is Greg Joumas of Bailey Gardiner Inc. Jon Bailey of Bailey Gardiner and Melissa Lopez of Geary PMG will share presidential duties for a second consecutive year as co-presidents. Serving on the Ad Club board executive committee: Tonya Mantooth of Mantooth Productions as first vice president, Carmella Spencer of ARES Travel as second vice president, Ryan Berman of Fishtank Brand Advertising as secretary, and Mike Hodges of SignOnSanDiego as treasurer.
Holiday Mixer
Ten marketing-related trade groups and the San Diego Advertising Club will hold the eighth annual holiday mixer, "Mingle Bells," on Dec. 8 from 5:30 to 8:30 p.m. at Fluxx, a nightclub at 500 Fourth Ave. in Downtown. The party is open to the public. Cost is $45 for members and $55 for nonmembers.
Hughes Marino Hires Business Development Director
Star Hughes has joined Hughes Marino as the director of business development. Hughes graduated from the University of San Diego in May 2010 with a bachelor's degree in business administration and later obtained a master's degree there. During her undergraduate years, she worked as the marketing director of the company. While working on her master's degree, Hughes worked at RA Capital Advisors and as a management consultant for Van der Horst Energy Limited in Singapore.
---
The Daily Business Report is produced by REP Publishing Inc., publisher of SD METRO, the North Park News and the West Coast Craftsman. Contact: Manny Cruz (619) 287-1865.
---