Daily Business Report — Nov. 30, 2011
METRO Movers to Watch
SD Metro is soliciting nominations for our annual Metro Movers to Watch awards, which will be published in January. Send your nominations to Rebeca Page at rebecapage@sandiegometro.com. Nominate a man or woman you believe will make outstanding contributions in San Diego County during the new year. Nominations will close on Dec. 22.
Port Commissioners Approve $3 Million Yearly
Contribution to Convention Center Expansion
San Diego port commissioners have agreed to contribute up to $3 million a year for up to 20 years to help fund the $550 million expansion of the San Diego Convention Center. The board told its Port District staff to begin negotiations with the city on the terms and conditions. It also directed the staff to "develop alternatives to address balancing the needs and benefits" in the Port District's five member cities — San Diego, National City, Chula Vista, Coronado and Imperial Beach.
The board's action is in response to a request that Mayor Jerry Sanders made before the board on Nov. 8. He suggested a contribution of $3 million a year, or $60 million over a 20-year period. "The Port District will share in the $698 million in economic benefit to the region," Sanders said.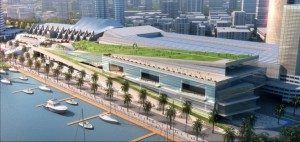 Port District staff has been analyzing the revenue expected to be generated from the proposed expansion and a proposed 500-room expansion of the Hilton San Diego Bayfront Hotel. The staff concluded that the positive economic impact to the region, the increase in the sustainability of revenues to the Port District, and the opportunity to develop 500 new hotel rooms to support the Convention Center is a good investment and is likely to result in increased revenues to the Port District.
Studies by consultants indicate that the Port District could derive revenues ranging from a low of $3.5 million a year to a high of $6.2 million a year, depending on whether the Convention Center expansion and the Hilton addition are developed at the same time.
The expansion project is currently in the environmental review phase. The Environmental Impact Report is scheduled for completion in February 2012. Construction is anticipated to begin a year later. The city expects the expanded Convention Center to be completed in early 2016.
San Diego County Economy
The USD Burnham-Moores Center for Real Estate's Index of Leading Economic Indicators for San Diego County fell 0.2 percent in October. For the fourth straight month, half of the components were up and half were down. Sharp decreases in consumer confidence and residential units authorized by building permits outweighed a strong increase in the outlook for the national economy and a moderate gain in help wanted advertising to push the USD Index to a loss. Initial claims for unemployment insurance (positive) and local stock prices (negative) were virtually unchanged and offset each other.
October's decline pushed the string of alternating declines and advances in the USD Index to six straight months. With no turning point being signaled, the outlook for the local economy remains unchanged from what was previously reported:  positive but weak growth through at least the first half of 2012. One positive development is that the labor market is picking up a little in terms of job growth. Job growth for October was 24,000 when compared with the same month in 2010. That was the highest year-over-year increase in jobs since May 2005.  The biggest year-over-year gains were in leisure and hospitality (+6,400 jobs), health care (+5,900), administrative and support services (+5,500), and professional, scientific and technology services (+3,100).  The only sector that suffered a loss of jobs was construction (down 1,400), which reflects the continued weakness in the housing and other real estate markets.
October's decrease puts the USD Index of Leading Economic Indicators for the county at 115.9, down from 116.1 in September.
Green Industries Career Fair Dec. 9
Job seekers can learn about San Diego's emerging green jobs, as well as employment opportunities in software and computer service industries, at the "Information Technology and Green Industries Career Fair" on Friday, Dec. 9, cosponsored by Able-Disabled Advocacy (A-DA) of San Diego and the California Center for Sustainable Energy (CCSE). The career fair is free to local employers and jobseekers. It will be held from 9 a.m. to noon at CCSE at 8690 Balboa Ave., San Diego, in the Kearny Mesa area. Resume reviews will be offered and no registration is required for jobseekers. Parking is free. The event is funded by A-DA through a grant from Microsoft Corp.'s Elevate America Veteran's Initiative. Last year's career fair included more than 25 employers and drew some 400 participants. For more information, contact Linda Bloms at A-DA at (619) 231-5990.
UCSD Extension Serves Record Number of Online Students
Online students now comprise 22 percent of continuing education enrollees at the UCSD Extension, according to Elizabeth Meyer, director of online learning. During the 2010-2011 academic year, fully online classes served a record 12,610 enrollees in 909 courses, up from 791 classes the previous academic year. Meyer credits the strong demand for fully online courses to the sluggish economy and changing attitudes. "Successful working professionals recognize that keeping their skills fresh is a good career move, especially in a down economy," said Meyer.  "We've made it easy for them by offering individual courses and full certificate programs online. Project management, sustainability, accounting, digital arts, education, and health care all have increased online enrollments." Overall, UCSD Extension served a record 56,589 enrollees in 2010-11, which translates to 25,972 students in 4,327 courses. Another 38,141 individuals were trained throughout the western United States by UCSD Extension certified instructors.
Procopio Law Firm Adds Four Associates
The law firm of Procopio, Cory, Hargreaves & Savitch LLP has added Daniel L. Essig, Megan E. McCarthy, Sean M. Sullivan and Jessica L. Swift as associates in the San Diego office. Essig and McCarthy will practice on the intellectual property team, Sullivan on the litigation team and Swift on the business and technology Team. Essig's practice focuses on preparing and prosecuting United States and foreign patent applications for clients in a variety of technical fields. He previously was an attorney in the Orange County offices of Christie, Parker & Hale and Klein, O'Neill & Singh. McCarthy focuses her practice on intellectual property transactions and litigation, including patent and trademark matters. She formerly practiced patent litigation at DLA Piper LLP. Sullivan will focus his practice on representing individuals and companies in a variety of matters, including breach of contract, fraud, unfair business practices, and trade secret misappropriation. His previous practice involved litigating intellectual property and business disputes. Swift's practice focuses on mergers and acquisitions and the representation of companies in their formation and organization, debt and equity financings, securities filings and general corporate matters. She was previously with the San Diego office of Paul, Hastings.
Hilton Resort Names Director of Sales
Mary Ahlstrom has been named opening director of sales at Hilton Carlsbad Oceanfront Resort & Spa, currently under construction and scheduled to open in summer 2012. Ahlstrom most recently served as director of sales at the Inn at Rancho Santa Fe. Prior to that, she was a national sales manager at L'Auberge Del Mar Resort and Spa.
---
The Daily Business Report is produced by REP Publishing Inc., publisher of SD METRO, the North Park News and the West Coast Craftsman. Contact: Manny Cruz (619) 287-1865.
---