Daily Business Report — Nov. 4, 2011
Most Admired Companies
We're now gathering nominations for the Most Admired Companies in San  Diego County and you can participate. Send us your nominations via email and answer these questions: Name, phone number and email address of the person submitting the nomination. The name of the company being nominated, along with its address and the name, phone number and email of the person heading the company. Give your reasons why the company should be honored.  Email your nominations to rebecapage@sandiegometro.com. The results will be published in the December issue of SD METRO.
Lyric at the Birch Cancels Season
Lyric at the Birch, managing owner of the North Park Theatre, has cancelled the remainder of its season after filing for Chapter 11 bankruptcy protection. But the company hinted at a "new strategy to provide a new brand of entertainment array" for the theater. The company filed for bankruptcy because of an inability to meet mortgage payments and diminished ticket sales and donations.
The company said it advised its cast, crew, musicians and patrons of its cancellation of the concert event, "Good Bye, Good Luck and Get Out!", a tribute to artistic director J. Sherwood Montgomery. "While the cast and crew were predominantly, if not all, volunteer, we would not be able to pay musicians," said Roberto Cueva, president of the board of directors. "With our general director (Leon Natker)  and artistic director self-furloughed to help our financial situation, there just is not sufficient time to create and produce a performance event that would be of the caliber we would consider equal to our past productions and reputation. Therefore, we elected not to move forward with this particular event."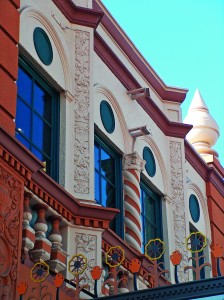 Cueva said a review of current ticket sales show that the audience would mainly be limited to season subscription patrons. "While we gratefully appreciate the support of our loyal subscriber audience, given the current state of economy and the relative lack of non-subscription ticket purchasers, we forecast that we will not be able to produce these shows without incurring substantial losses," he said. "As we are already in Chapter 11, we cannot mount any productions that will result in a loss."
Alex Tiscareno, board secretary, said a plan to handle the disposition of paid subscription tickets will be announced later.
Tiscareno said the company is in the midst of formulating "a new strategy to provide a new brand of entertainment array for the Birch North Park Theatre. While it is a bit premature to discuss the details, we are thrilled about this new business model and know the community will be excited about what will be appearing on our stage."
Cubic Subsidiary Offers Ticket Machine Video Displays
Transit agencies will be able to offer video advertising, information, direction maps and other messages at self-service ticketing machines made by Cubic Transportation Systems, a subsidiary of Cubic Corp. The company has integrated high-resolution video displays at its next-generation machines for public transit. "The technology for this enhanced display capability has reached a level of stability and pricing that we can offer it to customers either as an option for upgrading their existing Cubic ticket machines, or as a new device altogether for a new customer," said Pradip Mistry, vice president of engineering for Cubic Transportation Systems. The new video display will be two times larger than Cubic's current display, with multi-touch capability allowing customers to zoom in and out, similar to how smart-phone touch technology works. When touched by a customer, the screen automatically launches the user interface for purchasing or adding value to a fare product. Cubic has integrated more than 4,200 ticketing machines in transit properties in North America, the United Kingdom and Australia, including agencies in New York, Florida, Los Angeles, Minneapolis and Brisbane.
FDA Approves New Procedure for Heart Surgery
Clinical Trials Held at Scripps Health
The U.S. Food and Drug Administration has approved the first catheter-based aortic heart valve replacement without the need for open-heart surgery. Scripps Health was one of the 26 sites in the country where clinical trials were held. Transcatheter aortic valve replacement enables multi-disciplinary heart teams to replace a patient's diseased aortic valve without traditional open-heart surgery and while the heart continues to beat — avoiding the need for cardiopulmonary bypass. "This procedure represents a new treatment option for heart valve replacement that is less invasive, safer and more cost effective compared to open heart surgery," said Dr. Paul Teirstein, Scripps cardiologist. "It can potentially improve the quality of life for hundreds of thousands of heart patients suffering with severe aortic stenosis."
USD Hosts Women in Real Estate Conference
The inaugural Women in Real Estate Conference will be staged Nov. 9 by the University of San Diego's Burnham-Moores Center for Real Estate. It will be held from 7:30 to 10 a.m. in USD's Joan B. Kroc Institute for Peace & Justice. Keynote speaker will be Lauralee Martin, chief financial and operating officer at Jones Lang LaSalle Inc. in Chicago. Her talk will be followed by a panel discussion with panelists Sara Grootwassink Lewis, CEO and founder of Lewis Corporate Advisors LLC, San Diego; Nancy Scull, partner, Luce, Forward, Hamilton & Scripps LLP, San Diego; and   Erin Stafford, senior vice president of Dominion Bancshares, Chicago. The event will focus on issues in the real estate and financial services industries and include personal anecdotes from presenters. The event is open to the public for a $45 fee, which includes breakfast. To reserve, register online at sandiego.edu/bmcevent. For more information, call Diance Gustafson at (619) 260-2379.
Groundbreaking for Educational Cultural Complex
Ceremonial groundbreaking for the modernization and expansion of the Educational Cultural Complex for San Diego Continuing Education was scheduled for 9 a.m. today. A new wing will be added to the main building on campus to replace all outdated bungalows and modular classrooms, labs and support rooms. The project will provide state-of-the-art labs, lecture and support space and accommodate in-demand workforce training and preparation programs. The $16.3 million project is the latest San Diego Community College District project funded by Propositions S and N. The project is expected to be completed in March 2013.
Southwest Strategies Hires Senior Account Executive
Southwest Strategies has hired Brian Flores as a senior account executive.  Flores was an on-air reporter for Fox 5 in San Diego. Flores holds a bachelor's degree from Cal State Northridge, where he was vice president of the Radio and Television News Directors Association. Southwest Strategies also promoted Melissa Cameron to senior account executive and Brooke Ellison to account executive. Cameron holds a bachelor's degree and a master's degree. She previously worked in public affairs in Salt Lake City. Ellison worked at Southwest Strategies as a full-time intern throughout the summer. She is a graduate of Furman University in South Carolina.
---
The Daily Business Report is produced by REP Publishing Inc., publisher of SD METRO, the North Park News and the West Coast Craftsman. Contact: Manny Cruz (619) 287-1865.
---