New SUV review: 2012 Range Rover Sport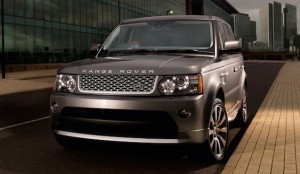 By Eric Peters
Well, this is a drag.
The 2012 Range Rover Sport will offer a new 3-liter turbodiesel engine/eight-speed automatic combo capable of 33 MPG.
Oh. Wait a sec. It just won't be offered here. It's a Euro-only deal.
U.S.-bound 2012 Range Rovers do get a number of important improvements, though — including an updated interior with dual-view touchscreen audio/entertainment that makes it possible for the driver to use the GPS while passengers watch a DVD — plus wireless headphones and other good stuff. And maybe Land Rover will decide to put the turbo-diesel engine into the lineup later in 2012. Fingers crossed.
What it Is
The Range Rover Sport is a slightly smaller version of the regular Range Rover, the high-end, full-size 4WD SUV built by Land Rover. It's about half a foot shorter, four inches narrower through the hips and weighs about 150 pounds less than than the regular Range Rover. It's also a lot less expensive.
Land Rover hadn't released official MSRPs for the 2012s at the time of this review, but the current (2011) carries a sticker price of $59,645 for the HSE and $73,345 for the more powerful supercharged version — vs. $78,425 for the regular (slightly larger) Range Rover and $94,275 for the supercharged version. Expect the 2012s to cost roughly the same when they arrive at dealerships a few weeks from now.
What's New for 2012
UK and other Euro-markets get an all-new 3-liter turbodiesel engine capable of an astounding 33 MPG on the highway — only a few MPGs off the pace of a current-year compact economy sedan. U.S. buyers get the new Dual View monitor, wireless audio reception, a power tailgate and (later in 2012) special Autobiography and Limited edition trim packages.
What's Good
• About half the price of a Benz Gelandewagen (the only other uber-premium SUV that matches the RR's curb cachet as well as its off-road prowess). Supercharged version is $30k less than a Porsche Cayenne Turbo.
• Acceleration now appropriate to price — and better than some of the comparably priced competition.
• Handles better, easier to park/maneuver than the standard (larger/heavier) Range Rover — while giving up nothing as far as presence/exclusivity and features/amenities.
•Tremendous off-road capability.
What's Not So Good
• No 33 MPG for us. We get 13 MPG.
• Headroom's a little tighter than in the Range Rover (the price you pay for the Range Rover Sport's extra sportiness).
• Gas mileage (13 city for the non-supercharged version) limits the range of this Rover — even with a 23.3-gallon tank. It's not hard to run it dry in 200 miles of real-world driving.
Under the Hood
The 2012 Range Rover Sport comes standard with a 5-liter V-8. A supercharged version of this engine is optional. Without the supercharger, the V-8 produces 375 horsepower. With it, the power jumps to 510 hp — making it one of the strongest engines available in a high-end SUV.
With the standard 5-liter, 375 hp V-8, the Range Rover Sport accelerates from 0-60 as quickly as the previous supercharged Range Rover sport (7.2 seconds). With the supercharged version of the 5-liter engine, the 0-60 time drops to an extremely quick 5.9 seconds — quicker than the price-comparable Cayenne GTS (6.1 seconds for $72,400) and enough to harry the enormously more expensive six-figure Cayenne Turbo (4.9 seconds).
Both versions of the 5-liter V-8s are teamed up with a six-speed automatic transmission and Land Rover's impressively capable full-time Terrain Sensing 4WD system, which comes with multiple settings for different types of conditions such as Mud and Snow, Sand and Rock Crawl — as well as driver-selectable 4WD Low range gearing. There's also a height-adjustable suspension that can raised or lowered by depressing a switch on the center console. Maximum trailer towing capacity is 7,700 lbs.
On the Road
With 375 horsepower under the hood in the standard Range Rover, it's no longer essential to spend the additional $14k to upgrade to the supercharged version (as it was in the old RR with the semi-soggy 4.4-liter V-8). The 510 horsepower, supercharged engine is truly optional — in the sense that it's something you decide to buy because you want vertebrae-adjusting speed, not merely more speed than almost anyone else around you has.
The other aspect of the RR is that, relatively speaking, its handling is indeed sporty — at least much more so than the very capable off-road but not-so-fleet-footed on-road Mercedes Gelandewagen. That thing is a beast — one of the few new SUVs that makes it clear it's not happy taking corners at even normal, posted speeds.
At the Curb
Size-wise, the RR Sport is physically smaller than the standard Range Rover (the RR Sport's wheelbase is 108 inches vs. 113.3 for the standard RR) but visually it's hard to tell the difference unless you park them side-by-side.
In no way does the RR Sport seem less substantial or downgraded. Both the RR Sport and the regular Range Rover seat five and — surprisingly — there's actually more front and rear seat legroom in the physically smaller RR Sport than in the larger overall regular Range Rover (42.4 inches/front seat legroom vs. 38.9 inches and 37.6 inches of rear seat legroom vs. 35.5). Cargo capacity is almost identical: 71 cubic feet for the RR Sport vs. 74 cubic feet for the regular Range Rover.
The Rest
Safety-wise, the RR comes with Hill Descent Control (electronically controls throttle and brake action to prevent the RR from building up excessive speed going down a steep grade) and (in supercharged versions) an emergency braking function that will slow (and even stop) the vehicle automatically if the cruise control is on and the driver doesn't notice traffic slowing down and begin to brake on his own.
The Bottom Line
It's a bit weird to describe any vehicle with a nearly $60k starting price as a "bargain." – But that's what the Range Rover Sport is. The fact that it's also great fun to drive, on-road or off, makes the deal even sweeter.
2012 Range Rover Sport specifications:
Base price: $60,500 (HSE; estimated). As tested $68,500 (estimated).
Engine: 5.0 liter V-8; 375 hp and 375 lbs-ft. of torque (w/o supercharger; 510 hp and 461 lbs. ft w/supercharger).
Transmission: six-speed automatic.
Length: 188.3 inches.
Width: 76.1 inches.
Wheelbase: 108.0 inches.
Curb weight: 5,487 lbs.
Luggage capacity: 33.8 cubic feet.
EPA fuel economy: 13 city/18 highway.
Where assembled: Solihull, United Kingdom.
Eric Peters is the author of "Automotive Atrocities" and "Road Hogs" (spring 2011) and a former editorial writer/columnist for The Washington Times, a contributor to Cars.Com, The CarConnection.com and SD METRO.