Daily Business Report — Dec. 16, 2011
METRO Movers to Watch
SD Metro is soliciting nominations for our annual Metro Movers to Watch awards, which will be published in January. Send your nominations to Rebeca Page at rebecapage@sandiegometro.com. Nominate a man or woman you believe will make outstanding contributions in San Diego County during the new year. Nominations will close on Dec. 28.
USS Albuquerque Returns
Friends and families of sailors aboard the Los Angeles-class submarine USS Albuquerque welcomed home the submarine's crew on Thursday, following a six-month deployment to the Western Pacific. During the deployment, Albuquerque participated in major naval exercises. The ship's port visits included Brisbane, Australia; Yokosuka, Japan; and Guam.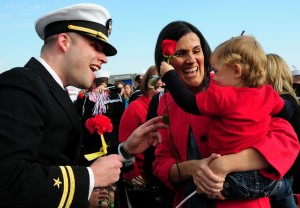 Albuquerque, in conjunction with other ships from the U.S., Australian and Canadian navies, took part in a multi-national and multi-service exercise known as Talisman Sabre, which displayed the latest capabilities of the U.S submarine force. The sub's commanding officer is Cmdr. Chris Cavanaugh. The Albuquerque was commissioned in 1983. It has a crew of nearly 140 sailors. She is one of six Los Angeles-class submarines homeported in San Diego. (Pictured:  Lt. Patrick Alfonzo, weapons officer aboard the Albuquerque, hands his daughter, Bryony, a rose while greeting his family on the pier at Naval Base Point Loma. Photo by Navy Specialist 1st Class Shannon Warner.)
Brewery and Tasting Room Planned for Carlsbad
Marsaglia Properties LLC, the limited liability company for Pizza Port, has purchased a lot at The Gateway at Bressi Ranch in Carlsbad and plans to build a 40,000-square-foot brewery and tasting room there. The lot sold for $1,982,700, or $16 per square foot. Cushman & Wakefield's team of David Onosko and Ronald King represented the seller, Roncelli Trust.
PriceSmart to Open Second Warehouse Club in Colombia
PriceSmart Inc. has acquired 12,135 square meters of land in south Cali, Columbia to build and operate a new PriceSmart Warehouse Club. It will be the company's second warehouse club in Colombia. Opening is scheduled for late 2012.
PUC Approves Pacific Gas and Electric Power Purchase
The California Public Utilities Commission on Thursday approved Pacific Gas and Electric Co.'s 25-year contract to purchase 150 megawatts of renewable energy power from Sempra Generation's Copper Mountain Solar 2 project in Boulder City, Nev. Sempra Generation said construction on the 1,100-acre solar plant will begin this year. The first 92 MW of solar panels at Copper Mountain Solar 2 are expected to be installed by year-end 2012, with the remaining 58 MW slated for completion by 2015.  Under the terms of the contract, PG&E has the option to accelerate the commercial operation date of the second phase.
SDSU Offers Spring Wine Course
SDSU's College of Extended Studies will begin the spring semester of courses for its Professional Certificate in the Business of Wine program by offering Exploring Wine on Tuesdays, Jan. 24-Feb. 21, 6-9 .pm. Course instructor Lisa Redwine has earned the status of an advanced sommelier, the second-highest distinction possible by the Court of Sommeliers. Redwine, only the second woman in San Diego County to become an advanced sommelier, was promoted earlier this year to food and beverage manager for The Marine Room and the La Jolla Beach and Tennis Club. The course offers an extensive overview of the role and influence of wine in history and today's culture. Students must be 21 years of age to register for the program. Fee for the course is $299 or $329 after Jan. 17. For more information, call (619) 594-6924 or visit the website at neverstoplearning.net/wine.
---
PERSONNEL MOVES
DataQuick Hires Chief Appraiser
DataQuick, a San Diego real estate information service, has added Frank O'Neill Jr. as the company's chief appraiser. O'Neill has 26 years of experience in the industry. He managed his own firm, O'Neill, Duffy & Co. for 21 years. Most recently, he served as senior vice president and chief appraiser for Sepso Appraisal Associates / ValueSearch AMC, and before that was vice president for Zaio Inc. O'Neill has more than 15 years experience as an appraisal instructor, teaching for the Appraisal Institute, as adjunct faculty for the University of Connecticut and for many other schools and organizations. He earned a bachelor's degree from Northeastern University and served for five years on the Connecticut Real Estate Appraisal Commission.
Illumina Appoints Vice President of Marketing
Illumina Inc. has appointed Laura Lauman as vice president of marketing. Beginning her career as a research scientist at Harvard Medical School, Lauman has held numerous senior executive positions in the life sciences industry including president of AB SCIEX, currently an operating company of Danaher Corp. In her 15 years at Life Technologies/Applied Biosystems, she was a division president and general manager of the Proteomics and Small Molecule Division. Lauman also served in commercial and business leadership roles at both PerkinElmer and Waters Associates. Most recently, she ran her own consulting business.
Higgs Fletcher & Mack Partner to Take Inn of Court Post
Susan Hack, partner in the law firm of Higgs Fletcher & Mack, has been elected president of the William B. Enright Inn of Court for the 2012-2014 term. Her term begins June 1, 2012 when she will lead the organization in providing opportunities for attorneys and judges to learn from each other in a peer-level setting. American Inns of Court was created in the late 1970s to foster excellence in professionalism, ethics, civility and legal skills. Hack will succeed Maureen F. Hallahan as president. Hack joined Higgs Fletcher & Mack in 1989 and became a partner in 1996. She heads the firm's Diversity Committee and the education side of its Professional Development Committee.
---
The Daily Business Report is produced by REP Publishing Inc., publisher of SD METRO, the North Park News and the West Coast Craftsman. Contact: Manny Cruz (619) 287-1865.
---