Daily Business Report — Dec. 19, 2011
METRO Movers to Watch
SD Metro is soliciting nominations for our annual Metro Movers to Watch awards, which will be published in January. Send your nominations to Rebeca Page at rebecapage@sandiegometro.com. Nominate a man or woman you believe will make outstanding contributions in San Diego County during the new year. Nominations will close on Dec. 28.
Keep A Breast Foundation Wins Lawsuit
Over Counterfeit 'I love boobies!' Products
The Keep A Breast Foundation, makers of the 'I love boobies!" bracelets, has won a federal district court lawsuit that accused a San Francisco company of selling counterfeit bracelets and apparel at sports bars and stadium parking lots and falsely claiming proceeds would go to breast cancer charities. In a settlement reached on Oct. 13, the San Francisco company, Se7ven Group and its owner, Adam Shryock, agreed to pay $225,000 to the Keep A Breast Foundation and $25,000 to the Young Survival Coalition, a breast cancer charity. Shryock also forfeited $200,000 worth of counterfeit merchandise. The settlement was reached after U.S. Southern District Court Judge Roger Benitez in May issued a preliminary ruling favoring the Keep A Breast Foundation.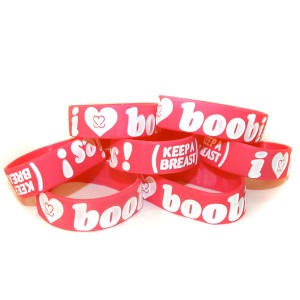 According to the nonprofit organization, an investigation into the sale of the bracelets was launched last March after complaints were received from people who had either bought or sold products with the "I love boobies!" slogan but without other identifying marks attributing the products to the foundation. Keep A Breast said it opened the investigation with Encinitas-based Coast Law Group into the source of the claims and found evidence of infringement and fraudulent intent by the San Francisco company. The lawsuit was filed after the company continued to sell the products despite the foundation's demand to stop the practice.
"My team has dedicated their lives to raising awareness and education for breast cancer prevention and education, so it was very disheartening to find out Shryock and Se7ven Group were using our 'I love boobies!' trademark and misleading buyers into thinking the funds were going to charity when they clearly weren't," said Keep A Breast co-founder Shaney jo Darden. "I am happy with the outcome of the court case not only because Keep A Breast has gained valuable funds to advance our efforts towards breast cancer prevention, but because we want to publicly take a stand for stopping this kind of action for us and other nonprofits."
NASSCO Gets New Ship Construction Contract
The NASSCO shipyard in San Diego has received a $744 million contract for the construction of the first of two Mobile Landing Platform (MLP) ships. Construction of the first ship will begin immediately, with delivery to occur by the spring of 2013. The contract includes an option for the construction of a third MLP which, if exercised, will increase the total contract value to about $1.3 billion.

 NASSCO says the new contract will significantly reduce the number of employees affected by previously announced potential layoffs at the shipyard and that as ship construction gets underway in earnest, the total number of employees at the shipyard may increase by the end of 2011.

 "With the Mobile Landing Platform Program, NASSCO will continue our tradition of building high-quality ships for the U.S. Navy," said Fred Harris, president of General Dynamics NASSCO. "The first MLP ship will start production with more design, engineering and planning work complete than any ship that NASSCO has constructed since World War II." The Mobile Landing Platform is a new class of auxiliary ship for the Navy. Once delivered to the fleet, the ships will join the three Maritime Prepositioning Force squadrons that are located around the world to enable rapid response in a crisis. MLP ships will be 233 meters (765 feet) in length and 50 meters (164 feet) in beam, with a design draft of 12 meters (29 feet). The deadweight tonnage is in excess of 60,000 metric tons.
Ray Ellis to Leave Retirement System Board
Businessman Ray Ellis has announced that he will be stepping down as the president of the San Diego City Employee's Retirement System board in order to focus on his race for San Diego City Council. Ellis was appointed to the board by Mayor Jerry Sanders in October 2008. Ellis is running for San Diego City Council in District 1.
U.S. Bank Names Market President
U.S. Bank has named long-time San Diego banker Steve Stuckey to the position of market president for U.S. Bank in San Diego. Stuckey comes to U.S. Bank from Comerica, where he had been since 2001. Most recently, he was regional managing director for Comerica's technology and life sciences group in Southern California and Arizona.Stuckey has worked in the financial services industry since 1987. Robert Horsman, who joined U.S. Bank in October 2009 when U.S. Bank acquired San Diego National Bank, is leaving his position of regional chairman. U.S. Bank has 81 branches and more than 900 employees in the San Diego area.
---
The Daily Business Report is produced by REP Publishing Inc., publisher of SD METRO, the North Park News and the West Coast Craftsman. Contact: Manny Cruz (619) 287-1865.
---