Daily Business Report — Dec. 9, 2011
METRO Movers to Watch
SD Metro is soliciting nominations for our annual Metro Movers to Watch awards, which will be published in January. Send your nominations to Rebeca Page at rebecapage@sandiegometro.com. Nominate a man or woman you believe will make outstanding contributions in San Diego County during the new year. Nominations will close on Dec. 22.
DLA Piper Presented a Hero Award for Pro Bono Work
Thomson Reuters awarded DLA Piper with its first-ever Hero Award in recognition of the firm's pro bono work on behalf of San Diego veterans and donated $10,000 to the Veterans Village of San Diego on DLA Piper's behalf. The award and donation were presented at an event at DLA Piper's Downtown San Diego office.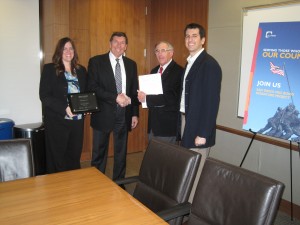 Thomson Reuters presents its Hero Award to customers who use their products to promote societal good and the rule of law. DLA Piper was recognized for its success in using Westlaw PeopleMap, a people-finding software, to help homeless veterans locate family members at the 2011 Stand Down in San Diego. With assistance of DLA Piper legal professionals, homeless veterans were able to make contact with relatives with whom they'd long been out of touch. DLA Piper's participation in Stand Down is one component of the San Diego office's signature pro bono project, Serving Those Who Serve Our Country, in which the firm dedicates resources to providing various legal and community services to veterans and military families in San Diego. (Pictured from left to right: Mary Sullivan from Thomson Reuters; Dean Powell from Thomson Reuters; Phil Landis, president and CEO of Veterans Village of San Diego; and Adam Garson, associate at DLA Piper.)
Nik Bandak Joines Hughes Marino Construction Management
Nik Bandak has joined Hughes Marino Construction Management as a project engineer. Bandak joins construction management industry experts Kirt Gilliland, Dean Petersen, and Steven Gorup, recently promoted to project manager. Prior to joining Hughes Marino, Bandak worked for Bechtel International on the Khalifa Port and Industrial Zone in Taweelah, United Arab Emirates, where he monitored and oversaw the daily construction activities and progress of 5,000 field workers in 53 buildings within the industrial zone borders. Prior to his work in the UAE, Bandak worked for Berkeley Cement Inc. as a project manager and estimator, managing over $30 million of projects over a two year period, including the 40,000-square-foot Social Science and Management Building at UC Merced, the nearly completed 236-foot-tall air traffic control tower, and a 13,000-square-foot building at the Oakland International Airport. Bandak graduated with a degree in financial services from Saint Mary's College in Northern California.
---
---
Small Business Workshops
SCORE San Diego continues its series of small business workshops. For more information, call (619) 557-7272 or visit score-sandiego.org.
Upcoming SCORE San Diego Workshops:
• Dec. 10 – Introduction to Starting Your Own Business – 9 a.m. to 4:15 p.m. at National University – Carlsbad (705 Palomar Airport Road, Carlsbad 92011; pre-paid registration $69, $79 at the door).
• Dec. 12 – Business Basics 101 – 9 a.m. to noon at National University – Kearny Mesa (9388 Lightwave Ave., San Diego 92123; No charge – please preregister to confirm space).
---
The Daily Business Report is produced by REP Publishing Inc., publisher of SD METRO, the North Park News and the West Coast Craftsman. Contact: Manny Cruz (619) 287-1865.
---