Daily Business Report — Jan. 11, 2012
Flower Hill Promenade Getting $22 Million Expansion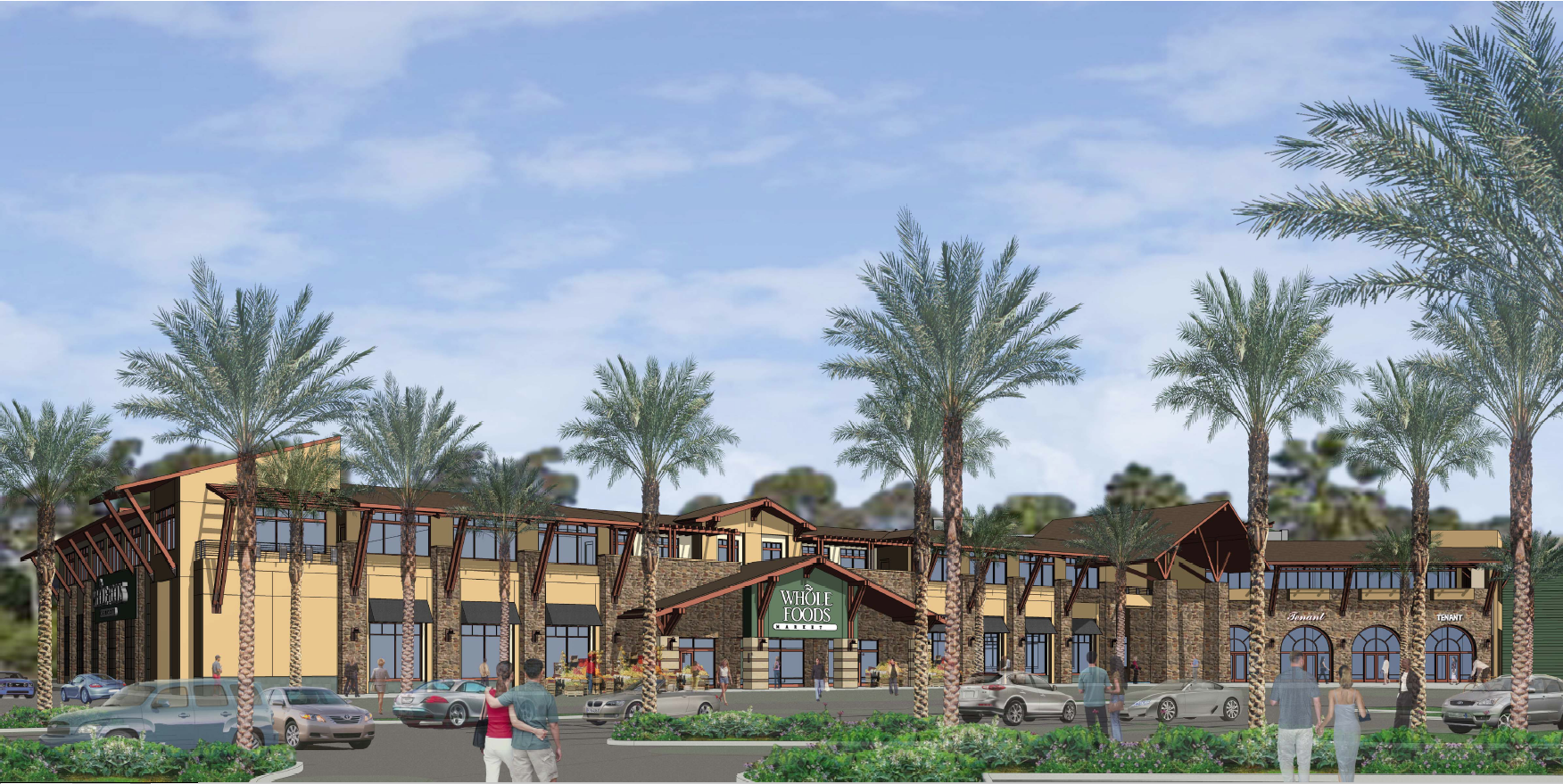 The Flower Hill Promenade in Del Mar, formerly known as Flower Hill Mall, is getting a $22 million expansion that will include a 75,000-square-foot, two-story retail and office building, a 397-car parking structure and new landscaping. Smith Consulting Architects designed the expansion for the 14-acre mall, which was originally built in 1977 at 2720 Via De La Valle. The mall has a collection of 42 specialty shops and restaurants. The new building will be anchored by a 35,000-square-foot Whole Foods Market with the balance consisting of 9,000 square feet of space for ground-floor retail shops and 31,000 square feet of second-floor professional and medical office space for lease. Smith Consulting Architects is acting as production architect on the design-build team of general contractor Lusardi Construction Co. of San Marcos. The Lusardi/Smith Consulting Architects proposal was selected by owner Protea Properties. Construction is now under way.
"The expansion and site remodel will transform this 34-year-old property into a modern, upscale lifestyle-center designed to enhance the community and provide the type of amenities that surrounding residents and visitors want most," said Jeffrey Essakow, president of Protea Properties.
Camp Pendleton to Showcase Wartime Weapons
Companies from around the world will showcase weapons, equipment and systems for use in war battles during the 2012 edition of Marine West on Feb. 1-2 at Camp Pendleton. The event provides Marines and other U.S. and allied military personnel the opportunity to meet with U.S. and international defense industry representatives. It will include displays and videos of the military hardware, with opportunities for hands-on examination of many of the items being presented. In addition to equipment and weapons, logistics support systems, and communications systems, other displays will highlight items used in special operations and a growing number of other diverse military roles, including chemical and biological agent detection, facility and perimeter surveillance, and reconnaissance, among others. Co-sponsors of the event are Camp Pendleton, the Marine Corps League and Marine Corps Systems Command.
Chula Vista Nature Center Receives $125,000 from the Port
The Chula Vista Nature Center  has received a $125,000 contract from the San Diego Unified Port District to support several of its environmental and endangered species propagation programs. Part of the funding will be used to support the Nature Center's new seasonal exhibit, Washed Ashore, a community art project that will be displayed publicly at the facility through July 2012. The vision of artist and educator Angela Haseltine Pozzi, Washed Ashore turns the ugly reality of plastic ocean trash (over 7,000 pounds collected by volunteers) into 17 vibrant, impactful sculptures of marine life, inspiring audiences to rethink their use of plastics. Additional funding from the port will be directed to the center's Nature Day Camp Program for youth ages four to 18. Offered year-round during school breaks, these camps provide education and entertainment through wild play and outdoor exploration within the Sweetwater Marsh National Wildlife Refuge; up-close, hands-on encounters with local wildlife such as crabs, stingrays, sea turtles, sharks, owls, hawks and reptiles; as well as group games, nature-inspired arts/crafts and scientific experiments aimed at inspiring a new generational of environmental champions. Funding will also be used to support the Nature Center's endangered Eastern Pacific Green Sea Turtles Program. Protecting these creatures, which can be found locally in San Diego Bay, has become important because the worldwide population of green sea turtles has decreased 90 percent in just 50 years.
Robert Tyson Named Defense Lawyer of the Year
Robert F. Tyson  Jr., a partner at the law firm of Tyson & Mendes, has been named San Diego Defense Lawyer of the Year by the San  Diego Defense Lawyers. He will be honored at the Jan. 28 installation dinner of San Diego Defense Lawyers at the Children's Museum in Downtown San Diego. "Bob was nominated for the award because of his success in the Rebecca Howell v. Hamilton Meats & Provisions Inc. case," said Victoria G. Stairs, president of San Diego Defense Lawyer. Tyson has practiced law in San Diego for over 22 years. He primarily litigates cases in the areas of products liability, personal injury; commercial and general civil litigation, professional malpractice, environmental and employment law.  Tyson was admitted to the California Bar June 1990 and to the District of Columbia Bar in October 1993.
Monarch School Selects New CEO
Erin Spiewak, former executive director of the Gary and Mary West Foundation, has joined the Monarch School in San Diego as its new CEO. The school serves children impacted by homelessness. Spiewak takes over from Ronne Froman, who becomes president of the K-12 school's board of directors. Spiewak's involvement with Monarch School dates back to 2003 as a volunteer helping lead a mentor program, a stint that resulted in her being named Volunteer of the Year in 2004. She previously served as program officer at the West Foundation and earlier as program staff and financial analysis for the Rose Foundation/WebMD Health Foundation. She is founding board member and treasurer for the Downtown Charter High School. Monarch School will break ground on a new campus in February in the East Village-Barrio Logan area of Downtown, just south of Petco Park. The new campus will allow Monarch School to serve more than double its current student population.
Meals-on-Wheels Receives $150,000 Grant to Upgrade Meals
Meals-on-Wheels Greater San Diego Inc. has received a $150,000 grant from the Gary and Mary West Foundation to upgrade its Meal Center. The remodeled center wil allow the organization to expand its menu items to meet the needs of the senior population. It includes the creation of additional hot meals, new cultural cuisine offerings and recipes that adhere to special health and dietary restrictions. Once the new kitchen is completed, Meals-on-Wheels will be able to offer more farm-to-table and ocean-to-table options where a stovetop and oven is required for food preparation. Meals-on-Wheels' staff will also be able to create sauces and other food items from scratch, helping to lower costs and improve efficiency.
Jury Returns $7.5 Million Judgment Against Starbucks
A San Diego Superior Court jury has returned a $7.5 million verdict against Starbucks in a lawsuit stemming from a fall taken by Anthony Zaccaglin at one of Starbuck's cafes three years ago. A lawsuit filed by Zaccaglin claimed he developed complications from the head injury he received from the fall and was unable to return to work as a chiropractor. Zaccaglin's case was handled by The Gomez Law Firm. John Gomez was lead trial attorney.
---
The Daily Business Report is produced by REP Publishing Inc., publisher of SD METRO, the North Park News and the West Coast Craftsman. Contact: Manny Cruz (619) 287-1865.
---