Daily Business Report — Jan. 25, 2012
Hoteliers Hold Key to Convention Center Expansion
City News Service
The City Council created a special district to finance the proposed $520 million expansion of the San Diego Convention Center but labor leaders promised to fight the project. The council's 6-2 vote clears the way for owners of hotel properties to vote on whether to implement a surcharge to room rates, on a sliding scale based on relative proximity to Downtown. The mail-in balloting is due to be completed in April. If the hotel owners approve the levy, it would generate $35.7 million annually that could be put toward construction bonds. The Port of San Diego will kick in $3 million annually, and the city will provide $3.5 million — derived from an increase in its own room tax income after the expansion is completed.
City officials promised to bring a final financing plan to the City Council next month. Mayor Jerry Sanders said he hoped to break ground by the end of this year on the project, which will bring the total floor space of the Convention Center to more than 2.75 million square feet. "This expansion will pump nearly $700 million into our economy, produce 7,000 permanent jobs and 4,000 construction jobs — and generate millions of dollars in neighborhood services like police, fire, parks and libraries," Sanders said. Union leaders and representatives of labor-affiliated community groups expressed opposition to the expansion because it won't generate quality jobs. Lorena Gonzalez, secretary-treasurer of the San Diego and Imperial Counties Labor Council, protested that the city was going to subsidize powerful Downtown hoteliers without holding discussions on the types of jobs that would be created. "We will continue to fight this expansion because it is bad for San Diegans and bad for workers," Gonzalez said.
San Diego Leads All California Cities in Solar Installations
San Diego leads all California cities in the number of solar roofs installed on residential, commercial and government buildings, according to a report by the Environment California Research & Policy Center. The center put the number of solar installations at 4,500 and said San Diego also leads the state in the total amount of electricity generated by these systems — measured in solar capacity — with nearly 37 megawatts installed. "San Diego is America's solar city," said Michelle Kinman, clean energy advocate with Environment California Research & Policy Center and co-author of the report, "California's Solar Cities 2012: Leaders in the Race Toward a Clean Energy Future." "Thousands of solar roofs are helping turn San Diego's famous sunshine into clean air and local jobs. With the right leadership, San Diego can continue to lead the nation in transitioning to a clean energy future," said Kinman.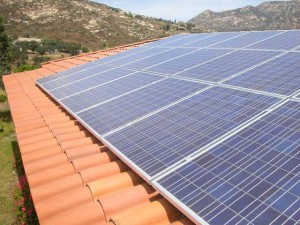 The report was announced at a press conference on Tuesday attended by center officials, Mayor Jerry Sanders, clean energy advocates and solar business representatives. "San Diego didn't become the state's No. 1 solar city by happenstance; it was the result of local policies and programs that encourage investment in solar power," said Sanders.
In the past two years, San Diego has doubled the amount of rooftop solar power installed, the report said. From 1999 through 2009, San Diego installed just over 2,000 solar rooftop systems totaling over 19 megawatts.
The conference was held at Point Loma Nazarene University, which has a solar voltaic system installed by SPG Solar on six rooftops and five solar carports. Officials said the system will provide the university a savings of $1.5 million over the next 20 years and will power nearly 50 percent of the campus energy demands during peak periods.
"It's been almost 30 years since Kyocera sold its first solar module in San Diego, and we now have regional production capacity approaching 200 megawatts annually," said John Rigby, president of Kyocera International Inc., which supplied the PV panels for Point Loma Nazarene University through Kyocera Solar Inc., its subsidiary. "Kyocera's 200 megawatt production capacity is enough to supply solar electric systems for about 50,000 homes each year, and yet the industry itself is still very young. We foresee unprecedented growth, especially for solar installers, as California pursues its goal to have12 gigawatts of solar generation statewide over the next decade."
California's Top 10 Solar Cities by Generation Capacity and by Number of Installations
| | | | | |
| --- | --- | --- | --- | --- |
| City | Solar Capacity (MWAC) | Rank by Capacity | Number of Installations | Rank by Installations |
| San Diego | 37 | 1 | 4,507 | 1 |
| Los Angeles | 36 | 2 | 4,018 | 2 |
| San Jose | 31 | 3 | 2,733 | 3 |
| Fresno | 22 | 4 | 2,146 | 5 |
| San Francisco | 17 | 5 | 2,405 | 4 |
| Bakersfield | 16 | 6 | 1,643 | 6 |
| Sacramento | 16 | 7 | 1,119 | 10 |
| Santa Rosa | 14 | 8 | 1,467 | 7 |
| Oakland | 10 | 9 | 1,010 | 11 |
| Chico | 9 | 10 | 615 | 19 |
| Clovis | 8 | 11 | 1,133 | 9 |
| Roseville | 3 | 84 | 1,170 | 8 |
Cassidy Turley Selected to Manage 700,000-Square-Foot Portfolio
Cassidy Turley BRE Commercial has been selected by Newport National Corporation to manage its 700,000-square-foot office portfolio in North County. Newport National's portfolio is comprised of nine buildings in five projects: The Campus, Ventana Real, Civic View Corporate Centre, Emerald Lake Corporate Centre and Nordahl Medical Centre. With the addition of Newport National properties, Cassidy Turley will manage more than 2.4 million square feet of property in San Diego County, said Paul Klink, managing director of the company.
Best Best & Krieger Names 2 New Partners
Best Best & Krieger has promoted two San Diego-based attorneys — Tyree Dorward and Matthew Green — to of counsel positions in the firm. Dorward is a member of the firm's school law, special districts and municipal law practice groups. He received his law degree from the University of San Diego School of Law. Green's practice focuses on civil litigation where he represents both public entities and private clients in state and federal court. He received his law degree from California Western School of Law.
Healthcare Hero Awards Nominations Solicited
The Grossmont Healthcare District is seeking nominations for its 2012 Healthcare Hero Awards, the annual awards program that honors East County residents whose volunteer efforts help advance the delivery of quality health care in the East County. Nomination forms are available at grossmonthealthcare.org. Deadline for submission of entries is 3 p.m. on Feb. 27 at the GHD offices, 9001 Wakarusa St., La Mesa. Nominees can include front-line volunteer caregivers, including volunteers at community clinics, junior volunteers, auxiliary members, health care educators and pastoral care providers as well as members of service clubs, community groups and advocacy or policy organizations. For more information, call the GHD offices at (619) 825-5050. GHD will present its sixth annual Healthcare Hero Awards at a luncheon to be held on May 16 at Sycuan Resort in El Cajon.
Dalai Lama to Visit San Diego in April
The Dalai Lama, spiritual leader of Tibet, will make his first trip to San Diego on April 18 and 19 for public events at San Diego State, UCSD and University of San Diego.The Compassion Without Borders symposium will include three major public events:
• April 18, UCSD: Panel Discussion: The Global Impact of Climate Change: Balance through Universal Responsibility, Compassion and Human Consciousness.
• April 18, USD: Public Talk: Cultivating Peace and Justice.
• April 19, SDSU: Public Talk: Upholding Universal Ethics and Compassion in Challenging Times.
For more, visit dalailamasandiego.org.
---
The Daily Business Report is produced by REP Publishing Inc., publisher of SD METRO, the North Park News and the West Coast Craftsman. Contact: Manny Cruz (619) 287-1865.
---