Daily Business Report — Feb. 10, 2012
Regents Bank Reports Net Income
Regents Bank reported net income of $439,000 for the quarter ended Dec. 31, 2011, and $1.7 million for the full year 2011. The bank's profitability for the full year 2011 was up significantly from 2010 earnings, which included Regents' only quarterly loss since its de novo period when the bank chose to boost reserves in the second quarter 2010. Net income in the fourth quarter 2011 increased to $439,000, up from $430,000 posted at the end of the previous quarter, and was down from $698,000 in the prior year fourth quarter, due principally to the reduction in loan outstandings. Total assets and total deposits at year-end 2011 increased approximately seven percent on a year-over-year basis to $344.6 million and $302.6 million, respectively. Both totals were down slightly from the third quarter 2011. With the reduction in problem assets, total loans at Dec. 31, 2011, dropped slightly from the prior year end to $211.9 million, but were marginally higher than the previous quarter. The total risk-based capital ratio was 18.8 percent; Tier 1 leverage ratio was 11.4 percent; and Tier 1 risk-based capital ratio was 17.5 percent.
National Conflict Resolution Center to Present Peacemaker Awards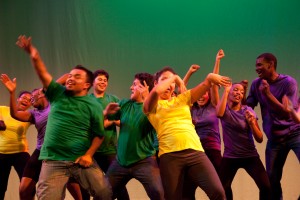 San Diego-based transcenDANCE Youth Arts Project and David Gergen, senior political analyst for CNN, will receive Peacemaker Awards from the National Conflict Resolution Center on Feb 16 at the 24th annual Peacemaker Awards dinner at the Hilton La Jolla Torrey Pines. Gergen is the recipient of the national award. transcenDANCE is the San Diego Peacemaker honoree.
TranscenDANCE Youth Arts Project empowers culturally diverse youth to mobilize social change through intensive technical training in dance, choreography, creative writing and theater. The organization uses the arts as a vehicle for helping youth address complex social issues that impact their community through leadership development, community-building activities and service projects.
Gergenhas served as a White House adviser to four presidents: Nixon, Ford, Reagan and Clinton. He is a professor of public service and the director of the Center for Public Leadership at the Harvard Kennedy School. Gergen has worked on a wide range of programs and activities that reinforce the principles of conflict resolution and communication. He is a member of the Council on Foreign Relations, a New York Times bestselling author and honors graduate of Yale and the Harvard Law School.
Sponsors of the 2012 Peacemaker Awards include Procopio; SDG&E; The Patricia and Christopher Weil Family Foundation; and Cory, Hargreaves & Savitch. Tickets are $200 per person and can be purchased at NCRConline.com or by calling (619) 238-2400, Ext. 221. (Photo: transcenDANCE performers.)
Social Media Symposium Set for March 1
The San Diego Social Media Symposium returns for its third year on March 1 to help give attendees the tools needed to effectively engage in social media. Presented by Nuffer, Smith, Tucker, the one-day symposium will be held at the San Diego Hall of Champions in Balboa Park. Keynote speaker Jason Falls is one of the strategists and public speakers in the social media marketing, digital marketing and online communications industries. Gary Kim, editor of Mobile Marketing & Technology, will serve as the presenter. The symposium will feature four panel discussions with representatives from Cisco Systems, FIJI Water, Hilton San Diego Bayfront, Karl Strauss Brewing Co., San Diego Gas & Electric, Social Control and Sony Online Entertainment. Ticket prices are $140 per person. For more information, call (619) 296-0605 or visit nstpr.com.
PriceSmart to Open Another Warehouse Club in Costa Rica
PriceSmart Inc. has agreed to purchase property in La Union, Cartago, Costa Rica, where it intends to build its sixth membership warehouse club. The transaction is planned to close this year. Price Smart anticipates opening the Cartago Club in summer 2013. The company entered the Costa Rica market 13 years ago.
---
The Daily Business Report is produced by REP Publishing Inc., publisher of SD METRO, the North Park News and the West Coast Craftsman. Contact: Manny Cruz (619) 287-1865.
---