Daily Business Report — Feb. 15, 2012
SD METRO Daily Business Report — Feb. 15, 2012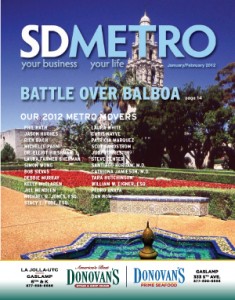 Fat City Lofts Project Denied Development Permits
Kim John Kilkenny, chairman of the Centre City Development Corp., denied development permits for the proposed Fat City Lofts project on Tuesday, saying it was inconsistent with the city general plan and the Centre City Community Plan. Kilkenny's decision is appealable to the San Diego Planning Commission, but not the San Diego City Council.
"After extensive evaluation, my decision is based on a few key factors," said Kilkenny in a statement. "Neither the city of San Diego's General Plan nor the 1992 Centre City Community Plan establishes the proposed residential project as a land use that must be approved as a matter of right, but rather a use that may be approved depending on an evaluation of its conformance to General Plan and Community Plan policies. In my judgment, the proposed project is inconsistent with the General Plan's Economic Prosperity Element Policy and Centre City Community Plan, which recognizes that base sector industries should be protected and land use inconsistencies should be avoided. The construction of a residential project close to Solar Turbines would result in increased regulatory burdens which may jeopardize Solar Turbines' continued operations."
San Diego developer Jonathan Segal, in partnership with GLJ Partners, proposed buildinga 232-unit apartment and retail project close to Solar Turbine's property on Pacific Highway. The project has been opposed by Solar Turbines executives and a variety of local elected officials, who claim the project could cause the company to move its manufacturing out of San Diego and the loss of 3,800 jobs. The developers said the project incorporates and preserves part of the 1941 landmark Top's Night Club, the predecessor of Fat City, and has won the endorsement of the Save Our Heritage Organisation.
Port Staff Strikes Back at U-T Waterfront Proposal
Port staff presented the Port Commissioners with a report Tuesday outlining the jobs, money and cargo that are tied up with the 10th Avenue Marine Terminal, KPBS Radio reports. Recently the U-T San Diego published an editorial in favor of building a stadium and Convention Center expansion on the land where the terminal sits. The paper has also published several articles questioning the vitality of the terminal.
But the Port is striking back, touting the economic impact of 10th Avenue and the National City Marine Terminal. Port staff stressed their presentation wasn't about a new stadium. But it's clear the proposal was on everyone's mind. Joel Valenzuela is the Port's Director of Maritime Operations. "An independent study by the San Diego Institute of Policy Research in 2008 estimated that the annual economic impact of the two cargo terminals is equivalent to hosting four-and-a-half Super Bowls, 12 U.S. golf open championships, or 60 Holiday Bowl games," said Valenzuela. Former Port Commissioners, union members and others also spoke in support of the 10th Avenue terminal. So far there is no formal proposal for the U-T San Diego plan. Similar projects at 10th Avenue were rejected in 2004 and 2008.
Urban Land Institute Council Names Management Committee
The Urban Land Institute San Diego/Tijuana District Council has announced its new management committee for 2012, led by chairwoman Robin Madaffer. Members will serve a one-year term. The 2012 Management Committee members are: Robin Madaffer, Schwartz Heidel Sullivan, ULI chair; Chris Morrow, Project Design Consultants, immediate past chair; Tony Pauker, City Ventures, past chair; Ivar Leetma, Saranac, treasurer; Tucker Stine, Greenhaus; Nathan Moeder, The London Group; Brian Fish, Luce Forward; Deborah Hunkeler, Cushman and Wakefield; Deborah Bossmeyer, Stewart Title; Ryan Marcos, SCS Engineers; Dan Johnson, SCS Engineers; Rameeta Garewel, URS; Gabriel Garza, Loponti Holdings; Stephanie Morgan, RECON; Mary Lydon, ULI San Diego/Tijuana, executive director.
Airport Authority Chief Gives FAA Bill Mixed Review
President Obama's signing into law of the long-delayed Federal Aviation Administration Reauthorization bill on Tuesday was greeted with mixed reaction from Thella Bowens, chair of the Airports Council International-North America and president and CEO of the San Diego County Regional Airport Authority. Passage of the bill, said Bowens, "provides stable funding for the aviation community, helps airports conduct long-term planning and should prevent another FAA shutdown. Unfortunately, reduced funding for programs such as the Airport Improvement Program will restrict resources for important airport improvement projects and impact the ability of airports to create more jobs."
"We  look forward to beginning a dialogue and working with congressional leaders and the Administration on ways to increase local control for airport funding," Bowens added. "Our goals include decreasing airport reliance on shrinking federal resources, providing permanent Alternative Minimum Tax relief for airport projects, and stabilizing the Airport and Airways Trust Fund."
---
The Daily Business Report is produced by REP Publishing Inc., publisher of SD METRO, the North Park News and the West Coast Craftsman. Contact: Manny Cruz (619) 287-1865.
---