Daily Business Report — Feb. 16, 2012
Japan Airlines to Offer Nonstop Flights from San Diego to Asia
The first-ever nonstop flights between San Diego and Tokyo Narita International Airport will be offered in December by Japan Airlines using the 787 Dreamliner aircraft.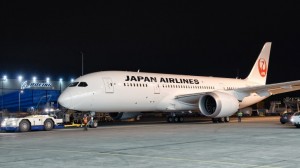 San Diego has been the largest U.S. market without nonstop service to Asia. The new service is made possible by the advent of the 787 Dreamliner, the first aircraft with the size, airfield performance and range to make the nonstop oceanic flight viable. The San Diego-Tokyo route is the first announced scheduled Dreamliner service in Southern California. "San Diego has the largest unserved U.S. passenger market to Asia, and thanks to Japan Airlines, these passengers are now linked nonstop to Asia," said Thella F. Bowens, president/CEO of the San Diego County Regional Airport Authority.
Silvergate Bank Posts Highest Annual Earnings
Silvergate Bank's financial results for the 12-month period ended Dec. 31, 2011, show the bank posted the highest annual earnings in its 24-year history with net income of $3,084,000, the bank reported. "We are pleased to report that in 2011 Silvergate Bank surpassed its record earnings the prior year (2010), while also registering several other achievements that reflect our efforts to strategically grow our San Diego County service platform," said Alan J. Lane, the bank's president and chief executive officer. Silvergate Bank's financial highlights for the three months and 12 months ended Dec. 31, 2011, included achieving record net income of over $3 million for the second consecutive year. The bank also funded $1.4 billion in residential mortgage warehouse loans, with cumulative mortgage warehouse loan fundings reaching almost $3 billion since April 2009. The bank received $22.2 million in equity capital contributions from its parent firm, Silvergate Capital Corporation. Lane said Silvergate Bank continues to grow its San Diego County presence, opening a new branch in Escondido and receiving regulatory approvals for new branches in La Mesa and Carlsbad, both of which will open in the first half of 2012.
Irwin Zahn Gift Funds On-Campus Incubator at SDSU
Irwin Zahn, founder of Autosplice Inc., has given San Diego State's College of Engineering $700,000 to create an on-campus incubator for promising young entrepreneurs to turn their ideas into actual companies. The Zahn Center will guide teams of engineering, technology and business students from concept to business plan to market. Richard Kerr, a long-time entrepreneur with SDSU degrees in physics and electrical engineering, will direct the Zahn Center, mentoring the fledgling entrepreneurs and eventually connecting them with venture capitalists. Zahn's initial gift will fund the operational costs of the center, which will become a working office to several of the start-up companies. Kerr will be there to guide students through the process of developing a business plan, obtaining patents, building collateral like websites and email addresses and creating prototypes. The center will also work closely with the College of Business in developing long-term campus wide goals. Acceptance into the program will be based on success in what is called the Zahn Incubator Challenge. Three winning teams, which must include at least one current SDSU student, will split the $25,000 prize money and be among the first to enter the Zahn Center.
Cubic Subsidiary Receives Contract for Seaport Assessments
Cubic Applications Inc., a subsidiary of Cubic Corp., has received its fourth contract to provide seaport assessments and security training from the Secretariat of the Inter-American Committee Against Terrorism of the Organization of American States (OAS). The new contract covers security services for the Mexican ports of Ensenada, Mazatlan, Puerto Vallarta and Salina Cruz, and the Colombian port of Turbo and is a follow-on to an award received last year for assessments and training in the Mexican ports of Cozumel, Cabo San Lucas, Coatzacoalcos and Manzanillo as well as the Colombian port of Buenaventura. Cubic will initiate the new work in Mexico and Colombia as it completes an OAS port security training contract in Panama. During the first phase of its new contract, Cubic will examine physical security, cargo and access controls, customs procedures, critical infrastructure, screening techniques for passengers and crews, passenger and cargo security, and emergency consequence management capabilities at each of the five ports in Mexico and Colombia. Cubic will then work with OAS to provide mitigation strategies and a training need analyses.
Camacho and Behar Recruited for CHE PR and Advertising Agency
Former business owners Rudy Camacho Jr. and Adam Behar have been recruited to assist in the expansion plans of CHE,  the public relations, advertising and digital media company formerly known as the j. simms agency. Company founder Julia Simms said the two men will spearhead CHE's new business efforts. Prior to CHE, Behar was the creator and publisher of Baja Breeze magazine and served as director of public relations and external affairs at the national headquarters of AVID. Behar also served as account supervisor at Nuffer, Smith, Tucker. Camacho founded CCS Inc., a new media branding agency, which was acquired seven years later in a seven-figure deal by a larger competitor. Simms' agency was formed in1995 and has grown from a small, single-client shop to an international consultancy.  In 2006, the company began operations in Mexico and the following year expanded to the Great Lakes and the Atlantic Seaboard.
SDSU Business Alumni Network Hosts Networking Event
SDSU's Business Alumni Network (BAN) will host its bi-monthly professional networking event on Thursday, March 22, at Junior Achievement, 4756 Mission Gorge Place in the Mission Valley area. Junior Achievement will have staff on hand to introduce guests to BizTown, an interactive simulated town that is used to help students learn business. Tickets for the event are $15 for current SDSU students and Alumni Association lifetime members; $20 for SDSU Business Alumni members by March 15; and $25 for general public and Business Alumni Network members after March 15 or at the door. The event starts at 5:30 p.m. and runs through 7:30 p.m. For more information, call Chris Parks, VP of professional events and development, at (619) 855-0090.
Shea Homes Celebrates Opening of Mission Valley Townhomes
Shea Homes San Diego on Saturday will provide food, craft beer tasting and live entertainment during the opening celebration of Origen at Civita in Mission Valley. The event lasts from noon to 3 p.m. at 7894 Civita Blvd., just east of State Route 163. Origen at Civita offers two neighborhoods of loft-style homes designed by Woodley Architectural Group.
---
The Daily Business Report is produced by REP Publishing Inc., publisher of SD METRO, the North Park News and the West Coast Craftsman. Contact: Manny Cruz (619) 287-1865.
---