Daily Business Report — Feb. 2, 2012
ACCION San Diego Records Jump in Loan Activity
The nonprofit micro-lender ACCION San Diego reports that loans it disbursed in 2011 increased by 18 percent over the previous year — from $962,408 in 2010 to $1,137,052 last year. Loan issuance was also up 10 percent, lending 99 loans compared to 90 in 2010. Funding increased 13 percent over 2010. Staff size was recently increased by 23 percent to meet increased demand of services.
"ACCION San Diego continues to be a resource for small businesses to access capital and business support services," said Executive Director Elizabeth Schott. "The power of these small loans provides start-up and existing local entrepreneurs the resources to create jobs in our community, increase family incomes, and contribute to the strength of our local economy."
One of the main goals of ACCION San Diego is to be a resource to the community by hosting free events, in addition to loans. Out of six events held in 2011, 290 people attended free training events hosted by ACCION San Diego, up from 195 in 2010. On average, active clients with loans ACCION San Diego maintain and/or generate almost 1,000 jobs for San Diegans.
The nonprofit helps small and home-based business owners obtain loans ranging from $300 to $35,000, provides access to business resources, as well as publicity and networking opportunities. It offers other resources for start-up business owners with little or no credit history. For additional information, visit accionsandiego.org or call (619) 795-7250.
Grossmont College Reopens Renovated Student Center

Grossmont College has reopened its newly renovated and expanded student center — now called the Griffin Center — and will stage an April 14 dedication ceremony for both the administration and student services complex and Griffin Center. The 9:30 a.m. event is part of the college's open house celebrating its 50th anniversary.
The revamped 46,734-square-foot facility involved  renovation of about 27,000 square feet of the existing building and the expansion of nearly 20,000 square feet, including upgrades to meet current accessibility and code requirements. It includes meeting rooms for student groups, seating for dining,  lounging  or study, easy access to a career  center and other student services, as well as  a 10-foot screen  in the lobby for watching movies, four food stations and a mini-market. A partial second story has added a quiet study area along an indoor balcony. Seating is available in three indoor and two outdoor dining areas, where students can order four types of fare: oven-baked pizza, Mexican, grilled dishes and healthy salads and sandwiches.
The center also houses the offices and work areas of the Associated Students, the culinary arts program, student health  services, Extended Opportunity Programs and Services (EOPS) for low-income  students, the career center and job placement, a club room for student organizations, and Disabled Student Programs and Services (DSPS). A large conference room  has multiple uses: governing board meetings, conferences and a gathering spot for groups of all sizes, thanks to rollaway walls.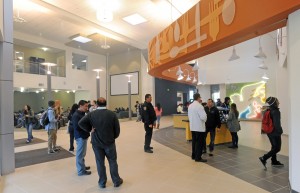 Designed by Architects Mosher Drew, the remodeled building is part of a $36.2 million, two-building project that also updated and expanded an aging student and administrative services building completed in late December.
Downtown Rotary Honors Miko Peled and Nader Elbanna
as 2012 Peacemaker Award Recipients
Miko Peled and Nader Elbanna, co-founders of a foundation committed to Israeli, Palestinian reconciliation, have been honored as the recipients of the 2012 Peacemaker Award by the San Diego Downtown Breakfast Rotary Club. The Peacemaker Award is given annually to San Diego community leaders who have made a significant difference in promoting tolerance, understanding, conflict resolution and peace in the region and beyond. Born enemies, Peled and Elbanna found friendship in their mutual support of a common cause… to be ambassadors of peace. They had reasons to hate each other. Elbanna, a Palestinian, lost his homeland, then his best friend to the Israelis. Peled, an Israeli, lost his niece to a Palestinian suicide bomber in Jerusalem. The two Rotarians wound up in San Diego County and met 11 years ago at a discussion group designed to move people like them beyond the hatred. Elbanna and Peled raised $84,000 several years ago as part of a Rotary project to send 1,000 wheelchairs to the Holy Land. Half went to Palestinians, half to Israelis, many of them victims of the region's relentless violence.
Peled was born in Israel and came to the United States almost 20 years ago. He owns his own martial arts school in Coronado. He's married and has three children. Elbanna was born in Palestine. When the nation of Israel was proclaimed there a couple years later, his family fled to Jordan. He came to the U.S. in 1990 with his wife and six children. He owns a business that supplies industrial and medical equipment. Both are American citizens.
---
The Daily Business Report is produced by REP Publishing Inc., publisher of SD METRO, the North Park News and the West Coast Craftsman. Contact: Manny Cruz (619) 287-1865.
---