METRO Movers 2012
Introducing SD METRO Movers to Watch in 2012
Jason Hughes is president of Hughes Marino, the largest tenant representation company in San Diego. Hughes's expertise, passion for real estate and commitment to the San Diego community has led Hughes Marino to become the leading commercial real estate company that exclusively represents tenants, as well as an advocate for San Diego business owners and the community at large. Over the last 20 years, Hughes has served the San Diego community in many capacities. As past president, Hughes has been touted as saving the New Children's Museum, an award-winning landmark in Downtown San Diego. He has also been a founder and served on the board of directors for San Diego-based Torrey Pines Bank, the executive board of the Downtown San Diego Partnership and the board of the Rancho Santa Fe Community School Endowment, among others. Additionally, he was an elected official of the Downtown Project Area Committee as well as a director of the Gaslamp Quarter Historical Foundation, and is an avid supporter of Voices for Children. Hughes began his commercial real estate career when he worked at the Century City office of Cushman & Wakefield while attending college. Upon graduation, he moved to San Diego, where he represented Downtown tenants and landlords before joining a local tenant representation firm in 1991. In 1993, Hughes co-founded Irving Hughes, of which Hughes was president. In January 2011, Jason and Irving Hughes principal and executive vice president David Marino formed Hughes Marino.
Elliot Hirshman is the eighth president of San Diego State University. He brings a broad foundation of experience to SDSU, which includes a career dedicated to excellence in teaching, research and service. As provost and senior vice president for academic affairs at the University of Maryland, Baltimore County, Hirshman was responsible for the delivery of the academic program, including instruction, research, and academic support services; enrollment management, including admissions and financial aid; and the intercollegiate athletics program. Hirshman oversaw the campus planning process, working with vice presidents and the Planning Leadership Team to coordinate planning and budgeting for the campus. As president of SDSU, Hirshman leads San Diego's oldest and largest university during its first-ever university-wide fundraising campaign that will provide support for student scholarships, faculty research and creative endeavors, and community partnerships. The campaign launched its public phase this fall and will be a major priority for 2012. Hirshman will also be focused on finding ways to develop and build on partnerships with the local community — including working with industry to support workforce development in the region.
Laura Farmer Sherman leads the team at Susan G. Komen for the Cure San Diego as executive director. Sherman is the heart and soul behind Komen's San Diego affiliate, and she is a stage 3A breast cancer survivor. She has undergone a mastectomy, eight rounds of chemotherapy and 48 rounds of radiation treatment. Sherman is an eight-year survivor who took her pain and shifted it into a powerful force, leaving behind the corporate world with a mission to end suffering and fight for a cure for all women. She believes that every woman and man should have access to health care no matter who they are. Komen San Diego not only provides support for diagnostic services and treatment, but also supports those affected by breast cancer by putting food on their table or paying rent or mortgage. It literally help women every step of the way. Sherman worked for Sempra Energy for 25 years. When she was diagnosed with breast cancer and chose to leave, she was the director of advertising. Now, she fights for San Diego County's uninsured. Sherman is passionate about Komen's mission: to empower women, ensuring quality care for all and energizing science to find the cures.
Dan Hom, president and founder of Focuscom Inc. in San Diego, has over 20 years of community involvement, business experience and international expertise. His responsibilities include driving business developmentas well as managing and providing strategy for clients. Born and raised in the area, Hom is a community relations expert with specialization in Chula Vista and the South Bay. He became active in the community at an early age and his community ties continue to stretch across a wide range of areas and industries. Hom has been a board member for organizations like the M.S. Society of San Diego, San Diego Hospice, The Risen Project and The Lincoln Club of San Diego. Additionally, Hom reaches out to San Diego's ethnic communities to give a greater voice to this county's Asian-American communities. He continually donates his time, resources and finances to organizations like the Asian Business Association, San Diego Asian Film Foundation and the Union of Pan Asian Communities. He believes in their missions, and because of his personal support and outreach in the community, his efforts continue to give a voice to hundreds of Asian Americans around the county.
Bob Silvas is the director of small business development for the San Diego County Regional Airport Authority, owner and operator of San Diego International Airport. He has been with the Airport Authority for more than 20 years. During the economic downturn, Silvas led the Authority's efforts to size and tailor bid packages for The Green Build $1 billion expansion project in order to facilitate local small business participation. Under his leadership, the Authority's Small Business Development Department hosted 20 events for local, small and disadvantaged businesses to learn about airport contracting; nearly 2,000 people attended. His team launched free online business tutorials to help local small business owners learn about the unique airport environment and winning contracts with the Authority. The Authority's Concession Development Program, designed to bring new dining and shopping options to the airport, exceeded its goal of 24 percent disadvantaged business participation. As a result of Silvas's efforts to keep local and small San Diego County businesses working, small businesses have been awarded 90 percent of the contracts for which they were eligible for The Green Build — to the tune of $89 million. Local businesses have won a total of $340 million in contracts. Silvas's work to provide opportunities for local small and disadvantaged businesses has earned the Airport Authority a number of national and local awards, and serves as a model for other public agencies. Silvas is active in industry organizations including the Diversity Committee for the American Association of Airport Executives' (AAAE) and the Airport Council International-North America (ACI-NA) Business Diversity Committee, where he is the incoming chair for 2012. He is a member of the board of directors for the Airport Minority Advisory Council (AMAC) and an executive committee member for the California Unified Certification Program.
Growing up as a foster child, Debbie Murray's sensitivity to young at-risk students has sparked her commitment toward helping provide future opportunities for young people in San Diego. She is currently working on a project in conjunction with a unique, multi-governmental consortium that involves the San Diego County Juvenile Justice/Court system, San Diego County Probation, The San Diego County Office of Education, multiple high school/unified school district jurisdictions and key business members on a "Youth Focused Career Education" grant program. The project targets 200+ students who have contact with the juvenile justice system as "status offenders," who have been incarcerated and/or placed on probation or who are referred by a School Attendance Review Board. These students participate in a Core Careers "Virtual-Blended" Career-Technical Education curriculum that leads to a specific career certification and potential employment/a high school diploma or its equivalent and/or a post-secondary experience. The project demonstrates that students participating in a career technical education program will have lower recidivism rates, higher graduation rates and higher post-secondary admittance rates than their peers who have participated in the normal probationary program.
Kelley McClaren is not one to sit back and watch life pass her by. Growing up, she spent her summers herding cattle in Montana and was a competitive horseback rider. The native Californian also hits the surf and enjoys working out in her off time. But she's not all fun and games. "I always wanted to be an attorney, and was looking into applying to law school when I started working at Trigild," she says. She went on to earn a paralegal degree, and has since worked her way up the ranks at Trigild to managing director of receiver services. In this role, she has been appointed receiver for or assisted in over 100 receivership appointments and has helped grow the firm's legal department from just two employees to 15. Additionally, McClaren is the vice president of the San Diego chapter of the California Receiver's Forum, co-editor of the Trigild Deskbook: A State by State Guide to Foreclosure and Receiverships, a member of the legislative committee for NAIOP and a guest speaker at multiple industry conferences about receivership law. McClaren is focused on gaining knowledge and learning new skills. She is currently working on her MBA, and holds a bachelor's degree from San Diego State University as well as a paralegal degree from the University of San Diego.
Jill Mendlen is a registered nurse who has dedicated her life to the healing profession. After more than three decades in a field full of tremendous competition and shrinking budgets — Mendlen is not only still standing, but flourishing as a competent manager, outstanding leader and true visionary at LightBridge Hospice & Palliative Care. Mendlen's approach is to be proactive, prepping her staff for the regulatory and fiscal changes affecting hospice well before talks of budget cuts and Obamacare. She's earned respect and loyalty from her expansive network that includes health care professionals, caregivers, volunteers and patients. Under Mendlen's leadership, there is a distinct creativity of individualized hospice programs to meet the needs of San Diegans. For example, LightBridge is a leader in veteran care and is the only hospice in Southern California to reach stringent "We Honor Vets" national program requirements. LightBridge is also the first local hospice with a program dedicated to the needs and concerns of the Jewish community. She also serves as chairman of the LightBridge Hospice & Palliative Care sister organization, the LightBridge Hospice Community Foundation. Through her work with the foundation, Mendlen is able to provide the gift of hospice to patients and families who could not otherwise afford those services.
Michael Jones excels in the corporate world while staying highly active in the community. While Jones may be an attorney by trade, he makes it his personal job to ensure that the right kinds of introductions are made between business professionals and dealmakers. He is active in the MIT Enterprise Forum San Diego, Association for Corporate Growth, ProVisors San Diego as the group leader of the Downtown 2 Group, San Diego Breakfast Rotary Club, among others. Since 1996, Jones has been with Higgs Fletcher & Mack LLP, one of the largest San Diego-based law firms, and a partner since 2001. He has received the highest rating (AV Preeminent) available from Martindale-Hubbell for ethics and legal ability. As a corporate transaction attorney, Jones is involved in some of San Diego's major business dealings. He has been involved in more than 500 corporate transactions.  He represents about 40 mid-market companies in a wide-range of industries including clean tech, electronic design and manufacturing, financial services, professional services, real estate development, securities brokerage, food manufacturing and distribution, electronic components distribution, and health care services. Jones represents both start-up and established mid-market companies. He was the co-founder and president of an apparel manufacturing and distribution company, which ultimately was sold in a leveraged buyout to a group of retired Fortune 100 executives.  He also had a merger and acquisition consulting practice, specializing in providing consulting services to sellers of mid-market companies. He was the publisher of "Merger & Acquisition Network" and regularly posts articles and advice on his personal professional Website that is dedicated to sharing his legal expertise with peers. Jones prides himself on playing a pivotal role in business transactions made in San Diego and, outside of his legal practice, helping others by making strategic introductions and building meaningful relationships.
Stacy L. Fode is a partner with Brown Law Group, a results-driven law firm focused on employment law, experienced in litigation, and known for its integrity and long-term client relationships. Fode focuses her practice on business litigation with an emphasis on employment litigation and advisement. She specializes in the representation of business clients in all aspects of employment law, including wrongful discharge, discrimination, sexual harassment, whistle blower, employment agreement disputes and wage and hour compliance matters. Fode's clients include employers in the financial, insurance, technology, energy, and telecommunications industries. Fode has been a frequent speaker on employment and diversity- related issues and has appeared on television segments on Fox News, NBC, and CBS discussing these topics. In addition, Fode has published several articles on employment and related issues and regularly conducts employment-related training seminars for employees and employment lawyers. Fode is a past member of the board of directors of the San Diego County Bar Association and a past president of Lawyers Club of San Diego. Fode also is a member of the American Bar Association, Association of Business Trial Lawyers, California Women Lawyers, The National Association of Minority and Women Owned Law Firms, and Women Presidents' Organization-San Diego chapter.
Laura White is vice president of development for Monarch School, a public K-12 school in Downtown San Diego exclusively for homeless youth. She spends her own dollars supporting Monarch students, regularly buying supplies and clothing. White joined Monarch School in the fall of 2010 and has since made enormous strides in elevating the organization. She has a proven track record in raising funds, delivering award-winning grant proposals and driving organizational restructuring that improves program revenues, expands services and increases volunteer staffing. Under her leadership, Monarch launched the capital campaign in April of 2011 and has since raised $2.5 million, in addition to the nearly $2 million for annual operating funds. Before joining the Monarch team, White's passion for her community and serving a broader cause brought her to other nonprofits in San Diego. She was the annual fund manager at Casa de Amparo from 2003 to 2006, serving abused foster children in the county. She then joined TERI Inc. for four years as their first director of development, helping to fund programs for individuals with autism and other development disabilities. In both of these positions, she earned annual employee recognition awards. She still volunteers with TERI, forming lifelong friendships with its special needs clients.
A leader in the San Diego homebuilding industry for many years, Scot Sandstrom has led his company to success in difficult times and is well positioned to continue his role as a leader in San Diego's real estate industry. A 24-year veteran of the homebuilding industry, Sandstrom started New Pointe Communities (NPC). His original plan to offer land development changed after the Witch Creek fires. Sandstrom bought 20 empty lots from fire survivors who could not rebuild or did not want to re-build, a win/win for both NPC and the fire survivors. He and his team rebuilt 20 homes in Rancho Bernardo to standards that would help these homes survive future fires and perform more energy efficiently. To date, NPC's entities invested more than $9.5 million within the Rancho Bernardo community and created 3,500 construction jobs. Sandstrom's firm has nearly 50 single-family or row homes built or in development. All of NPC's homes exceed other standard new homes' energy efficiency performance by as much as 35 percent, certified under SDG&E's Advance Energy Efficient Home Program. At a time when homebuilding nearly halted, NPC has outsourced subcontractor work to more than 60 local companies, creating jobs for countless individuals in the county.
Judy Forrester has been a fixture in the San Diego business and nonprofit community for more than a decade. She currently serves as Bank of America's senior vice president and market manager of global marketing and corporate affairs for San Diego/Imperial counties. Her responsibilities include executing the bank's commitment to corporate social responsibility by leading the local partnership with the National Bank of America Charitable Foundation, a role that enables the bank to make San Diego a better place by strengthening local nonprofits throughout the region to provide vital community resources and assistance to San Diegans in need. Forrester is a member of Rotary Club 33 and is a member of the board of directors for various organizations including the Downtown Partnership, Economic Development Corporation Foundation and LEAD San Diego.
Prior to joining Bank of America, Forrester served as president/CEO of LEAD San Diego, where she fostered programming aimed at advancing the quality of life in San Diego through educating a growing network of civic leaders. Under Forrester's leadership, the organization underwent a dramatic restructuring that redesigned the business model and stabilized the financial structure to allow the organization to thrive and educate generations of leaders in the San Diego/Baja region for the next 25 years.
Cushman & Wakefield Senior Director Steve Center is a 21-year commercial real estate veteran who has spent the last 19 years in executive roles for owners, including Bixby Land Co., Shea Properties, Irvine Company Office Properties and Legacy Partners. In that time he has completed the leasing, marketing and tenant improvement construction of more than 15.5 million square feet of office, R&D and industrial space throughout California and Nevada. His experience also encompasses acquisitions, re-positioning and development as well as asset management and property management. With Cushman & Wakefield since 2003, Center brings a scope of experience and a unique understanding of what it means to "think like an owner." As a highly respected professional in the San Diego commercial real estate community, he adds a dynamic element of strength to the company. Center is committed to executing the company's strategic growth initiative for the market. He intends to take the Cushman & Wakefield Institutional Advisory Group's service beyond brokerage, advising institutional owners of office and corporate headquarter properties in the central markets of San Diego County. With Center's direction, expect to see Cushman & Wakefield's Institutional Advisory Group gain market share, transact some of the largest deals in 2012 and grow the firm's service business. Center served as president of the San Diego chapter of the National Associate of Industrial and Office Properties (NAIOP) in 2008 and served on the board and executive committee from 2004 to 2010.
Santiago Horgan, M.D., is chief of minimally invasive surgery and director of the Center for the Future of Surgery at the University of California San Diego. After five years of performing a series of groundbreaking scarless surgeries, he has opened the Center for the Future of Surgery—the largest site in the world dedicated to developing new minimally invasive surgery techniques. Horgan, 46, was the first surgeon in the U.S to remove a man's diseased appendix through his mouth. Always sporting a Hermes tie, this Argentina native is a go-getter. The experience of getting trained by him is known as "getting (H)organized." His daily goal is to shorten hospital stays and to make surgeries safer for patients. His novel techniques have inspired episodes of "ER" and "Grey's Anatomy." He has even been spotlighted in TIME Magazine as an innovator in surgical care.
Catriona Jamieson, M.D., is an assistant professor at UCSD Moores Cancer Center, the only National Cancer Institute-designated comprehensive cancer center in the San Diego region. Jamieson specializes in treating patients with leukemia and other types blood cancers. Although some effective treatments are available, most have serious side effects and individuals can become resistant to the treatments. Jamieson studies the mutant stem cells that can give rise to cancer stem cells. Cancer stem cells may lie low to evade chemotherapy and then activate again later, causing the disease to progress and become resistant to treatment. Jamieson's goal is to find more selective, less toxic therapies. Her research work is funded by the California Institute for Regenerative Medicine and she currently heads one of the only clinical trials using a drug therapy developed through stem cell research (featured on "CBS World Report with Diane Sawyer"). Jamieson is at the forefront of the fight against cancer, developing promising new therapies and treatment options. Last year, Jamieson was featured in GQ magazine's "Rock Stars of Science."
Tara Hutchinson leads a team of structural engineers at the UCSD Jacobs School of Engineering who are preparing for a series of earthquake tests focused on nonstructural components, including a functioning elevator, stairs, ceilings and passive and active fire suppression systems such as sprinklers and partition walls, in a full-scale, five-story concrete building on the world's largest outdoor shake table. The tests are being performed at the Englekirk Structural Engineering Center at UCSD and will be the first of their kind in the United States to focus on a broad range of systems and equipment that can malfunction during an earthquake and make it more difficult to evacuate buildings, which can lead to more injuries and deaths. Hutchinson's research focuses on assessing the performance of structural and nonstructural components during an earthquake, as well as using computer vision and machine learning to estimate earthquake damage.
Pedro Anaya, a native of San Diego County, worked in San Diego's nonprofit sector for nearly a decade before joining Southwest Strategies (SWS), a well-respected full-service public affairs and communications firm that specializes in securing government entitlements for complex projects. In his role at SWS, Anaya assists in the development and implementation of strategic programs to assist clients in building productive relationships with stakeholders, elected officials, public agencies and the community. In 2004, Anaya joined the staff of the Jackie Robinson Family YMCA where he worked to ensure that all had access to its programs regardless of economic status. Most recently he served as the executive director of the Greater Golden Hill CDC where he worked with neighborhood stakeholders to improve the quality of life and the business atmosphere in Greater Golden Hill. He is a co-founder of the San Diego César E. Chávez Commemoration Committee, which for the past 17 years has hosted the largest series of events in honor of Chávez in the country. For his work in the community, he has received the Cesar E. Chávez Social Justice Award, the Channel 10 Leadership Award and in 2003 was selected as one of five International Reebok Humanitarian award recipients.
As the president of Simon Wong Engineering, one of California's leading consulting engineering firms, Simon Wong has had a hand in some of the most integral transportation projects in San Diego, providing structural design, bridge design, and construction management services. Some of the projects he and his firm have worked on include providing construction management for the I-15 freeway, and bridge design for San Diego's trolley bridge structure. In addition to helping the county of San Diego and organizations such as SANDAG and CALTRANS complete effective and cost-efficient transportation projects, Wong translates his commitment to San Diego to the community that surrounds him. He will continue to take an active role with both professional and diverse groups such as the Corporate Affiliates Program for the UCSD Jacobs School of Engineering, the Southeastern Economic Development Association, the San Diego Asian Business Association, Women in Transportation Society and the American Public Works Association for San Diego.
Phil Rath is the president of Public Policy Strategies Inc. (PPS), bringing nearly a decade of public sector policy-making experience to the firm.  His expertise in guiding controversial and high-profile projects through public scrutiny is invaluable to the success of its clients' initiatives. Most recently, Rath served as deputy director of policy for San Diego Mayor Jerry Sanders from 2007 to 2010. His portfolio in the Mayor's Office included policy responsibility for citywide land use, redevelopment, real estate asset management and major capital projects, including the new Main Library, proposed new civic center, proposed Convention Center expansion and potential new Chargers stadium. Rath also developed and managed relationships with outside government agencies, including the Port of San Diego, County of San Diego, Centre City Development Corp. and various state and federal agencies and officials. Prior to joining the Mayor's Office, Rath served as senior policy adviser for San Diego County Supervisor Bill Horn, where he advised on and executed policy initiatives in areas ranging from land use and public works to law enforcement and economic development. Rath serves on the board of directors of the Downtown San Diego Partnership. He is a graduate of Point Loma Nazarene University and was captain of its national championship-winning Parliamentary Debate team. He and his wife, Mary, have two sons; Alex, 5, and Markus, 3. They reside in North Park.
As Turner Construction Co.'s senior vice president for the Southwest region, Richard Bach oversees 410 employees in offices in Los Angeles, Orange County, Phoenix, San Diego and Las Vegas. Heading a company with San Diego revenue in the millions of dollars,  Bach is helping make Turner Construction Co. one of the top-ranked construction company in the nation.  Under Bach's leadership, Turner has been involved in some of the most important projects in the region, including the $140 million new San Diego Central Library (currently under construction); the $1 billion joint venture San Diego International Airport Green Build project (currently under construction); $65 million San Diego City College Business and Humanities buildings (currently under construction); the $213 million bachelor enlisted quarters at Camp Pendleton; $104 million UCSD North Campus student housing; among many others. Bach also serves as the chair for the board of directors of the Downtown San Diego Partnership. As the chair, Bach led the board of directors to develop business attraction and retention programs, a Downtown Partnership restructure and establishment of a Political Action Committee (PAC). Bach has focused his energy particularly on the Downtown Partnership restructure and forming a PAC. Bach has leveraged his resources and expertise to make key hires and streamline positions and departments for greater efficiency and accountability. He has also used his leadership and influence to help start and fund a PAC that has raised over $100,000 in less than a year. The PAC will focus on issues, policy, and candidates that improve the local and regional economy.
Michelle Pagni is senior vice president of human resources at San Diego County Credit Union (SDCCU) and has more than 17 years of experience in human resources management, including positions with credit unions and banks. 2012 will be Michelle Pagni's first full year with San Diego County Credit Union, San Diego's largest locally owned financial institution. She joined SDCCU in the spring of 2011. In 2012, Pagni will be involved with developing and directing human resource policies and programs, including organizational planning, training, employment, compensation, benefits, safety and health and employee services. "Michelle has been a welcome addition to our team," said SDCCU President and CEO Teresa Halleck. "She has a demonstrated track record of collaboration and commitment that SDCCU embraces, and brings strong experience and knowledge to help us continue to achieve our goals." Pagni attended Chapman University and Grossmont and Cuyamaca Colleges. She is active in the industry, currently serving as the chairperson of the Port of San Diego Personnel Advisory Board. She also is a member of San Diego Society for Human Resource Management and HRD Network, a networking trade group for credit union professionals. Additionally, Pagni has supported many local philanthropic organizations. She has been a supporter of UCSD Burn Center, George Mark Children's Hospice Home, The Chadwick Center at Rady Children's Hospital and Promises2Kids.
William Eigner is the go-to guy for emerging businesses and the angel and venture capital investors investing in them. With his Stanford connections, his service on the boards of San Diego Venture Group and CommNexus, and his involvement in Procopio's Silicon Valley office, Eigner has developed a powerhouse network of investors and entrepreneurs who are fueling the rise of emerging and established businesses in technology, energy, life sciences and other sectors. Recognized as one of San Diego's top transactional attorneys, and a past U.S. Supreme Court judicial intern, Eigner has a knack for getting companies and investors what they need to succeed. Eigner's practice emphasizes venture capital, angel financing, seed capital and the financing, governing, operating, buying, selling and merging of growing businesses. Eigner is a director of the San Diego Police Foundation, a past director of the San Diego Regional Chamber of Commerce and a member of the chamber's Public Policy Committee. Eigner serves on the board of the Mundoval Fund, a publicly traded, global mutual fund. He serves on the Board of Advisors of NewBlue Inc., Pixon Imaging, Vinculum Communications Inc. and other companies. He is a former trustee of La Jolla Country Day School and a former member of the Bishop's School's Headmaster Advisory Council. Eigner is also a former trustee and land use chairman of the La Jolla Town Council.
Chris Nayve and Patricia Marquez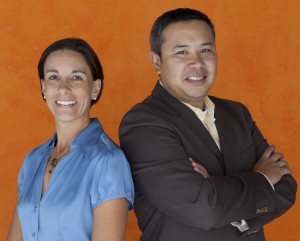 Chris Nayve and Patricia Marquez are leading University of San Diego's charge to create more social entrepreneurs who can help find innovative solutions to social and environmental problems both at home and around the globe. This fall, USD was named an Ashoka  Changemaker Campus, an honor bestowed on only 14 other U.S. campuses to recognize efforts to  become a hub of social innovation through education, research and service. Each year USD students volunteer nearly 400,000 hours of community service, ranging from mentoring and tutoring local youngsters to creating a solar power project for a village in Sudan or providing health care to residents in Haiti. As co-chairs of USD's Changemakers Hub, Marquez and Nayve want to expand on USD's efforts such as microfinance projects to help small businesses and entrepreneurs both in San Diego and Mexico.  They've already created the Social Innovation Challenge that will give USD students the opportunity this spring to win $30,000 in seed money for social ventures to make a positive impact on the world and are looking to do even more. "We've got a real opportunity to emphasize the value of social innovation and integrate it into our curriculum," Marquez says. Adds Nayve, "Social entrepreneurship opportunities develop from new ideas, new research and new approaches to the social issues that define our times. At USD, it is our mission to teach students not only how to make a living, but how to make a difference through academics and hands-on application." Through a collaborative approach, Marquez and Nayve are working to ensure that USD's Ashoka Initiative serves an enabling environment where every individual has access to resources and  learning opportunities to realize their full potential as changemakers.