Daily Business Report — March 15, 2012
MOST TRUSTED BRANDS
Nominations are being sought for San Diego's Most Trusted Brands — companies, organizations or institutions that have earned the trust and loyalty of their constituencies by adhering to high standards of professionalism, integrity and accountability. SD METRO will publish the results in April. Send your nominations to: Rebeca Page (rebeca@sandiegometro.com) or Manny Cruz (manny@sandiegometro.com).
Water Quality Board Orders Cleanup of San Diego Bay
The San Diego Regional Water Quality Control Board on Wednesday ordered the cleanup of more than 143,000 cubic yards of toxic sediments from the bottom of San Diego Bay — the largest cleanup of its kind in the bay that could cost $70 million. Dredging could start in September and take five years. The Navy, city of San Diego and others that contributed to the pollution are expected to pay for the work. The order was hailed by San Diego Coastkeeper and the Environmental Health Coalition, who said they have been fighting a 20-year battle for the cleanup. "The regional board should be applauded for finally acknowledging this pollution and the harm it causes to human, environmental and economic health," said Jill Witkowski, legal director at San Diego Coastkeeper. "It's about time that we make those responsible for the pollution clean up their mess." The environmental organizations said San Diego is listed under the federal Clean Water Act for 20 separate pollutants, including copper and mercury.
Witkowski said the cleanup order includes some loopholes that may let the responsible parties leave more sediment pollution in the bay than the analysis shows is safe. "The best way to illustrate the gravity of this situation is to look at mercury levels in the bay," said Witkowski. "Currently, the regional board found mercury levels in San Diego Bay that are unsafe for human and environmental health. But given the loopholes in this cleanup plan, the cleanup will be considered a 'success' even if the mercury level is exactly the same as it is right now." The organizations said they would continue to monitor the cleanup process.
San Diego Microfinance Summit Set for April 4
ACCION San Diego and other local organizations will stage the fourth annual San Diego Microfinance Summit on April 4 at the University of San Diego's Joan B. Kroc Institute for Peace & Justice. The summit will last from 8:15 a.m. to 4:30 p.m. Its purpose is to educate persons interested in or passionate about the field of microfinance on the local and international levels. This year's summit will highlight how the development of innovative strategies and new technologies are changing the face of the industry. The event will feature general sessions with national industry experts, opportunities to get involved in microfinance, as well as breakout session panels about pioneering microfinance models and the impact of technology in the field. The keynote speaker will be Chris Dunford, past president of Freedom from Hunger who has spent 35 years in rural development in Africa, Asia, Latin America and the United States. If purchased before March 21, tickets to the summit are $12 for students, faculty and staff and $25 for the general public. If purchased after March 21, tickets are $20 for students, faculty and staff, and $35 for the general public. To register for the summit, visit sdmicrofinance.org.
LifeLock Acquires San Diego's ID Analytics Inc.
LifeLock Inc., a Tempe-Ariz. company, has acquired San Diego-based ID Analytics Inc. LifeLock offers identity theft protection. ID Analytics provides identity risk management services for companies. ID Analytics will continue to operate independently as a wholly owned subsidiary of LifeLock and will continue to operate under the leadership of its current CEO, Bruce Hansen, who will report to Todd Davis, LifeLock chairman and CEO.
Global Cities Initiative to be Held March 22
Former Chicago Mayor Richard M. Daly, Mayor Jerry Sanders and executives from AT&T, CleanTECH San Diego, Cox Communications, Union Bank and Pfizer will take part in the March 22 Global Cities Initiative, a joint project of the Brookings Institution and JPMorgan Chase. The event is presented by the San Diego Regional Chamber of Commerce, Connect and EDC. It will be held from 9:30 to 11:30 a.m. at the chamber's offices at 402 West Broadway in Downtown San Diego.
PERSONNEL MOVES ____________________________________
San Diego — Tim Mills has joined CBRE Inc. as a vice president of industrial services. Mills has more than 26 years of experience in commercial real estate and will work in the central San Diego market. Mills previously was a director at Cushman & Wakefield in San Diego and a vice president with Burnham Real Estate.
San Diego — Terri Caffery has been named an account executive for Union Bank's consumer lending group in San Diego, a newly created position. Caffery has 26 years of experience in the mortgage industry. She was previously employed as a wholesale account executive for America Home Key, American Mortgage Express, Staten Island Bank Mortgage and SCME Mortgate in separate assignments.
San Diego — Robert Coleman, executive director of the nonprofit Second Chance, has been named head of the organization, assuming the responsibilities previously held by Scott Silverman, the founder and president who left for a larger role in the industry in California. Prior to Second Chance, Coleman served as president and CEO of the YMCA Riverside City & County. He also served as senior group vice president at the YMCA of Orange County, and chief executive at the YMCA Cambridgeshire & Peterborough, YMCA Lambeth and YMCA Portsmouth.
---
Small Business Workshops
Helping startup and established small businesses throughout San Diego and Imperial counties prosper, SCORE San Diego continues its series of low-cost workshops. Workshop fees range from $29 to $109, depending on the program. For more information, call (619) 557-7272.
Upcoming Workshops:
March 16 – Women's Networking Breakfast and Exhibits – 8 to 11 a.m. at Morgan Run Resort & Club (5690 Cancha de Golf, Rancho Santa Fe 92091; Attendees: by Jan. 17 $30, $40 thereafter; Exhibitors: by Jan. 17 $80, $90 thereafter).
March 17 – Business Basics 101 – 9 to 11 a.m. at National University – Carlsbad (705 Palomar Airport Rd., Carlsbad 92011; No charge – please pre-register)
March 20 – QuickBooks Basic – 9 a.m. to 4 p.m. at National University – Kearny Mesa (9388 Lightwave Ave., San Diego 92123; pre-paid registration $69, $79 at the door).
---
Milo's Exam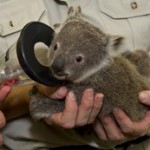 A koala joey named Milo experienced his first full veterinary exam at the San Diego Zoo's veterinary hospital on Wednesday.  The youngster, who is only just recently out of his mother's pouch, was anesthetized so doctors could X-ray and examine him thoroughly. Once the short exam was over, the joey was returned, fully awake, to his mother. The San Diego Zoo's koala colony is the largest group of this species outside of Australia.  They are currently not available for guest viewing due to construction of the zoo's newest koala habitat, the Conrad Prebys Australian Outback, scheduled to open in spring 2013.  Photo by Ken Bohn, San Diego Zoo.
---
The Daily Business Report is produced by SD METRO. Contact: Manny Cruz (619) 287-1865. manny@sandiegometro.com.
---