Daily Business Report — March 29, 2012
CCDC Closes Downtown Information Center


The Sheila R. Hardin Downtown Information Center in Horton Plaza was officially closed today, a victim of the the state's shutting of redevelopment agencies. The board of the Centre City Development Corp. was updated on the closure on Wednesday. The information center, launched more than two decades ago, served as CCDC's public outreach center by assisting visitors with information on Downtown redevelopment and hosting events, public meetings and tours. It was renamed in 2010 in honor of Sheila Hardin, longtime CCDC community relations manager, who died in April 2010. A prominent feature of the center has been the 200-square-foot scale model that reflects the current and proposed Downtown skyline. A new location to display the model is being evaluated. CCDC also announced that it will no longer sponsor its Downtown Soundbites outreach program or Coffee With CCDC program.
ConVis to Assume Convention Center Marketing
The San Diego Convention andVisitors Bureau will formally take over sales and marketing for the San Diego Convention Center on July 1, a move to placate hoteliers who are to vote on a special room tax to help finance expansion of the center. Hotel interests have asked to have more control over convention center marketing. "This change comes at a critical time in San Diego's tourism industry recovery," said Joe Terzi, president & CEO of ConVis in a statement. "The competition for business remains fierce, and it requires new ways of doing business to make certain San Diego remains top of mind among our competitors." Management and operations of the center will remain with the San Diego Convention Center Corp. The corporation will continue to receive $3.4 million a year from the city from the city's share of transient occupancy taxes.
Construction to Start on Housing for Seniors
Construction will start next week on Solterra, a mixed-use development in El Cajon that will featuring 46 residences for seniors in two buildings and street-level commercial spaces. Affirmed Housing Group, the developer, will hold a groundbreaking ceremony at 10 a.m. on April 3 at the site at Chambers Street and Linda Way in El Cajon. The project will have 46 one-bedroom units and three two-bedroom units. Community amenities will include on-site management, a computer lounge, gated and covered parking and a community room. Residents also can utilize a daily shuttle and/or a flex car. Solterra will have street-level commercial space with awning-shaded storefronts facing Chambers Street and Linda Way.
San Diego Contractor Forms Joint Venture with Berkeley Company
Reno Contracting of San Diego has formed a joint venture with Berkeley-based Coyle Residential, to work on large-scale multi-family and mixed use projects. The partnership offers Reno the opportunity to broaden its scope of services by entering the residential building sector as well as a new geographic market in Northern California, said Walt Fegley, president of the company. The first joint venture project is a $42 million, 271-unit, four-story multi-family apartment building and parking structure in San Jose.
Six New Leases Signed at Clock Tower Office Plaza
CBRE announced that six new leases were signed at the Clock Tower Office Plaza, 16466-16516 Bernardo Center Drive, in Rancho Bernardo. Lessees in the transactions were Peter James Musser, DRW Consulting, Michele Ryan, Su K. Park, Great Source Realty and San Diego Bethel Church. Granum Partners is the lessor. Total lease consideration was approximately $300,000 for approximately 5,700 square feet of space.
PERSONNEL MOVES ____________________________________
San Diego — Tony Toranto has joined the law firm of Sheppard, Mullin, Richter & Hampton as a partner in its real estate, land use and environmental practice group. He also will be in the firm's corporate and energy groups. Toranto previously was with McKenna Long & Aldridge in San Diego. He received his law degree from Stanford Law School.
Poway — Todd P. Clyde, chief executive officer of Digirad Corp., has assumed the responsibilities of chief financial officer following the resignation of Richard Slansky, who left to accept another executive position. Clyde will serve as interim CFO until a permanent replacement is selected.
San Diego — Julie Kartrude (left) and Kristine Co have joined CHE, a public relations, advertising and digital media agency that changed its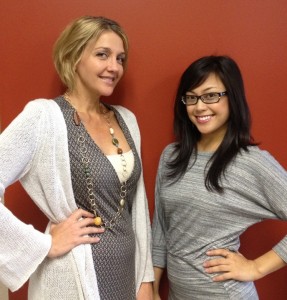 name earlier this year from j. simms agency. Kartrude has more than 15 years of advertising agency experience. She is a graduate of the University of Florica, where she earned a degree in advertising and journalism. Co has marketing and sales experience in a variety of industries and served as the co-founder and executive director of the literary publication TAYO. She received her degree from the University of Southern California's Annenberg School for Communication and Marshall School of Business. Kartrude and Co bring the number of new hires to six this year.
---
SCORE Small Business Workshops
• March 30 – Introduction to Starting Your Own Business – 9 a.m. to 4 p.m. at National University – Kearny Mesa (9388 Lightwave Ave., San Diego 92123; pre-paid registration $69, $79 at the door).
• April 2 – Business Basics 101 – 1:30 to 3:30 p.m. at SCORE Entrepreneur Center (550 West C St., #550, San Diego 92101; no charge – please pre-register).
• April 3 – Financing Your Business – 9 a.m. to noon at SCORE Entrepreneur Center (550 West C St., #550, San Diego 92101; pre-paid registration $29, $39 at the door).
• April 4 – How to Start a Nonprofit Corporation – 9 to 11:30 a.m. at The San Diego Foundation – Point Loma (2508 Historic Decatur Rd. #200, San Diego 92106; pre-registration $39, $49 at the door).
• April 4 – Financial Statements – What They Mean, How to Use Them – 9:30 a.m. to noon at SCORE Entrepreneur Center (550 West C St., #550, San Diego 92101; pre-paid registration $29, $39 at the door.)
• April 5 – Effective Marketing – Identify and Target Your Customers – 9 a.m. to 4 p.m. at National University – Kearny Mesa (9388 Lightwave Ave., San Diego 92123; pre-paid registration $69, $79 at the door).
---
The Daily Business Report is produced by SD METRO. Contact: Manny Cruz (619) 287-1865. manny@sandiegometro.com.
---