Daily Business Report — April 30, 2012
Labor Council Gives F Grades to 5 Council Members
Five of the eight members of the San Diego City Council were given failing grades by the  San Diego and Imperial Counties Labor Council  today for their stances on 24 key issues, according to a KPBS report. Carl DeMaio, Kevin Faulconer, Sherri Lightner, Tony Young and Lorie Zapf were given F grades by the umbrella group for the region's labor unions in their "Working Families Report Card." DeMaio, a vocal opponent of labor political aims (and a candidate for mayor), received the lowest score, with 16 percent. Marti Emerald received the highest score of 87 percent, while David Alvarez received 81 percent. Todd Gloria, who frequently supports labor causes, received 60 percent. He was dinged for supporting Mayor Jerry Sanders' plan to finance the expansion of the Convention Center and backing competitive bidding for operations for the Miramar Landfill. Five of the 24 issues were related to the Convention Center expansion. Lorena Gonzalez, secretary-treasurer and CEO of the San Diego and Imperial Counties Labor Council, told KPBS that low scores were awarded because of a series of council votes over the last two years. "(The votes) really do favor downtown corporate lobbyists, hotel interests and developers over the needs of the neighborhoods and working families," Gonzalez said.
Oceanside's Old Grove Marketplace Sold for $19.55 Million

The Old Grove Marketplace in Oceanside has been sold for $19.55 million to the Garrity Group, a privately held retail property company. The property, anchored by Ralphs, Lowes Home Improvement, Starbucks and US Bank, was built in 2005 by Sea Breeze Properties, the seller. It is located at 101, 125, 165 and 175 Old Grove Road. "Old Grove Marketplace presented a challenging task for us in that a buyer would have to assume the existing debt on this asset, creating leverage of only 44 percent equity to 56 percent debt," said Bruce Schiff of Cassidy Turley San Diego, who represented the seller with partner Phil Lyons. "The Gerrity Group recognized the long-term value of the shopping center as well as its strategic positioning in North San Diego County and the unique grocery/home improvement anchors that drive both weekday and weekend traffic into the center."
SDSU Students Win Business Competition

Five SDSU business students have won the second annual NAIOP University Challenge, competing head-to-head with students from the University of San Diego and UC San Diego. Student teams had to research and analyze an underutilized site in the Little Italy area of San Diego and propose a redevelopment solution. SDSU, who also won the inaugural Challenge in 2011, recommended that the site be developed into an office suite designed primarily for use by defense contractors with some mixed use as well.The teams were judged by five local real estate professionals. The team from SDSU consisted of students Joshua Capps, Chris Liu, Tori Massie, Elizabeth Rowe and Dylan Turner. Mark Goldman and Dana Kuhn from The Corky McMillin Center for Real Estate served as their faculty advisers. NAIOP is a national commercial real estate development association. (Photo: from left, Dylan Turner, Tori Massey, Chris Liu, Elizabeth Rowe. Not pictured: Joshua Capps.)
Security Business Bank Reports 1st Quarter Results
Security Business Bancorp and its operating subsidiary, Security Business Bank of San Diego, today reported unaudited 2012 first quarter results with loan growth of $18.6 million (an 11 percent annual increase). Also among the March 31 results are net interest margin expansion to 4.41 percent compared to 4.37 percebt for the prior year. Paul Rodeno is president and CEO of the bank. The bank is to be merged with and into AmericanWest Bank under an agreement made in March. The acquisition is to close in the third quarter. Other first quarter highlights: Total assets of $224.6 million, a $6.5 million, or 2.8 percent, decrease over March 31, 2011; loans of $182 million show an increase of 11.4 percent from March 31, 2011 of $163.4 million. Quarterly net income increased to $290,000 or $0.16 per share from $117,000 or $0.07 for the same period in 2011; risk-based capital ratio increased to 15.9 percent compared to 15.6 percent at March 31, 2011.
SANDAG Purchases More Land for Open Space Habitat
SANDAG reported that it has acquired two more parcels of property totaling nearly 75 acres as open space habitat to offset the impacts of two railroad-related transportation projects. The larger parcel, Time Out Holdings/Stacco in Oceanside, is a 68.18-acre property bordering State Route 76 to the north and just to the east of the 80.3 acre Jeffries Ranch property, already conserved by SANDAG as open space. In Otay Mesa, south of State Route 905 and in the midst of a larger conservation area owned by the city and County of San Diego, SANDAG acquired 6.71 acres of disturbed coastal sage scrub and remnant vernal pools. The properties, purchased for $273,000, will offset expansion of the San Ysidro Intermodal Freight Facility. Total cost of acquisition, restoration, and management of these properties will come to a little more than $9.5 million.
PERSONNEL MOVES ____________________________________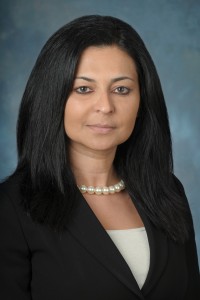 San Diego — Nahid Aminzai has been promoted to wealth management market leader for California by Mutual of Omaha Bank. Based out of the bank's San Diego location at 3580 Carmel Mountain Road, Aminzai will lead a team of wealth management professionals. Aminzai joined Mutual of Omaha Bank in June 2010 as a vice president and private banker and has led the formation of the bank's wealth management group and client base over the past two years. She has more than 24 years of banking experience in Southern California, including officer roles at several banks based in the San Diego area. Aminzai earned her bachelor's degree in business administration from National University.
San Diego — Tony Evenson has been promoted to vice president and CFO for each of Manpower of San Diego's markets (San Diego, Southwest Riverside, New Mexico and Spokane), and Debbie Dunn has been promoted to the new role of vice president of the company's San Diego and south Riverside operations. Evenson has been with Manpower since 1993. Dunn has been with the company since 2007.
---
The Daily Business Report is produced by SD METRO. Contact: Manny Cruz (619) 287-1865. manny@sandiegometro.com.
---