Politics
Sitting Pretty!
Councilman Todd Gloria has a free ride to a second term
By Manny Cruz
You don't have to go to a lot of trouble to find Todd Gloria. The man who has occupied the District 3 seat on the San Diego City Council for nearly four years seems to be everywhere. In coffee shops, holding informal talks with consituents. Attending meetings of local community groups. Chatting it up with folks attending festivals and open houses. Or attending to city business at City Council meetings and meetings of City Council committees.
He is, as one admirer puts it, forever on the go. "He's been there whenever we've needed him," says Judy Elliot, executive director of the Adams Avenue Business Association. "I don't know when he finds a moment to himself."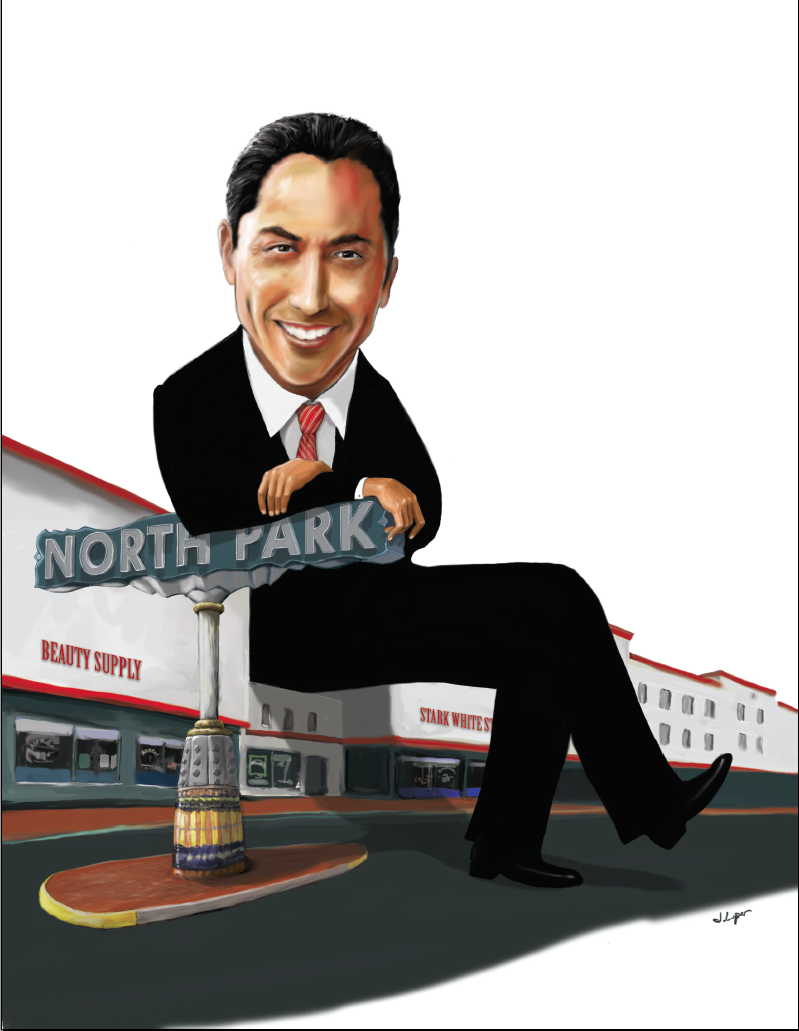 Indeed, the councilman's ubiquitous behavior around the district and his achievements in office are primary reasons why he has encountered no opposition in his pursuit of a second term at this year's city elections. (Dempsey McGibbony, an Arkansas native newly arrived to North Park took out nominating papers to run, but failed to qualify for the ballot.) Gloria will be sworn into his second term on Dec. 3 of this year.
You would think that a past foe of Gloria's would have some criticisms to make of the councilman's behavior over the past few years. Not so for Stephen Whitburn, who lost to Gloria in the 2008 election. "I think Todd has been a tremendously hard-working councilmember," says Whitburn. "He makes himself accessible at events and coffees, he's responsive to problems that crop up, and he keeps people informed about things going on in the district. He's had visible success improving many of the streets, he's advocated for our neighborhoods in some key areas, and he clearly does his homework on matters that come before the council."
Because of redistricting, District 3 will have a whole new look when Gloria enters his second term. Downtown, Mission Hills, Bankers Hill, Old Town and Park West will be added, while the district will lose Kensington, Talmadge and City Heights. North Park and surrounding neighborhoods will remain. Gloria addresses this and other issues in response to questions posed by the North park News:
How does it make you feel now that you are guaranteed a second term, after the only person to take out nominating papers failed to qualify for the ballot?
I am humbled. When I knocked on 25,000 doors in 2008, the people of District 3 set a very clear agenda for me: strengthen public safety, improve infrastructure, and stabilize city finances. With continued input from community members, progress has been made on all of these fronts, and it's heartening to know that people want to see additional accomplishments for the next four years.
Why do you think that, in all of the presently constituted District 3, only one person had taken out nominating papers for the June election?
I don't know why but I'd hope that it's an indication of satisfaction with the results my staff and I have delivered for the district. I hope that we've worked collaboratively with my constituents so that they see themselves as partners in our efforts to improve our neighborhoods and the city.
Please explain what your most significant accomplishments have been during your tenure as councilman for District 3.
I focused on the issues neighbors cared most about. I helped bring Community Relations Police Officers back to the neighborhoods and added police bike teams to Hillcrest and North Park. We have dedicated significantly more funds to fixing streets, yielding 60 miles of repaved roads in District 3 alone. And when I was sworn into office, almost $200 million of budget cuts had just been made; through a variety of tough reforms and fiscal discipline, we now have a $16 million surplus.
In going into your second term in office, what will be your most important priorities?
It is critical that San Diego remain focused on fiscal reform. Moving from years of deficits and service cuts to our current surplus and limited service restorations took a lot of work and sacrifice. I want to continue the work of reforming city finances to ensure that they become a part of the municipal culture and that we never return to the mistakes of the past.
I hope to continue the critical work of rebuilding streets and public infrastructure. We must find a new way to stimulate economic growth in light of the end of redevelopment. These efforts should result in job creation and I intend to lead on both issues.
Finally, I'm also looking forward to continuing work in Balboa Park. The three major initiatives going on — the reclamation of the Plaza de Panama, the 2015 Centennial, and the Balboa Park Conservancy — are long-term projects that will positively impact the San Diego's crown jewel for future generations.
In your second term you will be adding a whole new constituency — Downtown San Diego — as a result of redistricting. How is that going to affect the way you run your office?
When I gained Downtown, Mission Hills, Bankers Hill, Old Town and Park West, I lost Kensington, Talmadge, and City Heights. My focus will shift with those boundaries but I will represent the new areas with the same dedication.
With major civic projects like Connections Housing and the new Central Library opening soon and the potential for a Convention Center expansion, certainly Downtown attracts a fair amount of attention. However, Downtown is like so many other neighborhoods: residents want to be safe and they want well-maintained streets. The area is slated to receive many more residents in the coming years, and we need to make sure we have the infrastructure in place to handle the density.
Will you be able to balance the needs of your Downtown constituents with the needs of your constituents in North Park and other neighborhoods that have long been a part of District 3?
Absolutely. Through my many years of involvement in North Park, I have built relationships and a knowledge base that will allow me to continue to give the existing neighborhoods of District 3 the high level of service they deserve and have come to expect from my office. I am confident that I can balance the demands of the new district and ensure that all of my constituents' voices are heard at City Hall.
The Downtown business establishment is strong and politically savvy. Do you think its interests will dominate the business interests of the other parts of your district?
The differences between Downtown's business community and the areas I already represent are more geographic than anything else. Everyone will benefit from a stronger economy and more jobs; every business wants to operate in a safe neighborhood with excellent public safety resources. All corners of the district are grappling with urban issues like parking and homelessness. There are large civic projects and the elimination of redevelopment we will continue to address, but those have implications beyond the Downtown boundaries, too.
The addition of Downtown to the district obviously means a larger responsibility for yourself. Although your term hasn't yet begun, can you speculate on whether you will need to add staff?
While we are adding Downtown, Mission Hills, Bankers Hill and Old Town, we are losing Kensington, Talmadge, and City Heights. We will shuffle some staff assignments accordingly, and I am confident my current staff and I will continue our strong partnership with all of District 3's areas. In keeping with my desire to hold the line on spending, I do not anticipate adding new staff positions.
You have been having fundraisers to finance your re-election campaign.
How much funds have you collected to date? What will happen to funds that were collected but have not been spent?
We raised over $100,000 in anticipation of the June election. I still expect to do some voter communication to introduce myself to the new parts of the district to ensure they know that I am at their service.
As a member of the City Council, what is your position on the pension reform initiative on the ballot?
I am opposed to the ballot initiative. According to an independent financial analysis, the money it purports to save is all from a legally dubious long-term salary freeze. Moving to a 401k plan actually increases the city's pension bill in the short term by $54 million. Mayor Sanders and most councilmembers have been vigilant in working on REAL pension reforms that are saving taxpayers REAL money now. This initiative will not continue this progress and sets the city up for costly and lengthy litigation.
During your first term, you have taken very strong steps to improve the condition of district streets, fixing potholes, and such. Are you going to carry through with that in your second term?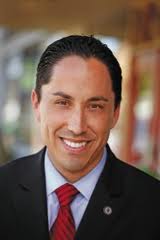 I am passionate about this issue and will not let up until all of our city's streets are in a good state of repair. Anyone who has driven on San Diego's roads knows they are getting better, but many more still need attention. Our repaving efforts will continue, and we will focus our next infrastructure bond funds on street maintenance, so the roads will not worsen to a state of deterioration again.
Because of term limits, your second term on the City Council will be your last. Can you talk a little bit about what your future political ambitions might be after you leave the council?
I don't know exactly what lies ahead for me. What I do know is that I love my job and it will be tough to leave when the time comes. The good news is that District 3 has plenty of work to keep me busy the next four years.
Illustration by Jason Luper