Regents Bank: A Most Trusted Brand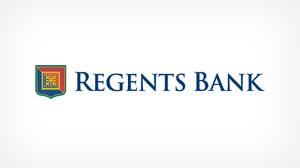 Regents Bank Named One of San Diego's Most Trusted Brands
Regents Bank motto is "here today and here tomorrow."  Founded in 2001 by local banking professionals, Regents Bank attributes its customer trust to its steadfastness and reliability.
The bank was named one of San Diego's most trusted brands in 2012 by SD METRO magazine.
During periods of economic difficulty, while many banks in the county were sold and changed their brand name, Regents Bank remained. Earlier this year, in a deal with Grandpoint Capital Inc., Regents Bank was put in a stronger financial position, making it possible for the bank to provide customers with access to larger loan accommodations, while keeping its brand name and business model.
Grandpoint Bank ended 2011 with total assets of $855 million, up $492 million from 2010. Regents Bank offices can be found in La Jolla, San Diego, El Cajon, Carlsbad and one office in Vancouver, Wash.
An impending merger with California Community Bank, which is expected to take place in the third quarter of this year, will give Regents Bank customers more banking location options.
Opened in 2003, the California Community Bank's four office locations in the Encinitas, Vista and Miramar areas, will all be renamed with the Regents Bank brand name. Regents Bank's recent business decisions have allowed it to continue as an important part of San Diego's continued economic recovery.
Regents Bank takes pride in its banking relationships — knowing many customers by name, and a commitment to the community, including relationships with its entrepreneurial clients, because it too, was started in the spirit of entrepreneurship.  The bank specializes in serving small to mid-size businesses. Regents Bank celebrated its 10th anniversary last year, and looks to the future with great anticipation.