Daily Business Report — May 11, 2012
National Park Service: Balboa Park Could Lose Historical Designation
In a letter to the city of San Diego, the National Park Service says plans to alter Balboa Park's Cabrillo Bridge to keep cars out of the Plaza de Panama could put the park's historical designation at risk, KPBS reports. The letter says the plan, which also includes building a parking structure and rerouting traffic through the park, is inconsistent with the standard of treatment for historic properties. The National Park Service began looking into the project at the request of California's state historic preservation officer. That official also said major changes to the park will cause it to lose its Historic Landmark Designation and possibly future funding opportunities.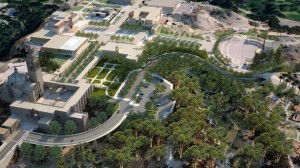 Qualcomm co-founder and billionaire philanthropist Irwin Jacobs originally proposed plans to make over Balboa Park for its 2015 centennial celebration. Mayor Jerry Sanders backs the plan. Bruce Coons, executive director of Save Our Heritage Organisation, told KPBS in February that the park losing its Historic Landmark status would be a huge blow to tourism and the park's ability to garner federal, state and local grants. But Mark Johnson, the founder of Civitas Inc. and the designer for the Plaza de Panama project, said then that he is not worried about losing the park's historic status. "We think the improvements we are making are a great benefit, on balance and an extremely positive thing for the park that will enhance the historic district," he said. (Photo: Aerial view of the plan and the proposed Centennial Bridge.)
Hotel La Jolla Renovation Reaches Halfway Mark
Construction of Kimpton's new Hotel La Jolla, undergoing a $4 million overhaul, has reached the halfway mark. The overhaul includes work on the hotel's 110 guest rooms, structural groundwork, including the lobby foundation and restaurant framework. The guestrooms will provide guests with a casually chic ambiance and amenities, including flat panel TVs, oversized desks, pillow-top mattresses and 600-thread-count Frette linens. In addition to the guestroom and lobby developments, the scenic top floor restaurant is underway.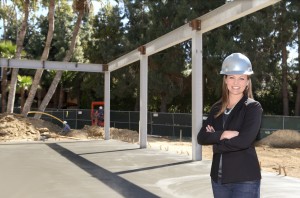 Kimpton Hotels & Restaurants took over management of the hotel in April 2011. It is owned by an affiliate of Westport Capital Partners and Cove Equity Group. The property is scheduled to be fully transformed to a Kimpton hotel this summer, with a grand opening celebration to follow July 11. (Photo: Caroline Dyal, the hotel's general manager.)
Regents Bank Names Steven Sefton as President
Steven D. Sefton, a 28-year veteran of the Southern California banking industry, has been appointed president of Regents Bank. Dan C. Yates remains chief executive officer of the bank as well as president of Grandpoint Capital Inc., the parent company. Sefton previously was senior vice president of Citizen's Business Bank, managing one of its largest regional offices. He joined the bank as the first manager of the headquarters' Commercial Banking Group, where he worked for four years. From 1995 to 2008, Sefton worked for Mellon 1st Business Bank. In 2002, he was appointed regional vice president, managing a de novo commercial office he opened. From 1991 to 1995, he worked at Sanwa Bank as vice president and team leader. Sefton began his banking career at City National Bank, working at the Beverly Hills headquarters in 1984.
Chula Vistan Appointed to Board of Registered Nursing
Gov. Brown has appointed Michael Deangelo Jackson of Chula Vista to the state Board of Registered Nursing. Jackson, 40, has been a clinical nurse II in the Department of Emergency Medicine at UC San Diego Medical Center since 2000 and served as an extern there from 1999 to 2000. He has been an adjunct clinical faculty member in the registered nursing program at Southwestern Community College and an operations supervisor at Scripps Mercy Medical Center since 2007. Jackson was a mental health worker at Scripps Mercy Medical Center from 1992 to 2000. The appointment does not require Senate confirmation and the compensation is $100 per diem. Jackson is a Democrat.
Camp Pendleton Enlisted Quarters Named Project of the Year
A recently completed $131 million Bachelor Enlisted Quarters (BEQ) at Camp Pendleton has been named a 2012 Project of the Year by the American Public Works Association, San Diego/Imperial chapter. The award was presented at the APWA's annual awards luncheon, held at Hilton San Diego in Mission Valley on May 10. San Diego architectural firms RJC Architects and Joseph Wong Design Associates, in a design/build team with Hensel Phelps Soltek Joint Venture, completed the project — recognized in the "Structures, $75 Million and Above Category" — in January 2012. Other members of the team on the project include Berger ABAM, structural engineer; MA Engineers, mechanical engineer; Elen Engineers, electrical engineer; KEMA, sustainable design consulting; and Aon Fire Protection.
---
The Daily Business Report is produced by SD METRO. Contact: Manny Cruz (619) 287-1865. manny@sandiegometro.com.
---