Daily Business Report — May 3, 2011
Alternative Balboa Park Plan to be Presented Tonight
A new proposal to remove parking from the Plaza de Panama in Balboa Park that has the blessing of the Save Our Heritage Organisation and a coalition of civic groups will be presented tonight at 6 o'clock at a meeting of the city's Balboa Park Committee in the Balboa Park Club. The proposal is being presented as an alternative to a controversial plan put forth by a group led by Qualcomm co-founder Irwin Jacobs that SOHO claims would ruin the historic character of the park. The city wants park improvements to be made in time for Balboa Park's 2015 centennial celebration.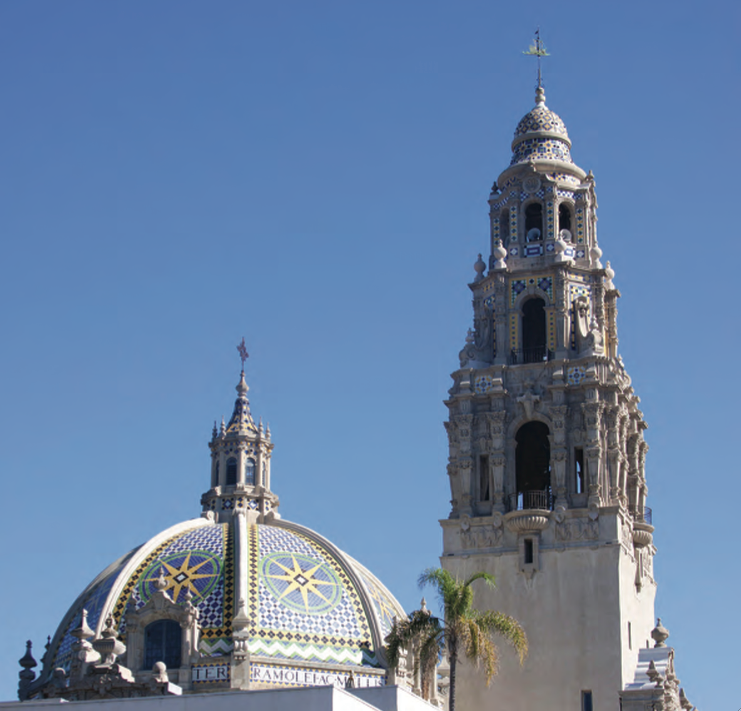 The plan, called the "Jacobs Plan B," will be presented tonight by William S. Lewis, an architect and developer who devised the plan after seeing the Jacobs plan and noting its goals.
According to SOHO, Plan B would create a fully concealed, underground garage for about 868 vehicles beneath the Plaza de Panama and reorganize the organ pavilion parking lot to gain 54 new spaces and beautify it with a canopy of trees. It would shift the park's main east-west artery from Cabrillo Bridge and El Prado to a parallel road an eighth of a mile north. This North Rim Road would extend from Park Boulevard to Sixth Avenue, running along the southern edge of the San Diego Zoo. "The North Rim Road would provide improved access to parking, a 'front door' to the Old Globe Theatre and safer, more logical park circulation," according to SOHO. The new plan would also make it possible to manage traffic on Cabrillo Bridge, it said.
Plan B calls for linking the little-used Quince Street bridge over State Highway 163 with the park's North and West Rim Roads. Plan B's rim roads would follow the park's terrain, flow under the bridge and bypass Alcazar Garden. "The roads would become part of the park experience. They will look like they've been there 100 years," Lewis said, referring to the age of many of the original park buildings and gardens designed by Bertram Goodhue.
Lewis' proposal includes a schedule of phased construction that would be finished by 2015. He said a reorganization and removal of parking from the Pan American Plaza, which lies to the south of Plaza de Panama, could be part of the overall work plan, or undertaken during a second phase. "What we're doing is restoring the park so it works in the 21st century, but without sacrificing the charm of 1915," Lewis said.
"Plan B was designed to meet the needs of the Plaza de Panama Committee, the park institutions and the public," said Bruce Coons, SOHO executive director.
San Diego City Council Begins Budget Review
The San Diego City Council began a six-day review Wednesday of Mayor Jerry Sanders' $2.7 billion budget proposal for the fiscal year beginning July 1 with far less rancor than in previous years. The city's Independent Budget Analyst, Andrea Tevlin, generally agreed with the mayor's revenue projections in a report to council members, who gathered as the Budget Review Committee. The report expressed concern that reduced housing values could lower property tax revenues. Sanders, in touting positive economic news recently, gave primary credit to increased sales and hotel room taxes. He said the budget proposal presented to the City Council was structurally balanced, unlike previous years, when the city faced millions of dollars of deficits and resulting cutbacks that drew hundreds of residents to City Hall to protest. Michael Zucchet, who heads the union representing the city's white-collar workers, said the mayor's revenue projections are too conservative, based on recent figures.  — From City News Service.
Architect Group to Dedicate Native Garden at Middle School
The San Diego chapter of the American Society of Landscape Architects, partnering with the Friends of Ruffin Canyon and the ACE Mentor Program, has completed the design and installation of an educational and native garden at William H. Taft Middle School in Serra Mesa. Dedication of the HabiTaft Garden is scheduled for 2 o'clock today. The garden was selected by the architect organization as its 2011 Legacy Project  "because it presented an ideal forum for reconnecting children with the environment and exposing them to the practice of landscape architecture." Installation of the garden began in October 2011 with school officials, landscape architects, students and Friends of Ruffin Canyon participating.
Otay Water District Fills Board Seat
Mitch Thompson, owner of Thompson Consulting and a resident of Chula Vista, has been appointed to fill a vacancy on the Otay Water District board of directors. The vacancy resulted from the resignation of board member Jaime Bonilla. Thompson has worked in the housing and banking industry for more than 30 years. He is a former member of the Chula Vista City Council and has served on Chula Vista's Planning Commission.
Simon Wong Engineering Selected to Replace Bridge
San Diego-based Simon Wong Engineering has been awarded a contract by the Barstow City Council to provide engineering services and to replace the 82-year-old First Street Bridge in Barstow. The company is to work with the city and BNSF Railway Co. to develop an eventual replacement of the bridge.
California Community Bank Reports Quarter Income
California Community Bank in Escondido reported net income of $87,000 or earnings per share of 4 cents in the first quarter of 2012,  compared to net income of $169,000, or basic earnings per share of 8 cents, for the comparable period last year. Included in net income for the first quarter of 2012 were merger-related costs of $184,000. The bank said it finished the first quarter of 2012 with an asset base of $247,069,000, an increase of $8,503,000, or 4 percent, from the end of March 2011. Total deposits were $220,219,000, up $10,376,000, or 5 percent, over the same period a year ago. As of March 31, 2012, total gross loans net of deferred fees, the primary revenue driver for the bank, stood at $168,952,000 compared to $154,416,000 at March 31, 2011, an increase of $14,536,000, or 9 percent.
PERSONNEL MOVES ____________________________________
San Diego — Angelika Villagrana has been appointed executive director of the German Film Festival, which will take place Oct. 6-7 at the Museum of Photographic Arts. The appointment was announced by German Currents San Diego. Villagrana has 23 years of experience as executive director of public policy at the San Diego Regional Chamber of Commerce. She was born near Hamburg in Northern Germany, studied and worked in Denmark and France before she made San Diego her home of more than 30 years. The former director, Mona Mukherjea-Gehrig, left the post because of professional obligations in the field of design studies.
---
40 Under 40 Nominations Open
Nominations are now open for SD METRO's annual 40 Under 40 Awards recognition program. Nominate a man or woman you think has made outstanding contributions to his or her profession, industry or to San Diego County as a whole. We will announce the winners in September. Either fill out the nomination form at sandiegometro.com or send your nomination to rebecapage@sandiegometro.com. Better get crackin'! The deadline is May 31.
---
The Daily Business Report is produced by SD METRO. Contact: Manny Cruz (619) 287-1865. manny@sandiegometro.com.
---