Daily Business Report — May 4, 2012
40 Under 40 Nominations Open
Nominations are now open for SD METRO's annual 40 Under 40 Awards recognition program. Nominate a man or woman you think has made outstanding contributions to his or her profession, industry or to San Diego County as a whole. We will announce the winners in September. Either fill out the nomination form at sandiegometro.com or send your nomination to rebecapage@sandiegometro.com. Better get crackin'! The deadline is May 31.
Carnegie Mellon Dean Selected as UCSD's Next Chancellor  

Pradeep K. Khosla, dean of Carnegie Mellon University's College of Engineering, has been selected to become the eighth chancellor of UC San Diego. Khosla's selection was announced Thursday by University of California President Mark Yudof. The appointment will be voted on at the May 16 meeting of the UC Board of Regents. Khosla will succeed Marye Anne Fox on Aug. 1. Fox announced her resignation last year and will continue in the post until then. Yudof said Khosla emerged as the top candidate after an international search, citing his accomplishments as a leader, educator and researcher. "Pradeep Khosla will bring to UC San Diego a distinctive set of attributes that will enable the university to build on the excellence that has made it one of the top institutions of higher learning in the world," Yudof said.
During nearly eight years as dean, Khosla, also the Philip and Marsha Dowd University Professor at Carnegie Mellon, has initiated undergraduate curriculum reform, successful diversity efforts, multidisciplinary and multi-college research centers, multidisciplinary graduate offerings, and international programs in Japan, Korea, Portugal, China and Rwanda. Under his leadership, the College of Engineering has significantly increased the number of women and students of color in its graduate programs.
Khosla grew up in Bombay (now Mumbai), India. He earned his MS degree and Ph.D. degrees in electrical and computer engineering at Carnegie Mellon in 1984 and 1986 after graduating from the Indian Institute of Technology with a bachelor's degree in electrical engineering in 1980 and working for two years in India as an engineer.
UCSD to End Guaranteed Admission Program
Starting in the fall of 2014 community college students applying to transfer to UC San Diego will no longer be able to guarantee themselves a spot by taking specific courses and maintaining a minimum grade point average, KPBS reports. The program, known as TAG, was started to attract community college transfers in the 1980s, according to Penny Rue, vice chancellor for student affairs at the university. She said the program became so successful it was squeezing out other competitive applicants. "We were only able to take non-guaranteed students with a GPA of 3.8 and that felt unfair. We were also at risk of being overwhelmed by the number of students with which we had a guarantee," she said. Even after raising the minimum GPA required of guaranteed-admissions applicants to 3.5, Rue said their applications still outnumbered the actual spaces available. San Diego Community Colleges Chancellor Constance Carroll was troubled by the news that UCSD would leave the TAG program. She said it has been a model for many of education's best practices — supportive counseling, challenging courses and clear expectations across multiple institutions.
Cubic Delivers Mobile Combat Training Center to Jordan
Cubic Corp. announced that it has completed delivery of a mobile Combat Training Center to the country of Jordan under a $17 million contract. The contract with the Jordanian Armed Forces was made through the U.S. Army's Program Executive Office for Simulation, Training and Instrumentation. The agreement includes Multiple Integrated Laser Engagement System Individual Weapons System units and units for instrumenting vehicles. The system can be used on training ranges throughout the country. After delivering the system, Cubic personnel conducted three weeks of training about how to use it, followed by a week-long training exercise. The contract also specifies on site support and a two year warranty.
SANDAG to Solicit Comments on Off-Street Parking for Transit
SANDAG will hold a public open house meeting on Monday to solicit input into the environmental review of a proposal to provide off-street parking for transit in Downtown San Diego. The proposed parking lot will serve existing transit vehicles in the short turnaround time they have between runs that begin and end near the Santa Fe Depot. Plans call for installing the lot near the train depot and the America Plaza Trolley Station, which together serve as the region's largest transit hub. The public open house will be held at the San Diego Association of Governments, 401 B St., seventh floor large conference room, between 4 and 7 p.m. Four potential sites are currently under consideration for the facility – all within the borders of Ash Street, B Street, Kettner Boulevard, and Union Street in the Columbia District of Downtown.
Adams Avenue Book Store Hosts Author and Holds Book Sale
Adams Avenue Book Store in Normal Heights will host a book release party and book signing on Saturday by author Richard Platt, who penned "As One Devil to Another." The book store also will have its spring open house and sale over the weekend, where 20 percent is taken off the price of every book in the store. Platt will autograph books beginning around 6:15 p.m., shortly after the store closes on Saturday. The open house and sale will run from 10 a.m. to 6 p.m. on Saturday, and from 11 a.m. to 5 p.m. on Sunday. For more information, call (619) 281-3330.
PERSONNEL MOVES ____________________________________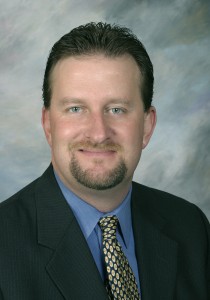 San Diego —Robert Betz has been promoted to senior vice president of McCarthy Building Companies Inc.'s San Diego office. Betz assumed the  position following a six-month transition period working in tandem with Ron Hall, former executive vice president of the San Diego office, who  recently retired from McCarthy after 25 years with the firm. Having joined McCarthy in 1994, Betz has accumulated 18 years of expertise serving in  various leadership roles for McCarthy's Southern California Division, including project engineer, assistant project manager, project manager, senior project manager, project director, and most recently, vice president of operations for the San Diego region. In his new position as senior vice president, he is responsible for the financial performance and overall operations of McCarthy's San Diego office. Betz is a 23-year veteran of the construction industry. Most recently, he has been directing construction for the $115 million UCSD Health Sciences Biomedical Research Facility and the $90 million San Diego Mesa College Math and Science Building. He currently is playing a leadership role for the new $35 million J. Craig Venter Institute, La Jolla.
---
The Daily Business Report is produced by SD METRO. Contact: Manny Cruz (619) 287-1865. manny@sandiegometro.com.
---