Theater
THEATER
Michael Jacson Impersonator Performs in San Diego

Michael Jackson impersonator Devra Gregory will perform her one-woman show, "WoMan In The Mirror, A Dancer's Journey," on May 18-20 at the 10th Avenue Theatre, 930 10th Ave. in Downtown San Diego. Tickets are $20. Performances are at 8 p.m. on Friday and Saturday and at 2 p.m. on Sunday. For tickets, call (800) 838-3006.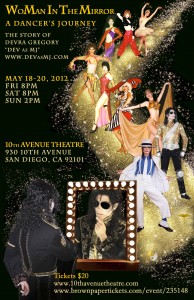 Devra Gregory is a local San Diego woman who began her dance career in ballet with The San Diego Ballet Co. and The California Ballet Co., expanding into several types of dance from jazz to burlesque to Sea World children's shows.
She began her career as a Michael Jackson impersonator after performing as a dancer for 'La Cage," the Las Vegas-based female impersonator show. She has performed with the San Francisco Metropolitan Opera Ballet, San Francisco Dance Theater, "Three's Company" in modern dance, "The San Francisco Tremors" jazz troop, the magic show "Spellbound" in Las Vegas, and as a costumed character in "Sesame Street On Parade" and "Those Funny Little People."
Gregory toured as dance captain and choreographer for "The Best Of Burlesque," a Vaudeville revival in dinner theaters across the U.S.
Gregory said she has been on a spiritual journey her whole life from Judaism to new age metaphysics, Hinduism, Shamanism and Paganism. She plays the djembe, a traditional West African drum.