Daily Business Report — June 1, 2012
Friday, June 1, 2012
Men Who Rock — July's issue of SD METRO will identify 20 men who are making an impact in San Diego in their chosen fields. You are invited to submit nominations, describing your candidate's qualifications. Send your nominations to rebecapage@sandiegometro.com.
Filner Jumps to 2nd Place in Mayoral Poll
Five days before the primary election, Rep. Bob Filner (D-San Diego), has solidified his position in the all-important second-place spot in the San Diego mayor's race, according to a new poll released by 10News. Since polling throughout the campaign makes it appear likely that no one will win the office outright with more than 50 percent of the vote in Tuesday's primary election, the top two finishers would face off in the
 November general election.Two weeks ago, Filner and Assemblyman Nathan Fletcher were tied for the second spot behind Carl DeMaio, who has led in all of the public voter surveys. The 10News poll showed Filner with 28 percent support, a gain of seven points, and Fletcher with 23 percent, a pick-up of two points. Filner and Fletcher had been battling for the second spot since the assemblyman left the
Republican Party to become an independent. DeMaio leads with 31 percent in the survey, which has a margin of error of plus or minus 4.3 percent. District Attorney Bonnie Dumanis had 11 percent in the 10News poll, and 7 percent remained undecided or planned to vote for someone else. — City News Service
Alaska Airlines Plane Will Fly With SDSU Logo and Colors

Eighty percent of San Diego State's 250,000 alumni live in California — so an Alaska Airlines plane painted with the university logo and scarlet and black colors ought to be pretty popular. The Bombardier Q400 was introduced Thursday at Lindbergh Field as a way to introduce the start of Alaska Airlines' new San Diego flights to Fresno, Monterey and Santa Rosa beginning June 4 and 5. "We hope the Aztec plane will bring smiles to our passengers and be a source of pride for SDSU students, alumni and faculty for years to come as we fly it throughout our regional route network," said Joe Sprague, spokesman for the airline. After the plane was introduced, it took off for a flight along the coast, carrying fans, students and the winners of a local radio contest.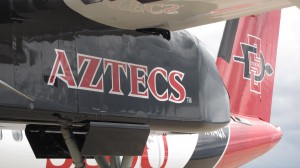 Alaska Airlines also announced that it will start nonstop service between San Diego and Orlando, Fla., beginning Oct. 11. The carrier will fly between the two cities five times a week. Thella Bowens, president and CEO of the San Diego County Regional Airport Authority, said Orlando was the largest market without nonstop service to San Diego. She said the new service "is a welcome bridge between two beloved, sunny cities."
Scripps Research Institute Professor Shares
Prestigious Award for Immune System Research

Scripps Research Institute Professor Richard A. Lerner has won the Prince of Asturias Award for Scientific and Technical Research for research he and fellow award winner British biochemist Gregory Winter performed on the immune system, which has led to the introduction of two drugs on the market and other compounds in clinical trials. The award, presented by the Prince of Asturias Foundation, is sometimes called the "Spanish Nobel Prize" and is  given for findings that "represent a significant contribution to the progress and welfare of mankind." The drugs resulting from the research are Humira and Benlysta. Humira, marketed by Abbott, provides treatment for inflammatory diseases such as rheumatoid arthritis, Crohn's disease and plaque psoriasis. It is reportedly the top selling drug in the world. Benlysta, developed by GlaxoSmithKline and Human Genome Sciences, was approved in the United States for the treatment of the most common type of lupus—a chronic, life-threatening autoimmune disease—in the spring of last year. At that time, Benlysta became the first new drug for lupus in 50 years.
SANDAG Sells Bonds for Big Transportation Projects
SANDAG announced that it has sold $300 million in TransNet bonds to fund high-priority transportation projects, including the widening of State Route 76, extending trolley service to University City, making highway and rail improvements along Interstate 5 in the north and establishing bus rapid transit services along Interstate 15 and 805. The bonds, which went on the market last week, were sold at an interest rate of 4.1 percent. The newly-issued debt will be repaid with tax receipts from TransNet, a regional half-cent sales tax for transportation projects.
Report on the Military's Economic Impact
In San Diego to be Presented on June 20
The San Diego Military Advisory Council (SDMAC) will unveil its 2012 San Diego Military Economic Impact Study at a June 20 breakfast event at the Navy Mine and ASW Complex on Harbor Drive in Point Loma. Speakers will include Lynn Reaser, chief economist at Point Loma Nazarene University; Navy Rear Adm. Dixon Smith; and Marine Brigadier Gen. Daniel Yoo. The breakfast will be in the Admiral Kidd Club from 7:30 to 9 a.m. For more information: Larry Blumberg, SDMAC executive director, (619) 299-3762.
PERSONNEL MOVES ____________________________________
San Diego — Dave Bates has joined Hughes Marino as vice president of the construction management division. Bates has more than 20 years of experience in the construction industry. For 16 years he worked for Roel (now Suffolk-Roel) on construction projects related to Qualcomm Inc. Many of the projects he directed include Qualcomm's W Campus, the Community Presbyterian Church in Rancho Santa Fe and Hughes Marino's Downtown corporate headquarters.
San Diego — John Chiplin has been appointed to the newly created position of chief executive officer for Polynoma Inc., an oncology-focused biotechnology company. Chiplin has more than 25 years of biopharmaceutical and health care-related experience. He was the founding CEO of Arana Therapeutics and a board member of Domantis Inc. before their acquisition by Cephalon and GSK, respectively. Prior to running Arana, he was head of the ITI Life Sciences investment fund in the UK.
---
SCORE San Diego Small Business Workshops
• June 5 – Financing Your Business – 9 a.m. to noon at SCORE Entrepreneur Center (550 West C St., #550, San Diego 92101; pre-paid registration $29, $39 at the door).
• June 6 – Hiring and Managing Employees – 9 a.m. to noon at SCORE Entrepreneur Center (550 West C. St., #550, San Diego 92101; pre-paid registration $49, $59 at the door).
---
The Daily Business Report is produced by SD METRO. Contact: Manny Cruz (619) 287-1865. manny@sandiegometro.com.
---