Daily Business Report — June 18, 2012
Qualcomm Inc. Acquires Summit Microelectronics
Qualcomm Inc. has acquired Summit Microelectronics of Sunnyvale, Calif., a developer and provider of programmable power integrated circuits. "Summit Microelectronics brings key expertise, technology, products, and design wins in battery charging and DC-DC converters," said Steve Mollenkopf, president and COO of Qualcomm. "This acquisition enhances the competitiveness of Qualcomm's chipset solutions and enables us to provide our customers with industry leading power management and charging performance.
Developers of Proposed Dual Hotels Project


Near Solar Turbines Get CCDC Approval
Developer GLJ Partners and developer-architect Jonathan Segal have received approval from the Centre City Development Corp. for a 364-room dual hotel project on the former Fat City/China Camp restaurant site at the corner of Pacific Highway and Hawthorne Street. Kim John Kilkenny, acting CCDC president, found the project consistent with development regulations.The proposed six-story, 239,100-square-foot project, designed by Gene Fong Associates of Los Angeles, will include a standard hotel and an all-suites hotel with a total of 364 guest accommodations, two pools and spas, two dining rooms, meeting rooms, gym facilities, two retail/restaurant spaces totaling 2,500 square feet and basement garage parking.  Many rooms on the upper floors will feature panoramic views of the San Diego Bay.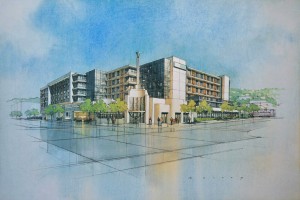 "The hotel will incorporate the Art Deco-style façade that has been a Downtown icon since Top's Nightclub opened in 1941," said Garth Erdossy, president of GLJ Partners. Construction costs are estimated at $40 million for the hotels, which will front on Pacific Highway. Construction could start in 2013. The development team had originally proposed Fat City Lofts, a mixed-use project with 232 apartments and nearly 5,000 square feet of retail, but it was opposed by neighboring Solar Turbines and a host of politicians and  failed to win approval.   Solar Turbines supports of the hotel project.
BBB in Partnership for Mediation Services
The Better Business Bureau of San Diego and Imperial Counties and the Law & Mediation Office of Arthur L. Shingler III Esq. have partnered to provide mediation services to North San Diego and Imperial County consumers and BBB member companies. BBB mediation is directed at finding resolution of disputes between consumers and BBB member companies without having to incur the expense of arbitration or litigation.
Carlsbad Industrial Building Sells for $11.5 Million
A 123,454-square-foot industrial building at 2777 Loker Ave. West in Carlsbad has been purchased for $11.5 million by S&S Prop Acquisition as an investment. The seller, Whiteflag LLC, was represented by Adam Molnar of Colliers International. Ron Jacobson of Madison Partners represented the buyer in the transaction. The seller leased back 50 percent of the building and the balance was vacant at the time of sale.
Renewable Energy Facility Built


for Marine Corps Air Station
A renewable energy facility has been completed near Marine Corps Air Station Miramar that will supply the base with up to half of its daily power over a 15-year period. Deputy Assistant Secretary of the Navy for Energy Tom Hicks, along with officials from the Marine Corps, Navy, city of San Diego, and project contractors, participated in a June 14 ceremony celebrating the completion. Naval Facilities Engineering Command Southwest awarded a $42.7 million contract a year ago July to Fortistar Methane Group of White Plains, N.Y. for the project.
PERSONNEL MOVES
San Diego — Entrepreneur Paul Laikind has been appointed president and CEO of ViaCyte Inc.  Allan Robins, who was serving as acting CEO, will continue in his role as vice president and chief technology officer. ViaCyte develops a cell therapy product for the treatment of insulin dependent diabetes. Laikind has more than 25 years of experience in the biotechnology and life sciences industry. He co-founded three San Diego companies, Gensia Pharmaceuticals Inc., Viagene Inc. and Metabasis Therapeutics Inc., serving in various executive positions including president and CEO. All three companies went public and were eventually acquired. Most recently, he served as chief business officer and senior vice president of business development at the Sanford-Burnham Medical Research Institute.
---
The Daily Business Report is produced by SD METRO. Contact: Manny Cruz (619) 287-1865. manny@sandiegometro.com.
---