Daily Business Report — June 22, 2012
Spirit Airlines Begins Nonstop Service to Dallas/Fort Worth
Spirit Airlines has begun nonstop service between San Diego and Dallas/Fort Worth International Airport, joining its existing service between San Diego and Las Vegas. The airlines started operations at Dallas/Fort Worth in May 2011.
Toni Atkins Anti-Pornography Bill Advances
A bill authored by San Diego Assemblymember Toni Atkins (D-San Diego) to  strengthen California's child pornography reporting laws has passed the Senate Public Safety Committee. AB 1817 adds commercial computer technicians to those who are "mandated reporters" of child abuse. Current law requires commercial film and photographic print processors to report child pornography they discover in the course of their work. However, statistics from the Department of Justice show that only 18 percent of those arrested on charges of Internet-related child exploitation possessed photographs, books or magazines of these crimes.  In contrast, 96 percent had images on hard drives or removable media.
Panel to Discuss Restaurant and Hospitality Trends
A panel will discuss restaurant and hospitality trends in San Diego at a June 26 breakfast event sponsored by 6 Degrees. It will be held from 7:30 to 9:30 a.m. at the Hall of Champions in Balboa Park.  Panelists include: Brian Malarkey, owner of Searsucker restaurant; Deborah Scott, owner/partner of Indigo Grill; Arturo Kassel, owner of PrepKitchen; and Arsalun Tafazoli, partner in Consortium Holdings. Admission is $30 for members, $45 for nonmembers.
Hilton Resort Opens in Carlsbad
Hilton Carlsbad Oceanfront Resort & Spa celebrated its opening and the arrival of first guests on Thursday. Owned by Wave Crest Oceanfront LLC and operated by Wave Crest Hotels and Resorts, the resort has 215 guest rooms, Chandler's Restaurant & Lounge, spa, meeting and wedding space, swimming pool and fitness center. It employs 200.
Sempra Energy Names Chairman and CEO


of  Company's Mexican Operating Subsidiary
Sempra Energy announced today that Carlos Ruiz has been named chairman and CEO of the company's Mexican operating subsidiary, Sempra Mexico. Ruiz served on Sempra Energy's corporate board of directors from 2007 until earlier this week. In his newly created position, Ruiz will be responsible for management of all of Sempra Energy's Mexican operations. He is a partner in an investment banking and infrastructure project firm Proyectos Estrategicos Integrales, S.C. Sempra Energy also announced thatArturo Infanzon has been named to the newly created position of chief operating officer for Sempra Mexico.  Infanzon has served as vice president of Mexican operations for Sempra International since January.
PERSONNEL MOVES
San Diego — Seith Minetti has been named general manager of Broadway Athletic and Swim Club, which is scheduled to open on Monday. Minetti has worked as a personal trainer, exercise specialist, director of training and assistant manager at the Hyatt Center in Chicago.  He has a background in kinesiology and biomechanics and holds several certifications. He also served as a wellness coordinator for Goldman Sachs.
San Diego —Tyler Repstad has been hired by McKinney Advisory Group as a market specialist, assisting the brokerage team in market research for corporate clients. He will also be acquiring his real estate license. Repstad has worked as an intern with McKinney Advisory.
---
The Daily Business Report is produced by SD METRO. Contact: Manny Cruz (619) 287-1865. manny@sandiegometro.com.
---
THEATER PREVIEW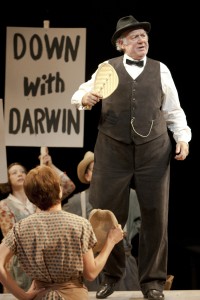 Adrian Sparks as Matthew Harrison Brady and the cast of The Old Globe's Shakespeare Festival production of Jerome Lawrence and Robert E. Lee's 'Inherit the Wind,' directed by Adrian Noble.  The production opened June 17 and runs through Sept. 25. Photo by Henry DiRocco.