Daily Business Report — July 17, 2012
San Diego County Housing Market


Continues Healthy Trend in June
The San Diego County housing market continued to improve in June with the sale of 3,756 homes and a jump in the median home price to $335,500, according to San Diego-based DataQuick, a real estate information service. June's home sales topped May's sales of 3,750 and sales in June of last year of 3,444 — a 9.1 percent jump.) June's median home price was above May's $335,000 and last June's $330,000.
The Southland — The number of homes sold in Southern California rose above a year earlier for the sixth month in a row in June, the result of robust investor demand and significant sales gains for mid- to high-end homes. The median price paid for a home in the six-county Southland rose last month to $300,000, up 1.7 percent from $295,000 in May and up 5.3 percent from $285,000 in June 2011.
Higher demand and a smaller inventory of homes for sale have put pressure on prices in some areas, but two other trends are at work: First, there's been a significant drop in the share of transactions that are foreclosed properties, which tend to sell at a discount and be concentrated in lower-cost areas. Second, a greater portion of sales are occurring in the higher-cost coastal markets. Last month, for example, sales in San Diego, Orange, Los Angeles and Ventura counties represented 71 percent of all Southland activity, up from 68 percent in June 2011.
Future of Seau's Restaurant
Space Remains a Mystery
Nearly two months after its abrupt closure, the future of Seau's the Restaurant in Westfield Mission Valley is as "mysterious" as the rationale behind the shocking suicide of its iconic namesake, reports Mission Valley News. "The building closed more than a month ago and, unfortunately, we don't have any new information, no details, on this space at the center," said Javier Tirado, marketing director of Westfield Mission Valley. "There is nothing we can comment on right now." But at least one commercial real estate broker in Mission Valley believes the 14,500-square-foot retail space anchored by Seau's since 1996 could be successfully recreated. "That's a big space, enough for maybe two restaurants," said Steve Avoyer of Flocke & Avoyer Commercial Real Estate about Seau's location, which featured stadium-inspired architecture and more than 60 TVs, including a giant 12- by 14-foot set taking up an entire wall. (Read more: www.missionvalleynews.com).
Trigild Lender Conference


Scheduled for Oct. 17-19
The financial and commercial real estate industries will be the focus of the 12th annual Trigild Lender Conference Oct. 17-19 at the Omni Hotel San Diego. The conference is aimed at lenders, special services, legal counsel and loan buyers. Special focus will be on non-performing loans. Trigild also will give its annual update on major changes in the commercial nonperforming loan recovery, receivership and bankruptcy laws. Featured speakers will be Robert Guest, business editor of The Economist, and Sam Chandan, president and chief economist for Chandan Economics. Guest oversees the international business publication's global business coverage. Chandan is known for his commentary on monetary and fiscal policy issues and is noted in the commercial real estate industry for his knowledge of capital and credit markets and the relationship between the economy, regulation and market performance.
Landscape Architects Group Offers Grant
The San Diego chapter of the American Society of Landscape Architects invites local nonprofit groups to apply for this year's annual grant of up to $5,000 to design or construct landscape architectural improvements in locations such as parks, schools and neighborhoods. For a grant application, call Tim Jachlewski at (619) 795-7603 or SDASLA at (619) 225-8155. The application deadline is Aug. 1.
PERSONNEL MOVES
Larry Strickland, founding principal of Lee & Associates San Diego County and previously with Lee Carlsbad, has joined the office of Lee San Diego. Strickland specializes in investment and land sales and over a 21-year period has won the Annual Top Producing Broker Award 17 times. Before joining Lee & Associates in 1988, Strickland was a founding principal for First Austin Properties and a branch manager for the IBM Corp. Strickland holds a bachelor's degree in business administration from Texas Tech University and is a graduate of Harvard University's Executive MBA program while with IBM.
Joe Gabaldon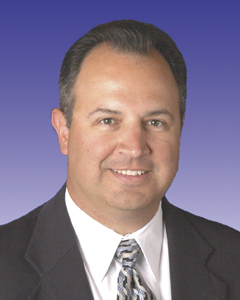 Joe Gabaldon has been named senior director of government affairs for the greater San Diego area for Time Warner Cable. Gabaldon will oversee regulation, franchise and legislative activities in San Diego County, Imperial County, Yuma, Ariz,, and the eastern portion of Riverside and San Bernardino counties. Gabaldon previously was senior manager of external affairs for Cox Communications. Prior to Cox, he worked for Teleport Communications Group. Gabaldon is a graduate of the LEAD San Diego program. He holds a bachelor's degree and a master's degree in public administration from San Diego State University.
Marc Therrien
Marc Therrien has been promoted to executive chef at La Costa Resort and Spa. Therrien served as executive sous chef for the past two years. Previously, he was the executive chef for Behind the Scenes Catering & Events in Mira Mesa, where his responsibilities included management of off-site catering for the 2010 Vancouver Olympic Games, 2008 Beijing Olympic Games, Red Bull Air Races and the Rock & Roll Marathon.  Therrien also held the position of executive sous chef and executive chef at San Diego Del Mar Hilton in Del Mar as well as sous chef positions at Elarios Restaurant at Summer House Inn in La Jolla and Crowne Plaza Hotel & Conference Center in Worcester, Mass.
BongHwan Kim has been named vice president/executive director of the San Diego Foundation's Malin Burnham Center for Civic Engagement. Kim's appointment coincides with the center's release of its Our Greater San Diego Vision, a program to determine San Diegans' priorities about the future of the region. Kim was appointed the general manager for the Department of Neighborhood Empowerment in Los Angeles by Mayor Antonio Villaraigosa in 2007 as part of a charter reform to improve government responsiveness to local concerns. Before that, he led a number of nonprofit, community-based organizations involved in a range of social and community development missions. Kim has served as the co-chair of the Black-Korean Alliance during the LA civil unrest of 1992, the California Attorney General's Violence Prevention Policy Council, the National Immigration Forum and the US Census Bureau.
---
The Daily Business Report is produced by SD METRO. Contact: Manny Cruz (619) 287-1865. manny@sandiegometro.com.
---