Daily Business Report — July 27, 2012


Brown and Schwarzenegger Join Local


Officials to Dedicate Sunrise Powerlink
Opponents stage protest nearby
Gov. Jerry Brown joined former Gov. Arnold Schwarzenegger and federal, state and local officials Thursday to dedicate the Sunrise Powerlink at the Suncrest substation in Alpine, as opponents of the new transmission line staged a protest nearby.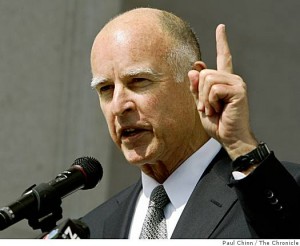 The 117-mile line, which connects San Diego with the Imperial Valley, was put into service June 17 after a five-year environmental review and permitting process and 18 months of construction of the overhead and underground technology, according to SDG&E. "The Sunrise Powerlink is an extraordinarily sophisticated technology that will bring solar and wind energy from the Imperial Valley to San Diego," the governor said. "Most immediately, it will help keep the lights on during this year's hot summer with the San Onofre Nuclear Power Plant offline."
Opponents of the $1.9 billion project cited concerns about property values, views and safety. Protesters from several groups, including the Protect Our Communities Foundation, gathered before the dedication alongside Interstate 8 at Japatul Valley Road to demonstrate. Back-county residents contended the transmission lines were out character with their rural community and could create health and fire hazards. "The line traverses some of the most fire-prone terrain in the world. It will impede firefighting efforts in from the air because firefighters cannot make water drops on energized lines," said county Supervisor Dianne Jacob, who has long opposed the transmission line. — City News Service
First Steel Column Set in Place for Scripps Memorial Hospital Encinitas Expansion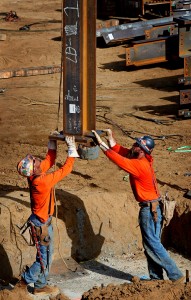 Construction workers set and anchored the first structural steel column July 26 for the Critical Care Building at Scripps Memorial Hospital Encinitas. Expected to be open for patient care by early summer 2014, the two-story facility will house 27 emergency department beds on the first floor and 43 medical-surgical beds on the second level. The building is part of the hospital's $94 million second phase of expansion, which will also include a new central energy plant and various infrastructure improvements.  Topping out of the building's structural steel is expected in late August. Photo: Sandy Huffaker.
---
The Daily Business Report is produced by SD METRO. Contact: Manny Cruz (619) 287-1865. manny@sandiegometro.com.
---