Daily Business Report — Aug. 20, 2012
UnitedHealth Group Will Create 250 New


Jobs at OptumRx Facility in Mission Valley
OptumRx, a pharmacy benefits management organization affiliated with Carlsbad-based UnitedHealth Group, said it will create 600 new jobs in California by the end of 2013, including 250 at the new pharmacy processing facility in Mission Valley to handle mail order prescription processing.  The company said the new jobs are in addition to 400 new jobs OptumRx has created and filled in the state this year.  Currently, UnitedHealth Group employs nearly 8,700 Californians and serves more than 2.3 million people in the state with a care provider network of more than 320 hospitals and 47,000 physicians and other care professionals statewide.
County Jobless Rate Declines in July
Nonfarm employment gained 35,100 jobs over the year
The unemployment rate in San Diego County was 9.2 percent in July, down from 9.3 percent in June and below the 10.5 percent jobless rate for July of last year, the state Employment Development Department.  Nonfarm employment was down by 4,400 jobs over the month; up 35,100 jobs over the year. Between June and July 2012, nonfarm employment declined from 1,259,100 to 1,254,700, a loss of 4,400 jobs. Between July 2011 and July 2012, nonfarm employment gained 35,100 jobs, or 2.9 percent.
Joint Powers Authority Schedules


Update on North Embarcadero Plan
The Joint Powers Authority for the North Embarcadero Visionary Plan will meet at 2 p.m. on Aug. 30 to review a construction update and study the Broadway Pier surface improvements. It will be held in the Port of San Diego's Administration Building, 3165 Pacific Highway. When the plan is completed, a 105-foot wide esplanade will adorn the waterfront featuring formal gardens, plazas, shade pavilions and a waterfront promenade. The contractor, USS Cal Builders, is currently installing utility crossings on North Harbor Drive from Pacific Highway to Ash Street.
Police Want to Use Social Media to Prevent Future 'Koigates'
A giant water gun fight that trashed Balboa Park's iconic lily pond last weekend has raised questions of whether the police could have been better prepared to stop the event, KPBS reports. Some in the police department say they could use social media to make that happen. Brian Marvel, president of the San Diego Police Officers Association and an acting police officer, said police knew about the water gun fight in advance. But he said by better monitoring social media, police can be prepared for future events planned over websites like Facebook and Twitter. "Someone that was monitoring social media would see events like that come across, and they'd be able to at least notify Central Division."
Small Business Workshops (SCORE San Diego)
Aug. 22
How to Start a Nonprofit Corporation – 9 to 11:30 a.m. at The San Diego Foundation, 2508 Historic Decatur Road, No. 200, San Diego 92106; pre-paid registration $39, $49 at the door.
Aug. 23 — Cost-Effective Marketing Tools & LinkedIn Strategies – 9 a.m. to noon at National University – Kearny Mesa, 9388 Lightwave Ave., San Diego 92123; pre-paid registration $49, $59 at the door.
Aug. 24 — Financial Statements – What They Mean, How to Use Them – 9:30 a.m. to noon at National University – Carlsbad, 705 Palomar Airport Road, Carlsbad 92011; pre-paid registration $29, $39 at the door.
Avocados Among County's Most Valuable Crops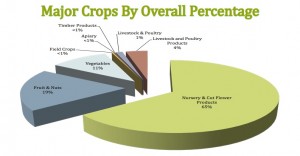 Avocados are still one of the most valuable crops in San Diego County, accounting for a large part of the overall increase in value of the region's crops, according to a report by the county Department of Agriculture, Weights and Measures. The 2011 Crop Statistics and Annual Report said avocados showed an increase in value of 42 percent for all varieties — from $147.1 million in 2010 to $208.1 million in 2011. The Lamb-Hass avocado variety saw the biggest increase in value — 87 percent.
Ornamental trees and shrubs are still the No. 1 crop in San Diego County for the third year in a row, although they suffered a slight decrease in value — down 8 percent) to $384.4 million.
The total value for all nursery products — including cut flowers and foliage — topped the $1 billion mark at $1.68 billion,  according to the report. That was a 2 percent jump from 2010.
Indoor Flowering and Foliage Plants realized an increase in value (10 percent) to $320.9 million. Fruit and Nut Crops decreased in acreage (-7 percent) but showed a sizable increase in value (22 percent) bringing the total to $319.2 million.
Vegetables and Vine Fruits increased in acres (6 percent) and value (4 percent). Potatoes showed the largest increase in acreage (196 percent) and value (190 percent) resulting in $2.57 million. Potatoes is a crop that rotates in and out of the county from year to year and 2011 was a big year for potatoes.
Livestock and Poultry increased slightly (3 percent) in value while livestock products decreased (-23 percent) to total $65.55 million. Market Milk had another year of increase (21 percent) resulting in a total value of $9.55 million.
You're Invited


40 Under 40 Awards Luncheon
Please join SD Metro in celebrating this year's 40 Under 40 Award winners, honoring San Diego's best and brightest. The Details: Sept. 25 at the Sheraton Hotel and Marina, 1380 Harbor Island Drive, San Diego 92101. Registration: 11:30, Luncheon and Program: Noon-1:30 p.m. Tickets: $80. Tables of 10: $800 ($700 if an honoree is at your table). Please email your reservation request to: Rebeca Page at rebecapage@sandiegometro.com or call (858) 461-4484.
---
The Daily Business Report is produced by SD METRO. Contact: Manny Cruz (619) 287-1865. manny@sandiegometro.com.
---