Daily Business Report — Aug. 29, 2012
SDSU Astronomy Profs Lead Study Discovering
Two Planets Orbiting Around a Pair of Stars
San Diego State astronomy professors Jerry Orosz and Bill Welsh are lead authors of a study that discovered two planets orbiting around a pair of stars, as reported today in the journal Science. Astronomers at the International Astronomical Union announced the discover of what they called the first "transiting circumbinary multi-planet system." The study shows that planetary systems can form and survive even in the chaotic environment around a binary star.  "Each planet transits over the primary star, giving unambiguous evidence that the planets are real," said Orosz.
The system, known as Kepler-47, contains a pair of stars whirling around each other every 7.5 days. One star is similar to the sun while the other is a diminutive star only one third the size and 175 times fainter. The inner planet is only 3 times larger in diameter than the Earth, making it the smallest known transiting circumbinary planet. It orbits the stellar pair every 49 days. The outer planet is slightly larger than Uranus and orbits every 303 days, making it the longest-period transiting planet currently known. More importantly, said the astronomers, its orbit puts it in the "habitable zone," the region around a star where a terrestrial planet could have liquid water on its surface. While the planet is probably a gas-giant planet and thus not suitable for life, its discovery establishes that circumbinary planets can, and do, exist in habitable zones.
The new planetary system is located roughly 5,000 light-years away, in the constellation Cygnus. The planets are much too far away to see, so they were discovered by the drop in brightness they cause when they transit (eclipse) their host stars.
The work was presented at the International Astronomical Union meeting by Welsh, on behalf of the Kepler Science Team. "Kepler-47c is not likely to harbor life, but if it had large moons, those would be very interesting worlds," said Welsh.
( Illustration: Lynette Cook's rendition of the Kepler-35 planet system, in which a Saturn-size planet orbits a pair of stars.)
Financing is Secured for Construction of


Another Office Tower at La Jolla Commons
Jones Lang LaSalle reports that $188 million in financing has been secured from Wells Fargo for construction at Hines' La Jolla Commons in University Towne Center — the building of a 13-story, 415,000-square-foot office building pre-leased to LPL Financial for 15 years. La Jolla Commons Tower II, as it will be called, is expected to be completed in mid-2014. The existing, multi-tenant office building is a 13-story, 300,000-square-foot building that was completed in 2008. Mike Melody, Chris Casey, Kelly Gaines and Lynn LaChapelle led the Jones Lang LaSalle team on the transaction.
Correction
A press release issued by Cushman & Wakefield — and reported here yesterday — erroneously said that GLJ Partners and Jonathan Segal would head building efforts for a planned Hilton Hotel on Pacific Highway in San Diego. According to a correction made by GLJ and Segal, Segal is no longer involved in the project and GLJ will maintain a minor consulting role in it.
Workshop on Lane Field North


Hotel Development Re-Scheduled
The previously scheduled Aug. 30  workshop for the revised conceptual design of the Lane Field North Hotel development project has been canceled. The meeting has been rescheduled to Sept. 11. The workshop will be held from 5:30 to 7 p.m. at the Port of San Diego Administration Building Training Room, 3165 Pacific Highway, San Diego. The agenda will include a presentation on the project from 5:30 to 6 p.m., break-out sessions for discussion from 6 to 6:45 p.m. and closing comments from 6:45 to 7 p.m. The project is located on the northern portion of the former Lane Field site at Pacific Highway and West Broadway. The purpose of the workshop is to inform the public and to solicit public feedback on the design of the hotel project. The proposed developer is LPP Lane Field LLC.
Free Service Helps Veterans Obtain Pension Benefits
Robert Dhillon and Kate Seelye of Dhillon Family Financial Solutions operate Veteran's Friend, a free service that helps veterans and their surviving spouses qualify and acquire Veterans Administration pension benefits to offset the cost of home care, skilled nursing, assisted living and memory care communities. "We help veterans keep their life savings from getting wiped out by paying for health care," said Dhillon.  "Our free service pre-qualifies veterans and makes sure they obtain the pension they are entitled to in a timely manner by guiding them through the VA benefits eligibility and complex application maze." For more information, call (760) 434-8831or visit veteransfriend.com.
Affordable Housing Law Seminar
The San Diego Housing Federation will present the region's first Housing Development Law and Policy Seminar on Sept. 14.  It will be held at the SDG&E Energy and Innovation Center, 4760 Clairemont Mesa Blvd., San Diego from 8:30 a.m. to 4:30 p.m. The seminar is eligible for continuing education credits. The seminar will focus on the tools and constraints to building housing. Speaker: Barry Schultz, senior counsel, Stutz, Artiano, Shinoff and Holtz. Fee for the seminar is $200. For information, email
jennifer@housingsandiego.org.
Women's Health Conference Oct. 6
Sharp HealthCare will hold its annual Women's Health Conference on Saturday, Oct. 6, from 7:30 a.m. to 4 p.m. at the Sheraton San Diego Hotel & Marina. Tickets are $45 and include breakout sessions; presentations by Kathi Burns, the founder of addSpace To Your Life! and the author of "How To Master Your Muck and Home Organization, the Smart Guide"; Marci Shimoff, a best-selling author who co-authored the "Chicken Soup for the Woman's Soul" series; and emcee Kimberly Hunt, Channel 10 anchor. The event includes free health screenings and assessments, exhibits, lunch and gift bags. For more information, call (800) 827-4277.
---
PERSONNEL
Jacqueline Edelman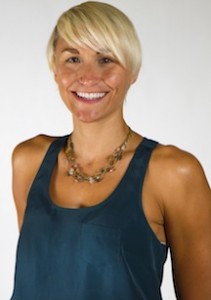 Jacqueline Edelman has been named marketing communications manager for Total Gym in San Diego. Her responsibilities include overseeing all public relations outreach, advertising and direct marketing campaigns. Edelman previously spent six years at J. Walcher Communications, where she managed accounts in the health and fitness, consumer retail, hospitality and associations industries. She has won multiple awards for her work in creating and implementing social media and awareness campaigns.
Helen S. Cheng
Helen S. Cheng has joined Higgs Fletcher & Mack as an associate in the trust, estates and estate planning practice. Cheng previously worked as an associate for Baker & McKenzie in Palo Alto and Hong Kong. Most recently, Cheng was with the San Diego Zoo working on IP protection, negotiations and partnership agreements with companies such as Procter & Gamble, WD-40 and Qualcomm.  Cheng is a graduate of Stanford Law School and has an undergraduate degree in Spanish from the University of Kansas.
---
The Daily Business Report is produced by SD METRO. Contact: Manny Cruz (619) 287-1865. manny@sandiegometro.com.
---