Daily Business Report — Aug. 31, 2012
Sharp HospiceCare Purchases Site
For New South Bay Hospice Home
Sharp HospiceCare has purchased a 1.1-acre site in Bonita to construct its first South Bay hospice home. The existing structure on the site will be torn down to build the new home at a cost of $1.7 million. Richard Yen and Associates is the lead architect/designer for the project, which is expected to be finished in summer 2013. Scott McMillin, chairman of the board of McMillin Companies, and wife Susan, along with brother, Mark, and McMillin family matriarch, Vonnie,  have donated a total of $500,000 to help fund Sharp HospiceCare's efforts. (Photo by Cynthia Sinclair)
Library/Learning Resource Center
Opens at San Diego Miramar College

A ceremonial grand opening for the new $39.4 million Library/Learning Resource Center at San Diego Miramar College will be held Sept. 5 at 10 a.m. at 10440 Black Mountain Road in San Diego. The facility is funded by the San Diego Community College District's Propositions S and N construction bond program. The facility is flanked by arts/humanities and math/business classroom buildings, science and English centers, and, slated for completion in less than a year, a new Cafeteria/Bookstore/Student Services Center. The three-story, 100,000-square-foot center includes teaching and independent learning spaces, a new library, classrooms, computer labs, tutoring services, a media production facility, café, and faculty and staff offices and work spaces. Zagrodnik + Architects designed the center. Sundt Construction Inc. was the construction manager.
Qualcomm Awards $100,000 in Venture
Financing to Winner of its 2012 QPrize
Qualcomm Inc. has awarded $100,000 in venture financing to Silicon Valley-based MightyText, a regional winner of its 2012 QPrize. MightyText earned top honors among a field of eight competing North American companies. MightyText is an Android-based application that enables people to send text messages from their computer or any device via the cloud. The victory enables MightyText to compete against other regional champions for an additional $150,000 in venture financing in the QPrize Global Grand Prize competition, taking place in the first quarter of 2013 in San Francisco.
International Council of Shopping Centers
To Hold Western Division Conference Here
The International Council of Shopping Centers will hold its annual Western Division Conference and Deal Making on Sept. 20 at the San Diego Convention Center. A keynote presentation will be made by Mike Eruzione, former pro hockey player and captain of the 1980 U.S. Olympics hockey team. He scored the winning goal to give the U.S. the gold medal. A series of educational sessions will be conducted by industry experts. For more information, call (646) 728-3800 or register online at www.icsc.org.
San Diego Trolley's Green Line Extended

The San Diego Trolley's Green Line will run through Downtown San Diego past the Convention Center and Petco Park all the way to the 12th and Imperial Transit Center starting Sunday. That will mark a a major milestone in the $720 million Trolley Renewal project currently under construction by SANDAG and the Metropolitan Transit System. With the Green Line extension, riders will enjoy direct service from Santee, El Cajon, La Mesa, San Diego State University and Mission Valley to Downtown San Diego without the need to transfer. Trips through downtown will be six minutes faster for people who transfer to and from the Green Line at 12th and Imperial, and trips from Euclid Avenue to Old Town will be nine minutes faster. Trips from Mission Valley to Petco Park/Gaslamp Quarter will be 12 minutes faster, with two transfers eliminated.
---

Underwater Fun Without Getting Wet
Fleet's 'Deep Sea' takes viewers on an amazing journey below the ocean's surface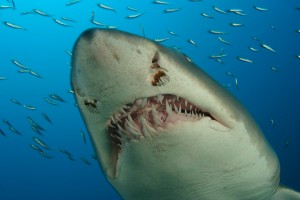 The underwater adventure film "Deep Sea" has returned to the Reuben H. Fleet Science Center's Heikoff Dome Theater. Del Mar's veteran underwater filmmakers and explorers Howard and Michele Hall take film viewers below the ocean surface to swim with some of the most unusual, dangerous and colorful creatures.
The IMAX film is directed by underwater  cinematographer Howard Hall and produced by Toni AMyers and Michele Hall. Graeme Ferguson is the executive producer. Johnny Depp and Kate Winslet narrate the film, which features original score by Danny Elfman.
"IMAX provides such an immersive experience that you're able to get up close to the creatures much like I did shooting the film, but without getting wet," said director Hall. Added Myers: "Even with a large number of people who do scuba dive, lots of them have never met these characters or seen how they interact with other animals. 'Deep Sea' includes moments that Howard himself has never filmed before, even in his long and varied career in undersea photography. These creatures are scary, beautiful, funny — it's such a vivid illustration of the astonishing array of the diversity of life."
Hall and his crew produced the first IMAX underwater film "Into the Deep." For "Deep Sea" they filmed in multiple locations to profile animals that have never before been seen in any IMAX film.
For information on tickets and showtimes, call (619) 238-1233.
San Diego Zoo Opens Reptile Walk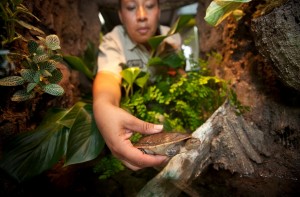 In preparation for the debut of the San Diego Zoo's Reptile Walk exhibits, Rachel Walton, keeper (above) places a young Roti Island snake-necked turtle into a terrarium. Reptile Walk opened to the public on July 4 with more than 50 species of animals including turtles, amphibians and a collection of animals native to California. There is also a new open-air pool exhibit for the endangered Chinese alligators. Reptile Walk leads guests past animals that make their homes in various types of wetlands including marshes, swamps, bogs and fens and seasonal wetlands called vernal pools and washes. The exhibit describes threats that are drastically reducing populations of reptiles and amphibians, for example, the Roti Island snake-necked turtle is classified as critically endangered due in part to the pet trade. The San Diego Zoo has one of the most successful breeding programs for this species and has hatched more than 70, including this youngster.
The Daily Business Report is produced by SD METRO. Contact: Manny Cruz (619) 287-1865. manny@sandiegometro.com.