Daily Business Report — Aug. 9, 2012
San Diego Planning Commission Approves 23-Acre


Housing and Retail Development in Grantville Area
The San Diego Planning Commission has approved a 23-acre redevelopment project that will bring close to 1,000 multiple-family units, a number of retail stores and a 5.3-acre river park to what developers said has been an eyesore in Grantville for several years. The project, called Riverbend, will go to the San Diego City Council in late September for the final approval needed to change the land use designation from its current industrial use to residential mixed-use. Urban Housing Partners, the development team, said the project will be built in phases starting in 2014 with complete buildout expected by 2019. "The Riverbend vision is to take what is now an eyesore for the Grantville community and turn it into a smart growth project that will provide a much better use for the community," said Sherman Harmer, principal of Urban Housing Partners.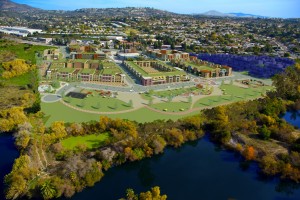 Located east of Mission Gorge Road at its intersection with Old Cliffs Road, the proposed 23-acre project site has been owned by the same families for more than 40 years. During this time, the San Diego River-adjacent land has been used for auto storage, trailer sales, concrete mixing and trucking and recreational vehicle sales yards. Harmer said Riverbend will infuse more than $23 million into the local economy from mitigation and impact fees. The community park will create the only public access point to the river east of Qualcomm Stadium and will be maintained in perpetuity by the Riverbend Homeowers Association, which will relieve the city of San Diego from a significant park maintenance expense, according to Urban Housing Partners.
Donahue Schriber Purchase Del Mar Heights Village Center
The Del Mar Heights Village Center has been acquired by Donahue Schriber, a real estate investment trust that owns the nearby Del Mar Highlands Town Center in Carmel Valley. The shopping center will be managed by the management team of the Del Mar Highlands Town Center. The Village Center was purchased from CW Clark Inc. The 107,846-square-foot property has 31 tenants, including Del Mar Wine Company, O'Brien's Bakery, Navy Federal Credit Union and Frames Del Mar, as well as individually-owned anchor tenants, Vons and CVS.
Toni Atkins Named Assembly Majority Leader
Assembly member Toni Atkins (D-San Diego) has been named Majority Floor Leader of the Assembly effective Sept. 1. Her selection was made by Assembly Speaker John Pérez. The Majority Leader is one of the most powerful officers in the Assembly and represents the Speaker on the floor, expedites Assembly floor proceedings through parliamentary procedures such as motions and points of order and promotes harmony among the membership. She serves on the Housing and Community Development, Health, Judiciary, Veterans and Government Organization committees and is chair of the Assembly Select Committee on Homelessness.
More Bananas, Pineapples and mangoes for the Next 25 Years


Dole to Sign New Multi-Year Lease with Port of San Diego
Dole Fresh Fruit Co., the largest tenant of the Tenth Avenue Marine Terminal, is scheduled to sign a new lease next Tuesday that will keep it here for the next 25 years. The signing ceremony will take place immediately after the start of the regular Board of Port Commissioners meeting. The lease term is unusual because Dole typically chooses terms of five or 10 years. Dole, the largest of the port's roughly 600 tenants, imports bananas, pineapples and mangoes in refrigerated shipping containers and gives the port about $2 million per year in lease payments. The Port of San Diego is Dole's first stop for fresh fruit that is moving into the U.S. from South America. The port receives approximately 95,000 twenty-foot containers of Dole fruit each year. The port will invest $7 million in shore power equipment at the Tenth Avenue Marine Terminal that will service Dole's vessels, a requirement of the new California Air Resources Board regulations. The vessels will use the shore power while berthed at Tenth Avenue Marine Terminal, thereby reducing their diesel emissions. Stuart Jablon, Dole Fresh Fruit Co.'s vice president of operations, will attend the signing along with Lou Smith, chairman of the Board of Port Commissioners.
---

Walk in High Heels to Combat Domestic Violence
YWCA's 'Walk a Mile in Her Shoes' Set for Oct. 4
To bring awareness to the issue of domestic violence men and women will walk in high-heeled shoes at the fifth annual "Walk a Mile in Her Shoes" fundraising event, organized by the YWCA of San Diego County.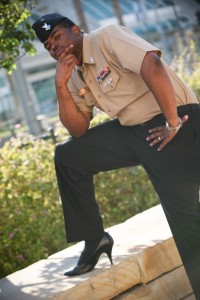 The one-mile walk will be held on Thursday, Oct. 4,  at 6 p.m., with check-in starting at 5 p.m. in Downtown San Diego.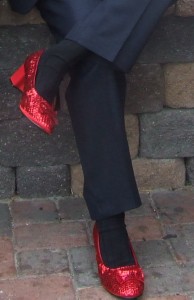 A post event party will follow at 7 p.m. at Dick's Last Resort, featuring food, drinks, music, awards and prizes. Register at ywcasandiego.org. The symbolic Walk a Mile fundraiser is a family-friendly event and participants are encouraged to consider the ways in which they can make a positive difference against domestic violence. The net proceeds will support the YWCA's Becky's House Domestic Violence Program.
Many of the participants walk in high-heel shoes through Downtown San Diego, but these are not required. The one-mile walk begins and ends at the Martin Luther King Promenade Park at Fourth Avenue and K Streets.  Participants are encouraged to form fundraising teams and gather pledges from family and friends. Registration is $35 per person through Aug.31 and $45 per person thereafter.   For more information about sponsoring the event, call (619) 239-0355, Ext. 225. (Photos are from last year's event.)
---
---
The Daily Business Report is produced by SD METRO. Contact: Manny Cruz (619) 287-1865. manny@sandiegometro.com.
---