Cover Story: San Diego Sport Innovators
Bill Walton on sports business: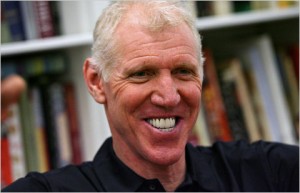 "I'm a proud and fortunate native San Diegan. I'm passionately committed to helping local sports and entertainment companies grow and thrive in the competitive global economy. Our local companies need to be the leanest, greenest and cleanest, the most innovative and the smartest to succeed at the highest levels. We're known around the world as the sports and entertainment innovation capital. It's time we bring everything we have to helping these industries. We are here to stay. We plan to play at the highest levels in the biggest of games. We intend to win. We are going to make a difference."
San Diego Sports Innovators
Turning sports business ideas into winning ventures
By Manny Lopez
In business as in sports, success relies upon strong coaching for guidance every step of the way. San Diego Sport Innovators (SDSI), an independent nonprofit trade organization, has been linking local sports entrepreneurs with the resources they need to turn their business ideas into winning ventures.
By offering mentoring programs, education, networking, capital funding opportunities and public policy advocacy, SDSI is directly involved in bringing innovative new products and ideas to market, while fostering the progress of San Diego's dynamic sports economy.
"San Diego has many companies and a substantial number of people in the sports and lifestyle industries that have great ideas and the courage to pursue them," said Lisa Freedman, executive director of SDSI. "This organization is run by successful people with experience and vision who want to advance entrepreneurship and at the same time pay it forward."
Established in 2008 as an extension of CONNECT, a nonprofit business incubator focused on science and technology discoveries from local research institutions, SDSI chose former NBA All-Star basketball player Bill Walton as their executive chairman.
"I'm the luckiest guy in the world, because I get to volunteer with CONNECT," Walton said. "We spend all of our time with some of the most interesting and creative people in the world. They're coming in with a dream, a vision and a passion, and our job is to help them. What could be better than that?
Walton pointed out that the CONNECT model has been copied many times over in countries and cities all around the world. He described the board of directors as an incredibly motivated and passionate team of experienced professionals in their respective fields, who volunteer their valuable time to make San Diego a better place by giving others some of the same opportunities afforded to them.
With more than 600 local sports-related companies, Walton said that CONNECT's charge is to organize them and help drive their growth. But that job, he said, changes daily due to economic conditions and the needs of the industry.
"Flexibility is the key to our stability and we always have to guard against mistaking activity for achievement," Walton said. "That's where the leadership and commitment of our board of directors is so important."
John Sarkisian, SDSI board member and CEO of SKLZ, a San Diego-based company that develops and markets athletic performance and skill development training products, said that Walton is perfect for his job because he's able to bring access and open doors to new opportunities.
"Bill's enthusiasm, positive attitude and just what he's had to overcome in his life make him a truly incredible individual," Sarkisian said. "Anyone can play basketball at 6-foot-11, but not too many people can go as long as he did without losing a basketball game or overcome stuttering to become an award-winning sportscaster."
Sarkisian, a self described serial entrepreneur with over 30 years of experience running companies, pointed to CONNECT's Springboard program, which provides businessmen and women free coaching sessions with a group of industry veterans. Within three to five months, participants in the program become "pitch ready" with a fine-tuned business plan that will hopefully get financing.
Several key factors that Sarkisian said he looks for in selecting program participants include whether or not there is a market for their product, idea or brand, and is it accessible. He said that he then looks at the entrepreneurs to see if they can think on their feet, get themselves organized and be ready to take all of the steps necessary to succeed.
"It's very similar to coaching an athlete," Sarkisian said. "They may have a good idea, but are they coachable? Are they willing to learn and listen? Can they grow from their mistakes?"
Kevin Flanagan, a former Torrey Pines High and then University of Arizona basketball player, who is the founder and CEO of The People's Movement, an eco-friendly footwear company based in Solana Beach, lightheartedly called the Springboard program the Dartboard program.
Flanagan advises others that to make it through the course one has to be thick skinned and ready to learn. He said that although advisers may be critical at times, it's done with the intention of sharpening the entrepreneur's skills.
After graduating from the Springboard program, Flanagan was able to present his idea to a number of investors, which eventually landed him $1 million to finance his vision of developing a company that he said creates products that look good, are good and make the customer feel good.
"If you think you've got all of the answers, then the program is not for you," Flanagan said. "If you think you can learn from people that know more than you, then the opportunities are limitless."
More information on San Diego Sport Innovators can be found at sdsportsinnovators.org or by calling (858) 964-1351.