Daily Business Report — Sept. 10, 2012
U-T San Diego Purchases North County Times
Douglas F. Manchester and the San Diego Union-Tribune have purchased the North County Times and Daily Californian, the San Diego Business Journal reported today. The sale comes less than a year after Manchester acquired the Union-Tribune and renamed it U-T San Diego, and just months after Manchester lost out in the bidding for the Orange County Register.  U-T CEO John Lynch said nothing has been signed yet. The Business Journal said the sales price was not disclosed, but there is speculation that the North County Times is currently profitable and was sold for five times its cash flow, or between $8 million and $10 million. It is expected Manchester will continue to publish the North County Times as a separate publication, but the purchase allows Manchester to consolidate and reduce production, sales and back-end expenses, according to the Business Journal report. How much consolidation of editorial functions there will be under the new ownership has not been disclosed, it said.
San Diego Receives State Approval to
Expand Economic Incentive Program
Mayor Sanders announced that San Diego has won state approval to expand a regional economic incentive program that helps create jobs and retain businesses. The zone, which currently incorporates the city of San Diego including communities in the South Bay area near the U.S.-Mexico border and in portions of the cities of National City and Chula Vista, now includes areas in North County, in select locations from Mira Mesa to Rancho Bernardo. Companies in the zone are eligible for various California income tax and other benefits for creating jobs, hiring disadvantaged workers and investing in capital equipment. The expansion was announced at Soitec's Rancho Bernardo location, which now falls within the new zone.
Hyatt Regency Mission Bay Spa and Marina Changes Hands
Maryland Owner Also Purchased Hotel Indigo Last Year
Chesapeake Lodging Trust of Annapolis, Md., has acquired the 429-room Hyatt Regency Mission Bay Spa and Marina for $62 million, its second hotel purchase in San Diego. Last year, the trust purchased the 210-room Hotel Indigo San Diego Gaslamp Quarter for $55.5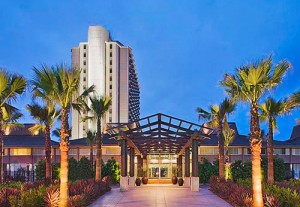 million. In the Hyatt Regency deal, the trust assumed the existing management agreement with Hyatt Hotels Corp. The hotel underwent a $60 million renovation that was completed in 2007 and the new owner said it planned a $6 million "softgood refresh." Located at 1441 Quivira Road, the Hyatt Regency includes a 187-slip marina, the Blue Marble spa, Red Marlin restaurant, three pools and water boat taxi service to Sea World's private VIP entrance. The trust purchased the 12-story Hotel Indigo, located at 509 Ninth Ave., from InterContinental Hotels Group.
Port Commission to Hear Report on Convention
Center Expansion's Environmental Impact
Port commissioners will hold a Sept. 19 public hearing on a report on the environmental impacts of the proposed San Diego Convention Center expansion and hotel project. It will be held at 1 p.m. at the Port Administration Building, 3165 Pacific Highway, San Diego. The expansion would include 220,150 square feet of exhibit hall space, 101,500 square feet of meeting rooms and 78,000 square feet of ballroom space added to the existing center. View the Final Environmental Impact Report (EIR). The expansion also would include a new 500-room tower for the Hilton San Diego Bayfront Hotel.
County Water Authority and Poseidon Resources
In Negotiations for Purchase of Desalinated Seawater
Final negotiations are continuing between the San Diego County Water Authority and Poseidon Resources on a 30-year agreement to purchase water from the proposed Carlsbad Seawater Desalination Project. Because the draft agreement is not yet complete, the Water Authority is moving back the schedule for hosting two evening public meetings dedicated to receiving public comment on the document. The public meeting originally scheduled for 6:30 p.m. on Sept. 13 at the Water Authority's offices at 4677 Overland Ave. in Kearny Mesa will now take place at 6:30 p.m. on Oct. 2. The public meeting at the Carlsbad Senior Center (799 Pine Ave.) is still scheduled for 6:30 p.m. on Sept. 20. If approved and built, the Carlsbad plant would produce up to 56,000 acre-feet of desalinated seawater per year, enough to serve 112,000 households of four people.
Navy Hosts  Wounded Warrior
Hiring and Support Conference
The Navy will host its third annual Wounded Warrior Hiring and Support Conference from Oct. 29-30 at the Manchester Grand Hyatt, centered on the theme "Hiring Our Nation's Heroes  — Rise to the Challenge. Diversify Your Workforce." The conference will bring together government, military, industry leaders and their human resource professionals who are committed to supporting and hiring wounded veterans. Conference details and registration will soon be available on the website.
DeMaio and Filner Debate on Sept. 17
The San Diego North Chamber of Commerce and San Diego Regional Economic Development Corp. will host a mayoral debate on business issues between Councilman Carl DeMaio and Rep. Bob Filner (D-San Diego) on Sept. 17 at La Jolla Playhouse, 2910 La Jolla Village Drive, La Jolla. Networking is at 6:30 p.m. The debate starts at 7:15 p.m.
Governor Signs Kehoe Bill on Open Space
Gov. Brown has signed into law a bill by Sen. Christine Kehoe (D-San Diego) to allow the city of San Diego to convert up to 10,000 acres of city-owned "designated" open space to "dedicated" open space. The City Council has until Dec. 31 to approve the list of specific parcels to be converted to dedicated status, and file it with the City Clerk. A map showing the parcels is available at http://www.sdcanyonlands.org/park-dedication.
Money and Investing Seminar
San Diego County Credit Union will present "Smart Money & Investing Moves," a free seminar with financial analyst George Chamberlin, Wednesday from 6 to 7:30 p.m. at the credit union office at 6545 Sequence Drive in Mira Mesa. Reservations required. Call (877) 732-2848.
NASSCO Construction of
Mobile Landing Platform
Ship on Schedule
Shipbuilders of NASSCO have completed the structural assembly and weld-out of 26,241 metric tons of steel to erect the entire structure of the first Mobile Landing Platform (MLP) for the U.S. Navy. Construction of the ship is progressing on schedule and under budget, with delivery scheduled for the second quarter of 2013, the company reported. The final block for the first MLP ship, comprised of the ship's exhaust stacks and weighing 277 short tons, was lifted onboard via crane and installed on Aug. 17. The final structural welds were completed Aug. 31 and inspected by the American Bureau of Shipping and the Navy. Work is continuing on outfitting and painting the ship in preparation for a Nov. 13 undocking.
"The MLP is the beneficiary of the ship-construction lessons learned during the successful T-AKE Program and a concerted 'Design for Producibility' effort," said Fred Harris, president of NASSCO. "With this ship, we have further reduced construction time and applied improvements that have increased the efficiency of our workforce." NASSCO has construction contracts to build three MLPs.
---
The Daily Business Report is produced by SD METRO. Contact: Manny Cruz (619) 287-1865. manny@sandiegometro.com.
---