Daily Business Report — Sept. 12, 2012
Defense Industry in the Spotlight
The SDSU Business Alumni Network will sponsor a panel talk on "The Business of Defense" Oct. 17 from 5:30 to 8:30 p.m. at the Corky McMillin Conference Center at Liberty Station in Point Loma. A panel of military, defense and economic experts will discuss the state of the defense industry in San Diego. Panelists: Michael Twyman, Northrop Grumman Information Systems; Mark Cafferty, San Diego Regional Economic Development Corp.; and Terry Magee, San Diego Military Advisory Company. Roger Hedgecock will moderate.
San Diego Mayoral Debate Set for Oct. 25
The Asian Business Association and Point Loma Nazarene University will present a mayoral forum Oct. 25 with candidates Councilman Carl DeMaio and Rep. Bob Filner (D-San Diego) and a panel of questioners. It will be held from 10:45 a.m. to 12:45 p.m. at the Liberty Station Conference Center, 2600 Laning Road, in Point Loma. Panelists will be Allan Camaisa of Risen Media; Stephen Lew of S. Lew & Associates; Lindsey Lupo of Point Loma Nazarene University; Dennis Otsuji of Wimmer Yamada and Caughey; and moderator Gene Cubbison, NBC San Diego. Members are $35, non-members $45. Register online at abasd.org or RSVP to Lena Lee at (858) 277-2822.
U-T San Diego Confirms Purchase of the North County Times
The ownership of U-T San Diego announced Tuesday it is purchasing the North County Times, paving the way for San Diego County's only two major daily newspapers to be owned by the same company. U-T San Diego CEO John Lynch said the company that owns the 144-year-old U-T has reached an agreement to buy the North County Times and its sister publication in southwest Riverside County, The Californian. Hotelier and real estate developer Doug Manchester teamed up with Lynch to buy U-T San Diego from Beverly Hills-based private equity firm Platinum Equity late last year. "We intend to super serve each and every market in which we enter," Manchester said in a statement. "Since San Diego is our home, this is a logical acquisition." Manchester, speaking on "Midday Edition" on KPBS radio, said no final decisions have been made about the eventual form of the The North County Times or its employees. Editor Kent Davy told the station that no one there knows what will happen, so employees are concerned. "Uncertainty always breeds fear," Davy said, adding that "this is not the worst day in my life." U-T San Diego under the reign of Manchester and Lynch has been criticized for a sharp tilt to the right side of the political spectrum on its editorial pages. Reported by City News Service
New Energy 103.7 Names Program Director

Broadcast radio industry veteran Chris Patyk has been named program director at San Diego's New Energy 103.7 (KEGY-FM). Patyk held the interim program director duties since the launch of the station in March.  Patyk was born and raised in Tucson, Ariz., where he got start in radio as a producer with Jimmy Kimmel at KRQ in 1993. He most recently held positions as program director and morning show co-host at 92.9 The Mountain (KWMT–FM) in Tucson. Patyk is a graduate of the University of Arizona where he earned a degree in journalism/media arts.
Father Joe Carroll to be Named 'Mr. San Diego'

Mayor Jerry Sanders will present the annual "Mr. San Diego" award to Father Joe Carroll, president emeritus of Father Joe's Villages, at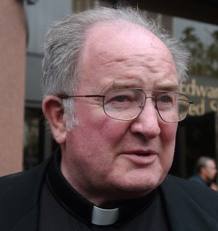 Thursday's Rotary Club of San Diego meeting. The meeting is at 12:30 p.m. in the Crowne Plaza Hotel's Hanalei Ballroom, 2270 Hotel Circle North in Mission Valley. Carroll, the 60th recipient of the award, became president of Father Joe's Villages in 1982 when it had a daily lunch line and thrift store. Today it is the largest residential homeless services provider in Southern California, serving more than 4,000 meals and providing care to more than 1,200 individuals each day. More information: David Oates (858) 750-5560.
Latina Aztec Power Luncheon
The Latina Aztec Power Lunch Committee will host the fourth annual Latina Aztec Power Luncheon from 11:30 a.m. to 1:30 p.m. on Sept. 27 at the Parma Payne Goodall Alumni Center at San Diego State.  Norma Hernandez, governing board president of the Southwestern Community College District, will be the keynote speaker. It is open to the public. The luncheon is the primary fundraising event for the SDSU Latina Network, which awards scholarships that support Latinas students at San Diego State.
---
The Daily Business Report is produced by SD METRO. Contact: Manny Cruz (619) 287-1865. manny@sandiegometro.com.
---