Daily Business Report — Sept. 13, 2012
San Diego State Students Have the Least
Debt Among Universities in California
San Diego State ranks No. 1 for students with the least debt among universities in California, according to rankings announced by U.S. News & World Report. According to the report, SDSU is ranked No. 8 in the nation for universities whose students graduate with the least amount of debt. The magazine indicated that 44 percent of SDSU students graduate with no debt at all and the average amount of debt for students is $16,400. Less than 15 percent of SDSU students rely only on loans to cover educational costs. Nearly half of students receive some form of grant aid — financial aid that does not need to be paid back. The university has raised more than $40 million toward scholarships in the last five years.
San Diego Could Pay Millions More to Pension Fund Next Year
Turmoil in the international financial markets and changing retirement benefits mean San Diego could owe significantly more to its pension fund next year, KPBS reports. The San Diego City Employees Retirement System (SDCERS) assumed an annual investment return of 7.5 percent for the city's pension fund in fiscal year 2012. But a preliminary analysis shows the fund earned just 0.3 percent. SDCERS CEO Mark Hovey said a final analysis would be available in December or January, but if those numbers hold up, San Diego could owe an additional $5 million to $10 million on its pension payment next year. The Annual Required Contribution (ARC) is currently estimated at about $236 million. Hovey also said transitioning from a pension fund to a 401(k) system for most new employees could also cost millions next year as the city begins closing out its pension fund.
Old City Hall Condo Sells for $2.78 Million
The Old City Hall retail condominium at 664 Fifth Ave. in Downtown San Diego — longtime home of Jimmy Love's — has been sold for $2.78 million to a limited liability company, Ivyments LLC. The sellers were NIXI LLC, Thompson/94th LLC and Khyar LLC. Cushman & Wakefield represented the seller in the transaction. The 8,000-square-foot retail condominium is located in the historical City Hall Building. The four-story historic building was originally built in 1874 and through the years served as the home to the San Diego Public Library, city government officials and police department. In 1995, the building was completely renovated.
San Diego to Host World's Largest
Forum On Emerging Technologies
More than 40 emerging technologies from San Diego have been chosen to present at the 2012 World's Best Technologies Innovation Marketplace on Oct. 24-26 at the San Diego Convention Center. The event is the world's largest forum of undiscovered companies and intellectual property coming from universities, labs and research institutions. Local participating companies include AVACEN, Barc Inc.; Freedom Meditech; Independa, Inc.; LonoCloud; Malama Composites; Medipacs; Pacific Integrated Energy; ShowUHow; Tellus Technology Inc.; Telmedx; Unified Nexsys; and 451 Degrees. They will be among 130 selected presenters to make their pitch to an audience of investors and commercialization professionals. More details: wbtshowcase.com.
Pension Reform Legislation Signed into Law
Gov. Jerry Brown signed sweeping bipartisan pension reform legislation on Wednesday that saves billions of taxpayer dollars by capping benefits, increasing the retirement age, stopping abusive practices and requiring state employees to pay at least half of their pension costs. 

"This is the biggest rollback to public pension benefits in the history of California pensions," said Brown. "We're lowering benefits to what they were before I was governor the first time and reducing costs by up to $55 billion in PERS and billions more in other local pension systems. Under the new rules, employers and employees alike are going to contribute their fair share of the costs, resulting in a more sustainable system."
New York Yankees Coming to Petco Park
The New York Yankees will make their first-ever visit to Petco Park next year for a game against the Padres. Interleague play in 2013 will bring the Yankees to town (Aug. 2-4) for the first time since the Padres have been playing at Petco Park, which opened in 2004. Additionally, the Padres will make their third-ever trip to Boston in 2013 (July 2-4). Interleague play will also include three home games against the Toronto Blue Jays (May 31-June 2), four games against the Baltimore Orioles, two at Camden Yards (May 14-15) and two at Petco Park (Aug. 6-7), and four games against the Seattle Mariners, two at Safeco Field (May 27-28) and two at Petco Park (May 29-30). The team will open the season on the road against the New York Mets on Monday, April 1. The home opener will be April 9 against the Dodgers.
'Visit National City' Campaign Launched
By Newly Formed Tourism Marketing District
The newly formed National City Tourism Marketing District has launched a "Visit National City" campaign to promote the city as an affordable lodging destination for business and leisure travelers to San Diego. Managed by the National City Chamber of Commerce, the marketing district includes 12 hotels and serves as a funding conduit for the development and implementation of marketing programs and services that benefit the lodging businesses within the city. "The goal of the Visit National City campaign is to raise awareness about the great hotel rates available in National City and our proximity to everything San Diego has to offer," said Jacqueline Reynoso, president and CEO of the chamber of commerce.
CEO Appointed for IDE Americas
IDE Technologies Ltd., a water technology company based in Kadima, Israel, has appointed Mark Lambert chief executive officer of IDE Americas, who will work out of San Diego. Lambert has more than 30 years of experience in the water, renewable energy and environmental services industries. He replaces Kent Turner, who is entering private business. Prior to joining IDE, Lambert was the vice president of corporate development at Hydration Technology Innovations. He also served as managing partner of Water Industry Solutions LLC and was chief operating officer of Test America, a environmental testing firm.
Local Alzheimer's Association to Sponsor
Caregiver Conference and Awards Program
The San Diego/Imperial chapter of the Alzheimer's Association is sponsoring a half-day caregiver conference on Sept. 15 to educate them on the disease, and will follow that up with a Sept. 21 "Celebration of Courage and Hope" event to recognize individuals living with Alzheimer's or working to find a cure. The caregiver conference, "Searching for a Cure: Living in the Moment," will be held at the First United Methodist Church of San Diego Linder Hall, 2111 Camino Del Rio South, in Mission Valley, from 9 a.m. to noon. Registration: (800) 272-3900. The "Celebration of Courage and Hope" will inaugurate the San Diego Alzheimer's Award for Courage and Hope. It will be held at the Hyatt Regency La Jolla at Aventine. A special tribute will be made to former Sheriff Bill Kolender.
New Center at UC San Diego to Study
Composite Material Aircraft Structures
UC San Diego has become the home of a major facility dedicated to studying all aspects of full-scale composite material aircraft structures, located in the new Structural and Materials Engineering Building. The Composite Aviation Safety Center will allow engineers to design and manufacture test specimens representing aircraft parts made from composite materials— for example, fuselage sections, landing gear and wings. These specimens can be outfitted with embedded sensors to detect damage and monitor their structural integrity while being tested under various types of loading, for example simulating the impact of everything from hailstones to baggage loaders.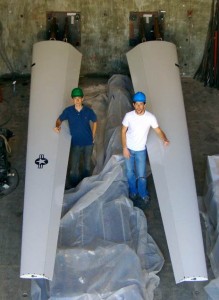 Finally, the data provided by the tests and sensors will be used to build models to predict damage and provide insight and methodologies that enable engineers to develop improved designs. The Structural Materials and Engineering Building will officially open to students, faculty and the public on Friday.
( Photo: Two students pose with the wings of a Predator drone, which are moving to the new Composite Aviation Safety Center to be prepared for testing.)
---
The Daily Business Report is produced by SD METRO. Contact: Manny Cruz (619) 287-1865. manny@sandiegometro.com.
---