Daily Business Report — Sept. 18, 2012
Report Puts Maritime Industry's
Impact at More than $14 Billion
Nearly 46,000 people work in the maritime industry in the San Diego region — an industry with a fiscal impact of more than $14 billion in direct spending, according to a report released Monday. "The Maritime Industry Report" was conducted by the ERISS Corp. and sponsored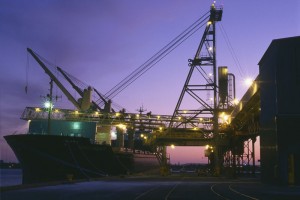 by San Diego Workforce Partnership, The Maritime Alliance and San Diego Regional Economic Development Corp. The report projects the local employment growth of the industry at 12 percent between 2011 and 2020. It said the industry presence in San Diego is comprised of traditional maritime-related sectors such as fishing and shipbuilding as well as more recent emerging high-tech industries such as aquaculture, desalination, ocean energy and maritime robotics.
Foreclosure Activity Slowing
Foreclosure activity is slowing in the San Diego region, according to a report Monday by DataQuick, the San Diego-based real estate information service. The number of notices of default totaled 1,216 in August. That was 17 percent lower than in July and 42 percent lower than August of last year. Notices of default are the first steps in the foreclosure process. DataQuick also reported that foreclosures increased to 507 in August, down 40 percent from the same month last year.
Career Fair to Feature Professional
Growth Workshops for Job Seekers
A career fair featuring professional growth workshops available for anyone in the San Diego region will be held Sept. 26 by the San Diego North Chamber of Commerce in partnership with the San Diego Workforce Partnership and the North County Career Centers. It will be held from 9 a.m. to noon at the Rancho Bernardo Inn (Aragon Ballroom), 17550 Bernardo Oaks Drive, San Diego. Career seekers will have the opportunity to meet potential employers face to face. The day will include: mployers of all sizes and industries; resume refining workshops; interview skills workshops; professional dress tips for the interview; military transition employment; and how to use LinkedIn to find employment. Admission is free.
San Diego to Start Bike Sharing Program
The city of San Diego will start a bicycle rental program next spring, starting with kiosks located around Downtown and the beach communities, city officials announced Monday. The service could be extended to other neighborhoods in the future. The announcement was made at a news conference at Petco Park. "The bike share program is a perfect fit for the San Diego lifestyle as it promotes healthy living and clean transportation," said Mayor Jerry Sanders. "It will also help facilitate travel to and from trolley and bus stations by providing last-mile solutions for commuters." Three companies — B-Cycle, Bike Nation and the Sandvault Group — will demonstrate their bike-sharing programs to residents and take feedback on customer experience. The city plans to form partnerships with vendors who will actually run the program. — Reported by City News Service
National Science Foundation Awards
$1.2 Million Grant to Cal State San Marcos
The National Science Foundation has awarded California State University San Marcos a five-year, $1.2 million grant to fund the university's Noyce Science and Math Teacher Scholars program. The program is aimed at increasing the number of students completing the university's math or science single subject credential program and entering into careers as high school science, technology, engineering and mathematics teachers. The program is a partnership between the university's School of Education and its  College of Science and Mathematics.
Fixing the California Fiscal System/A Seminar
"Fixing the California Fiscal System" is the topic of a half-day seminar on Oct. 10 being offered by the San Diego Housing Federation. It will be held from 8 a.m. until noon at the Marina Village Conference Center, 1936 Quivira Way, on Mission Bay. The seminar will include discussions among several panels of financial system experts from around the state. Registration is $40. For more information, call (619) 239-6693.
---
The Daily Business Report is produced by SD METRO. Contact: Manny Cruz (619) 287-1865. manny@sandiegometro.com.
---