Daily Business Report — Sept. 21, 2012
County Jobless Rate Drops
Nonfarm employment gained 900 jobs over the month; up 30,000 jobs over the year
The unemployment rate in the San Diego County was 9.0 percent in August, down from a revised 9.3 percent in July and below the year-ago estimate of 10.3 percent, the state Employment Development Department reported today. This compares with an unadjusted unemployment rate of 10.4 percent for California and 8.2 percent for the nation during the same period.
Between July 2012 and August 2012:
Total nonfarm employment increased from 1,252,400 to 1,253,300 jobs, a gain of 900 jobs. Agricultural employment gained 100 jobs, or 1.1 percent.
Trade, transportation, and utilities reported the greatest month-over gain, adding 1,300 jobs. Wholesale trade (down 100) offset advances in retail trade (up 1,300) and transportation, warehousing, and utilities (up 100).
Leisure and hospitality added 1,200 jobs. Accommodation and food services (up 1,400) accounted for the job growth in this sector, primarily from food services and drinking places (up 1,300). Arts, entertainment, and recreation declined by 200 jobs. Professional and business services recorded the greatest month-over decline, down 3,100 jobs. Administrative and support and waste services (down 2,200) accounted for roughly 70 percent of the job losses in this industry. Professional, scientific, and technical services declined by 900 jobs, while management of companies and enterprises reported no change in employment levels over the month.
Between August 2011 and August 2012:
Total nonfarm employment gained 30,300 jobs, or 2.5 percent. Agricultural employment lost 100 jobs, or 1.0 percent. Professional and business services posted the greatest year-over gain, adding 6,300 jobs. Administrative and support and waste services (up 3,800) accounted for most of the job growth in this sector, followed by professional, scientific, and technical services (up 2,400). Management of companies and enterprises increased by 100 jobs.
Seven other sectors also added jobs over the year. The most significant gains came from educational and health services (up 5,200); government (up 5,000); and leisure and hospitality (up 4,500). Two nonfarm sectors reported year-over job losses: manufacturing (down 700) and information (down 100).
Census Data Analysis Shows Big Wage Gap
Between Women's and Men's Yearly Pay
An analysis of U.S. Census Bureau data shows that the median yearly pay for women in California is $7,464 less than the median yearly pay for California men, ot 85 cents for every dollar. The analysis was conducted by the National Partnership for Women & Families. Nationally, full-time working women are paid only 77 cents for every dollar paid to full-time working men, according to census data. "It is stunning and deeply troubling to learn that the wage gap affects women in nearly every congressional district in the country," said Debra Ness, president of the Partnership. "Women and their families are losing critical income for food, gas, rent, health insurance and more due to a punishing gender-based wage gap that has plagued this country for decades." The National Partnership's findings for all 50 states and all 435 congressional districts can be found at www.NationalPartnership.org/Gap.
DeMaio Gains Support from Business Group; Filner Skeptical
A group of San Diego business leaders who publicly supported assemblyman and mayoral candidate Nathan Fletcher's departure from the Republican Party said Thursday they now back Councilman Carl DeMaio in the mayor's race. At a press conference, members of "Move to the Middle" said they prefer the economic plans of DeMaio, a Republican, over those of Rep. Bob Filner, his Democratic rival. Democrats Cecilia Moreno, who runs Crest Cafe, and David Moreno, a partner in the Hughes-Marino commercial real estate enterprise, both spoke at the news conference to support DeMaio.
Filner countered by describing the endorsements as "amazing," considering the group's original positions. "The Move to the Middle has taken a sharp U-turn to the extreme right," Filner said. He said DeMaio ridiculed the group when it came out in support of Fletcher, who failed to make the runoff election. Fletcher himself still hasn't endorsed either DeMaio or Filner.— From a City News Service report
Arista at The Crosby Named
Best New Detached Community
Arista at The Crosby, a Rancho Santa Fe development built by Davidson Communities, was named San Diego's best new detached community at the 2012 Icon awards sponsored by the Building Industry Association of San Diego County. Davidson's Plan 1 at Arista also won an Icon award for Best Interior Design in the Single Family Homes category, honoring the work of Del Mar-based Design Line Interiors. Arista's three floor plans were designed with a downstairs master living suite and the option for multiple master suites upstairs. Homes range from 2,926 to 3,593 square feet with up to five bedrooms and five baths. Pricing ranges from the high $800,000s.
Stenderup Joins Heying & Associates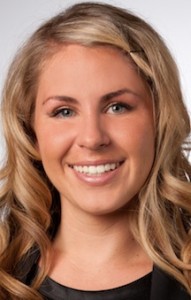 Jenna Stenderup has joined Heying & Associates as an account executive. Stenderup will supervise company projects and head the agency's new media division. Previously, she was a publicist and social media coordinator for Booth Media Group where she represented best-selling authors. Before that, Stenderup worked with a start-up PR agency in Little Italy and was a regional brand strategist for Pinkberry Inc. She holds bachelor of arts degrees from James Madison University.
Kenney Named COO of Jerome's Furniture
Phil Kenney has been named chief operating officer for Jerome's Furniture. Kenney spent 19 years at GERS (now Red Prairie) and five years in the retail apparel industry. He was the group vice president at GERS. Kenney is a graduate of UC San Diego.
Panda Cub Gaining Weight — Needs a Name
Send in your suggested name by Monday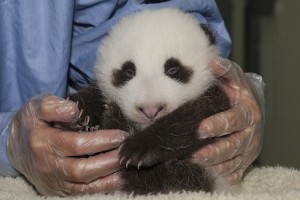 The panda cub at the San Diego Zoo was very calm Thursday during his fifth veterinary exam. The male panda, born on July 29, 2012, weighed 4.9 pounds (2.26 kilograms), nearly a pound more than he weighed during the last exam. The zoo follows the Chinese cultural tradition of naming the giant panda after it is 100 days old. The San Diego Zoo Global Wildlife Conservancy is taking name suggestions for the male cub on its website, http://www.sandiegozooglobal.org/panda-name. The names must be submitted in Chinese pinyin, which is the official system to transcribe Chinese characters into Latin script, and significance of the name must be included to be considered. The zoo will take submissions until Monday.
Panda fans can watch Mom and cub in the den at www.sandiegozoo.org/pandacam to help them get ideas for the cub's name.
(Photo taken on Sept. 20, 2012, by Tammy Spratt, San Diego Zoo Global.)
---
The Daily Business Report is produced by SD METRO. Contact: Manny Cruz (619) 287-1865. manny@sandiegometro.com.
---