Daily Business Report — Sept. 26, 2012
Million-Dollar Homes to be Built
On Former Copley Family Property

A gated enclave of new single-family homes is now under construction in La Jolla on land previously owned by the Copley publishing family. Located at 7740 Ivanhoe Ave., Heritage on Ivanhoe  will offer 14 new homes including three original La Jolla beach cottages, three new single-family detached homes, and eight twin homes. The largest residence exceeds 3,000 square feet, with the remaining 13 homes averaging 2,300 square feet. Ranging from three to four bedrooms with 3.5 to four baths, each home features a private elevator, two-car garage and finished roof decks. Prices are expected to start at $1.4 million when Heritage on Ivanhoe initiates a presale program this fall. Heritage on Ivanhoe LLC purchased the property in 2011 from the Copleys. The development partnership is led by Mike Turk and real estate professional Steve Cairncross of RE/Max Coastal Properties. Project architect is Golba Architecture of Pacific Beach. Information: (858) 754-9144 or www.heritageonivanhoe.com.
The Mayor Makes an Endorsement
Quote from Mayor Jerry Sanders in May regarding Councilman Carl DeMaio: "He probably takes credit for my weight loss. Probably takes credit for the weeds I pulled in the yard last week. It's all bull—-. So let me be very clear … He's never voted for a budget. Didn't vote for retiree health care savings. Didn't vote for any of those things because it might have muddied up his political calculations for mayor."
Quote from Mayor Jerry Sanders on Tuesday regarding Councilman Carl DeMaio, candidate for mayor: "Only one candidate has demonstrated the detailed knowledge of our city that will be required from his first day on the job. And only one candidate has the focus and the energy that will sustain him through difficult times. That candidate is Carl DeMaio." (Courtesy of Voice of San Diego)
Sharp Rees-Stealy to Move Into New
Medical Office Building in November

Sharp Rees-Stealy will move into a new, 66,365-square-foot medical office building at 300 Fir St. on Nov. 13, leaving its Fourth Avenue location across the street. The new building opening coincides with Sharp Rees-Stealy Medical Group's 90th anniversary. Drs. Clarence Rees and Clair Stealy opened the original clinic in 1923 under a concept new to San Diego. It was the first time that doctors of different specialties worked together under the same roof to enhance patient care. The building is located on the same lot as one of the earliest and most elegant buildings in Bankers Hill — the historic Florence Hotel, which opened in 1884 and was torn down in 1947. A community grand opening event for the new Sharp Rees-Stealy Downtown is scheduled for Jan. 31, 2013, from 4:30 to 7 p.m.
Hand-Crafted Sausages and All-Natural
Indian Food Share Space in Hillcrest
Natural healthy Indian food offered by Kasi.Fresh.Fast.Indian and sausage and beer served by Sausage & Beer will be sharing space at The Shops at Hillcrest, the boutique neighborhood retail center owned and managed by Westcore Properties. The two businesses have signed leases valued at a combined $525,000. This is the second location in the county for Kasi.Fresh.Fast.Indian, which features an all-natural fresh, healthy and casual Indian theme and recently celebrated its debut in Bressi Ranch in Carlsbad. Meanwhile, Abe Froman's – Sausage & Beer opened its flagship restaurant in the center. It's focused on artisanal, hand-crafted sausages accented with interesting ingredients paired with craft beer and cocktails. Flocke & Avoyer and Cassidy Turley were the brokers in the lease transactions.
Industry Veterans Launch New PR Company
Veteran public relations professionals Michael and Julia Simms have formed a new public relations agency — San Diego PR — that specializes in the San Diego and international border region. Julia Simms heads the firm as president and Michael Simms is vice president of operations. The staff includes account executives, publicists and social media managers. The husband and wife team started Julia Simms Public Relations in 1995, which became the j. simms agency in 2006. That entity was sold last year. Among the firm's clients are Accion San Diego, Baldwin and Sons, Bridges Educational Corp., DOGTV, Fiesta de Reyes, IWSC Group, McMillin Communities, National City Tourism Marketing District, Oceanside Boys and Girls Clubs, and Old Town San Diego State Historic Park.
San Diego Financial Firm Adds Staff Accountant
Natalie Elser has joined financial firm Rosner Brown Touchstone & Keller as staff accountant, responsible for tax return preparation and related tax forms. Previously, Elser was staff accountant at Cathy Helmstadter & Associates, where she worked for four and a half years. She obtained a bachelor's degree from University of California, Riverside, before entering the profession.
Silvergate Bank Hires Business Lending Officer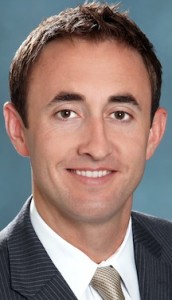 Matthew Varela has joined Silvergate Bank as business lending officer, responsible for building business loan volume. Varela, who has been working in the industry for a decade, will work from a primary office in Silvergate Bank's new Carlsbad branch. He was previously with U.S. Bank specializing in loan production for companies with annual sales of $20 million or less. He also held the position of business relationship manager for Wachovia Bank/Wachovia Securites. He holds a bachelor's degree from Cal State San Marcos.
---
The Daily Business Report is produced by SD METRO. Contact: Manny Cruz (619) 287-1865. manny@sandiegometro.com.
---