Daily Business Report — Oct. 11, 2012
Rite Aid to Pay $800,000 to Settle False Advertising Charges
Deceptive advertising and gift card redemption violations alleged
San Diego Superior Court Judge Ronald S. Prager on Wednesday ordered Rite Aid Corp. and Thrifty PayLess Inc., its California subsidiary, to pay $800,000 in civil penalties and costs to settle a law enforcement action alleging false advertising and failure to redeem gift cards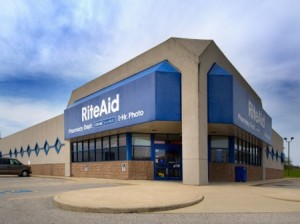 with balances of less $10 for cash in Rite Aid stores, as required by California law. The companies also agreed to make in store changes to resolve the consumer protection case filed by the San Diego City Attorney's Consumer Protection Unit, together with prosecutors from the Santa Clara, Riverside and Ventura County District Attorney's offices.  The complaint alleges Rite Aid advertisements conveyed to consumers that they would pay lower prices for items purchased using the Rite Aid Wellness+ Card. However, once at the register the customer could not purchase the item at the advertised price. Instead, the customer got a coupon printed on the end of his/her receipt for money off a future purchase that would expire and was subject to other restrictions. Prosecutors also allege that Rite Aid stores refused to redeem gift cards with a balance of less than $10 for cash, as required by law. The court also ordered Rite Aid and Thrifty PayLess to pay $25,000 in costs and $75,000 for the California Department of Food and Agriculture, Division of Measurement Standards' price verification program.
Downtown Real Estate Companies Merge Operations
Urban Real Estate Services and Realty Connex, two Downtown San Diego real estate companies, have merged operations and joined Harcourts USA, an international real estate company. The new company, named Harcourts Pacific Realty, is owned by partners Eric Jones, Suzen Sarko and Sherman D. and Becky Harmer and has 30 real estate agents. It will continue to occupy the partners' offices at 620 First Ave. in the Marina District and at 1608 India St. in Little Italy. The new company will be a full-service residential and commercial brokerage and property management firm with plans to open future offices in San Diego's Uptown, East Village and Carmel Valley areas and serve surrounding neighborhoods. Jones and Sarko  are the day-to-day broker/managers for Harcourts Pacific Realty. Harmer is head of Urban Housing Partners.
Council Budget Committee Approves $25 Million
Bond Issue for Road Repairs and Library Work
The San Diego City Council's Budget Committee gave its approval Wednesday to a $25 million bond issue to pay for road repairs and projects to improve libraries. City staff propose to spend $9.9 million of the money on street repairs. The rest would go toward a 15,000-square-foot expansion of the Skyline Library, replacing the sea wall bulkhead at Mission Beach, and construction projects involving a fire station in Mission Valley and library branches in Mission Hills and San Ysidro. The proposed bond issue will go to the full City Council for final approval in February.
 (City News Service)
Mayor Sanders: Water Rates Won't Increase Next Year
Even though the city of San Diego's wholesale water costs will increase by 9.6 percent at the beginning of next year, the city will not raise water rates, Mayor Jerry Sanders announced Wednesday. It's the second consecutive time the city has declined to pass along an increase in the price of wholesale water to its customers. Last January, the city's wholesale water costs went up more than 7 percent but the city was able to absorb the increased costs because of efficiencies adopted by the Public Utilities Department, said Sanders. The city will be able to absorb the additional price hike scheduled for Jan. 1 because the Public Utilities Department continues finding ways to save money, according to the mayor.
Asian Film Foundation Changes
Its Name to Pacific Arts Movement
The San Diego Asian Film Foundation has officially changed its name to Pacific Arts Movement. 

"The name change does not affect our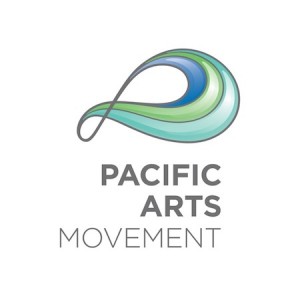 flagship program — the San Diego Asian Film Festival," says founder and executive director Lee Ann Kim. "But we felt the change was necessary to clarify that we are a year-round organization and not just a festival. The name Pacific Arts Movement better reflects our spirit and commitment to social change through the arts." Besides the film festival, the organization sponsors a weeklong Spring Showcase, Reel Voices, DigiFest and Drive-By Cinema.  

The 13th San Diego Asian Film Festival will be presented Nov. 1-9 with more than 150 films from 25 countries set to premiere.
El Capitan High Opens New Agricultural Complex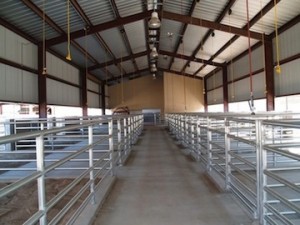 El Capitan High School in Lakeside has officially opened its $7.5 million, six-building agricultural complex that houses a state-of-the-art greenhouse, an animal birthing house, wash areas and two arenas. The complex also has two barns to house chickens, pigs, sheep, goats and steers on more than two-acres of land. The complex will cater to Future Farmers of America students as part of the Grossmont Union High School District's Career Technical Education plan. Modernization of the original agricultural building now provides learning space for new classrooms, a shop teaching area and a computer lab.
City Employees Win Competitive Bidding
for Street and Sidewalk Maintenance
Competitive bidding for San Diego's street and sidewalk maintenance functions was won by city employees, whose bid will generate an estimated savings of $875,000 annually, Mayor Jerry Sanders announced Wednesday. He said the Street Division of the city's Transportation and Stormwater Department will reduce staffing by the equivalent of nearly 14 full-time positions, or 14.5 percent of its workforce. The winning bid also reorganizes work hours, consolidates work crews and reduces the amount of facilities they use. Workers have won all five bidding wars with private groups in the city's managed competition program, saving a combined $9.2 million annually, the mayor said. "All that money goes back into the general fund to be used for construction projects, or to be used for police and fire, or park and rec hours and libraries," Sanders said. Employees previously won in bidding for publishing, fleet maintenance, street sweeping and Miramar Landfill operations. (City News Service)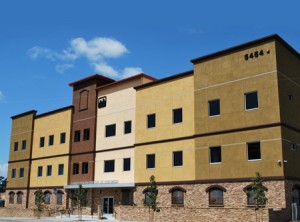 City Heights Family Health Center
CEO Calls an Onion an Orchid
Although the new City Heights Family Health Center on El Cajon Boulevard will receive Onion Awards for architecture at tonight's Orchids & Onions Awards program — meaning the architecture is subpar — the CEO of the center said she couldn't be more proud of the center. "You can call it an onion and even give it an award, but to Family Health Centers of San Diego and the thousands of people we serve, it is, and always will be an orchid," said Fran Butler-Cohen. "We love our new health center and are very proud of it. We aimed to fill every square inch of that property with caring, affordable, high-quality health care and support services and we did just that." The Orchids & Onion Awards are sponsored by the San Diego Architectural Foundation. The awards will be held at 6 p.m. today at the Museum of Contemporary Art in La Jolla.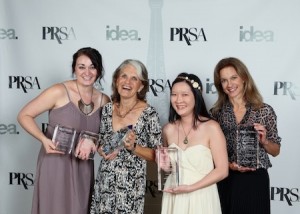 J. Walcher Communications Wins PR Awards
PR agency J. Walcher Communications (JWC) of South Park has received four Edward L. Bernays Awards from the Public Relations Society of America San Diego/Imperial Counties chapter. Laura Walcher, principal PR counsel for the agency, also received The Eva Irving Community Service Award, given to a public relations professional whose volunteer efforts for nonprofit, philanthropic or public service organizations embody the traditions of volunteerism. The JWC team received two Silver Mark of Excellence awards for "Events & Observances Seven Days or Fewer" and "Community Relations" and two Bronze Mark of Merit awards for "Editorials/Op-Ed Columns" and "Feature Stories." (Photo: JWC staff, from left, Ashley Shafer, account coordinator, Laura Walcher, principal PR counsel, Sandy Young, senior account executive, and Jean Walcher, president.)
The Daily Business Report is produced by SD METRO. Contact: Manny Cruz (619) 287-1865. manny@sandiegometro.com.
---