Daily Business Report — Oct. 16, 2012
Voter Registration Deadline Nears
Monday, Oct. 22, is the deadline to register to vote in the Nov. 6 presidential general election. Residents can fill out a registration form at www.sdvote.com, and if their signature is confirmed through Department of Motor Vehicles records, it will automatically be sent to the Registrar. The forms also are available at the Registrar of Voters office, post offices, city clerk offices, public libraries and DMV offices. All forms must be postmarked or delivered to the Registrar of Voters no later than midnight on Oct. 22. Tuesday, Oct. 30, is the deadline to apply for a mail ballot. Voters can find the application at www.sdvote.com or on the back of the sample ballot and voter information pamphlet sent to each registered voter. The Registrar of Voters office is at 5201 Ruffin Road, Suite I, San Diego. Applications must be received by 5 p.m. on Oct. 30.
Poll: Filner Maintains Lead in San Diego Mayor Race
Rep. Bob Filner (D-San Diego) continues to hold a lead over Councilman Carl DeMaio in the race for mayor of San Diego, according to a poll released Monday. The poll, conducted by Survey USA on behalf of 10News, showed that 47 percent of 601 likely voters preferred Filner to 40 percent for DeMaio. Another 13 percent were undecided. Compared to last month's poll, Filner lost three percentage points while DeMaio gained two.  The DeMaio campaign could point to two positive signs. The nearly one-quarter of thoses surveyed who have already returned ballots favored the councilman 47 percent to 42 percent. Also, 46 percent of those in the poll identified themselves as Democrats, six points higher than are registered in the city, according to figures from the county Registrar of Voters. (City News Service)
Mayor Sanders Announced as Grand Marshal
of the 49th Annual North Park Toyland Parade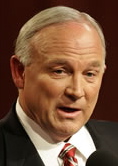 San Diego Mayor Jerry Sanders has agreed to serve as grand marshal of the 49th annual North Park Toyland Parade on Dec. 1, according to Debra Fuentes, director of marketing for Victoria House Corp., the parade's new sponsor. This year's event is now being called the North Park Toyland Parade and Festival and will feature an after-parade festival with musical and dance performances, parade awards, competitions, raffles, arts and crafts, concessions, children's activities and a tree-lighting ceremony with carolers from San Diego Musical Theatre. Another new wrinkle is the selection of a Toyland Queen.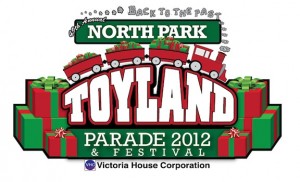 The parade previously was handled by North Park Main Street, but the business group handed it off to Victoria House Corp., a social service agency headquartered in North Park. The parade will take place on University Avenue from 11 a.m. to 1 p.m. The festival will be from 10 a.m. to 4:30 p.m. on Dec. 1.
U-T Combines with North County Times
A different newspaper was waiting on the doorsteps of North County residents Monday morning. The North County Times, recently purchased by U-T San Diego, is now titled "U-T North County Times," and contains mostly Union Tribune-branded content. In a letter to readers, U-T San Diego CEO John Lynch said management has worked to combine the best qualities of the U-T and the North County Times into one paper. "Today marks a milestone in our history as we bring together two great hometown newspapers," Lynch wrote. The new product appears similar to the North County Times' former edition, with the exception of a U-T logo at the top. Much of the inside of the paper contains U-T material. Employees were informed of the purchase last month after the San Diego Business Journal reported the impending sale. The paper's parent company, Lee Enterprises, agreed to sell the newspaper and digital media operations to San Diego entrepreneur Doug Manchester. (NBC 7 San Diego)
Workshop to Help Small Business
Owners Improve Productivity
The San Diego East County Chamber of Commerce, in partnership with the Grossmont-Cuyamaca Community College District, will offer a free "how-to" workshop to help East County small business owners improve their employee productivity and performance. "Generational Diversity in the Workplace" will be presented from 9 to 11 a.m. on Oct. 30 at the Chamber Community Room, 201 S. Magnolia Ave. in El Cajon. Victoria Hankins, professional development instructor with the San Diego and Imperial County Workplace Learning Resource Center, will lead the event. Tips will ge given on how managers and staff can foster good working relationships between generations.
FilmOut San Diego to Screen 'The Wiz'
at the Birch North Park Theatre Nov. 7
FilmOut San Diego, San Diego's LGBT film festival, will screen Sidney Lumet's Oscar-nominated film, "The WIZ" on Nov. 7 at 7 p.m. at the Birch North Park Theatre. The film was rated No. 28 on the Top 50 cult films and nominated for four Oscars. Diana Ross portrays Dorothy. Michael Jackson, in his screen debut, appears the Scarecrow. Nipsey Russell portrays the Tin Man and Ted Ross is the Cowardly Lion. With Lena Horne, Mabel King and Richard Pryor as the Wizard.
————————————————————————————————————————————————————–
The Daily Business Report is produced by SD METRO. Contact: Manny Cruz (619) 287-1865. manny@sandiegometro.com.
————————————————————————————————————————————————————–