Daily Business Report — Oct. 17, 2012
SDSU Professor Sets Out to Prove
Theory About Producing Solar Energy
For the last few years, San Diego State University engineering professor Fletcher Miller has been working in his campus lab to prove a theory about a more efficient way to produce solar energy. Thanks to a U.S. Department of Energy grant of $3.9 million, he will soon test his theory in a more realistic scenario.

The grant, from the SunShot Initiative, will enable Miller and his team of graduate and undergraduate student researchers to take a lab-scale model and, over the next four years, develops a full-scale model for testing at the National Solar Thermal Testing Facility in New Mexico.
Using air instead of water, Miller and his team developed a receiver, which sits atop a solar thermal tower and helps drive the turbine that generates electricity in a more efficient way. In a typical plant, the receiver heats a pressurized fluid — usually water — to drive a turbine. Because these plants are located in the middle of the desert, that cooling water needs to be imported. Miller's solution is to heat air particles, rather than water, similar to how an aircraft engine works. "We're trying to prove there's 
a better way to do this." To read more, visit newscenter.sdsu.edu/sdsu_newscenter/news.aspx?s=73874
Home Foreclosures in County Show Big Decline
The number of San Diego County homes entering the foreclosure process fell significantly in the third quarter of this year — a trend occurring throughout California, according to San Diego-based DataQuick. A total of 3,727 Notices of Default (NoD) were recorded on residential properties in the county during the third quarter — a fall of 26.2 percent from the 5,048 filed in the third quarter of 2011.
The number of trustee deeds recorded — or the finalized loss of a home to the formal foreclosure process — totaled 1,456 in San Diego County in the third quarter of this year, a 40.8 percent plunge from the 2,460 trustee deeds recorded in the third quarter of last year, DataQuick said.
DataQuick said that three and a half years after peaking, the number of California homes entering the foreclosure process fell last quarter to the lowest level since the early stages of the housing bust. Mortgage default filings hit their lowest point since first-quarter 2007, due in large part to a stronger economy and housing market and more short sales.
Sandra Fluke to Appear at Oct. 26 Women's Health Rally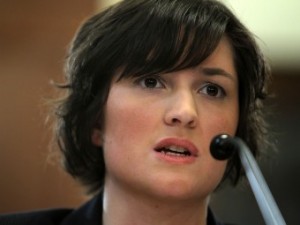 Georgetown law student Sandra Fluke, who gained national attention when congressional Republicans refused to allow her to testify before a House committee about the importance of affordable and accessible birth control for women, will visit San Diego on Oct. 26 for the Planned Parenthood Action Fund Rally for Women's Health. The rally will be at noon at Sixth Avenue and Laurel Street, Balboa Park.
Rancho Santa Fe Makes Forbes' Top 20 Most Expensive List
The Rancho Santa Fe ZIP code of 92067 ranks 18th in Forbes magazine's list of the 20 most expensive ZIP codes in the U.S. Silicon Valley accounts for four of the top 10 ZIP codes — Atherton, Hillsborough, Los Altos Hills and Rolling Hills. Forbes said wealthy foreign buyers looking to make safe-haven investments have helped to elevate prices in many of the ZIP codes, and a booming U.S. technology sector and renewed interest in vacation homes have been strong contributing factors as well.
East County Colleges Join Global Corporate College
Grossmont and Cuyamaca colleges are among the first in California to partner with the nonprofit training-management organization Global Corporate College to provide corporate and business clients customized employee training and development. The Global Corporate College network is expanding to include community colleges in every state, with partnerships also in progress in Europe and Asia. "Corporations across the country and around the world are struggling to provide their workforce consistent, cost-effective and high-quality training," said Cindy L. Miles, chancellor of the Grossmont-Cuyamaca Community College District. "As the nation's No. 1 workforce training providers, community colleges such as Grossmont and Cuyamaca are key to the success of businesses."
___________________________________________________________________________________________________
The Daily Business Report is produced by SD METRO. Contact: Manny Cruz (619) 287-1865. manny@sandiegometro.com.
___________________________________________________________________________________________________