Daily Business Report — Oct. 2, 2012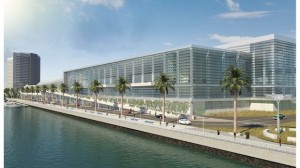 City Council Clears Path for Convention Center Expansion
Some of the last remaining hurdles in the path of the proposed $520 million San Diego Convention Center expansion project were cleared Monday in a series of votes by the City Council. The council approved the project's environmental impact report and financing plan, imposed a tax on hoteliers to help pay for construction, and executed an agreement with the Port of San Diego, which owns the land. The city's findings under the California Environmental Quality Act matched those made by port commissioners last month. Votes on certain details of the project, including the actual issuance of construction bonds, will come later, according to the mayor's office.
Backers of the plan say San Diego is losing the largest trade shows to cities that can offer larger facilities. Once the expansion is done, the local center will have 2.75 million square feet, and the greatest amount of contiguous floor space on the West Coast at 750,000 square feet, project manager Charles Black told the council. City News Service report. Read the whole story at www.sandiegonewsroom.com.
San Diego County Economic
Index Unchanged in August
The USD Burnham-Moores Center for Real Estate's Index of Leading Economic Indicators for San Diego County was unchanged in August.  A strong increase in building permits and a more moderate gain in help wanted advertising offset small declines in initial claims for unemployment insurance, local stock prices, consumer confidence, and the outlook for the national economy to produce the unchanged result.  Due to revisions in previously reported data, the USD Index has now been unchanged in two of the last three months. Those two flat months, plus the fact that more components were down than up, raises some potential issues about the local economy.  Right now, those issues are minor, and it would take more negative data in the months ahead before a red flag is raised.
For now, the outlook remains positive.  More than 30,000 wage and salary jobs were added to the local economy in August compared to August 2011, the third consecutive month with strong year-over-year gains.
New Downtown Library Will Top
Off Its Landmark Dome on Friday
The San Diego New Central Library on Friday will celebrate the topping out of the library's landmark dome. The event at 5 p.m. at 222 Park Blvd. in Downtown will include a raft of speakers: Mayor Jerry Sanders; City Council members Kevin Faulconer and Todd Gloria; Qualcomm co-founder Irwin Jacobs; Shawn Rosenberger, vice president and general manager of Turner Construction Co.; and design architect Rob Quigley. The library features bay view terraces, roof gardens, a cafe, flexible meeting space, a 350-seat auditorium and a three-story reading room under the lattice dome.  The 294,673-square-foot, nine-story structure will include a 76,000-square-foot charter high school, six meeting rooms, 22 wifi-enabled study rooms, 407 computer stations, 1.25 million volumes, and more than twice the space of the former central library.
Cardium Therapeutics Acquires To Go Brands
Cardium Therapeutics announced that its MedPodium operating unit has acquired the assets, business and product portfolio of privately-held To Go Brands to support the expansion of Cardium's health sciences platform. According to Cardium Therapeutics, To Go Brands has introduced products in a number of food, drug and mass channel retailers, and the company recorded revenues of $1.7 million for the first six months of 2012. The products include nutraceutical powder mixes, supplements and chews; antioxidant-rich drink mixes in stick packs that are designed to pour directly into a water bottle; and capsule-based dietary supplements.
Allen Matkins Firm Adds Client Services Director
And Marketing and Communications Manager
Ramona Whitley has joined the Allen Matkins Leck Gamble Mallory & Natsis law firm as director of client services. The firm also hired Michael Guzzo, a public relations specialist, as marketing and communications manager. Whitley previously was director of business development and marketing at McKenna Long & Aldridge, formerly Luce, Forward, Hamilton & Scripps. She spent 15 years at the San Diego Union-Tribune  in business development and marketing research. Guzzo previously was associate vice president and account supervisor at the Berkman public relations firm.
Tim Jachlewski Leads Local Chapter of
American Society of Landscape Architects
Tim F. Jachlewski Jr., president of In-Site Landscape Architecture Inc., is the new president of the San Diego chapter of the American Society of Landscape Architects for the coming year.  President-elect is Patricia Trauth of URS Corp. Jachlewski became a partner at Van Dyke Landscape Architects in 2000 after moving with his family to San Diego from New York. He formed In-Site Landscape Architecture in 2007. Other chapter officers: Mark Steyaert Jr., chapter national trustee; Jon S. Wreschinsky, Land Design Collaborative; Darren Solano, secretary; Nate Magnusson, Schmidt Design Group; Jim Taylor, The Lightfoot Planning Group; Ty Sterns, Urban Corp; John Thomas, Cuyamaca College student affiliate chapter president; Tracy Morgan Hollingworth, executive director.
Alonzo Awards to be Presented Thursday Night
The Downtown San Diego Partnership will hold its 50th annual Alonzo Awards on Thursday at the San Diego Marriott Marquis & Marina, 333 West Harbor Drive, in Downtown. The event is sold out. The awards honor people, projects and programs that have significantly contributed to the revitalization and renewal of Downtown's business community. For a list of the award winners, visit:
www.pitchengine.com/downtownsandiegopartnership/downtown-san-diego-partnership-hosts-50th-alonzo-awards.
Brown Law Group Adds Associate
Noah Woods has joined Brown Law Group as an associate and will represent employers in the area of labor law. Woods previously was with Jordan Law Group in the San Francisco Bay Area. He earned his law degree from the University of San Francisco School of Law, has been a Member of the California State Bar since December 2009 and is a member of California State Bar Association's Labor & Employment Law Section.
Credit Union Opens New Branch Office
San Diego County Credit Union has opened its 29th branch at 12980 Carmel Country Road in the Del Mar Highlands area. The new branch offers loan and new account stations, teller windows, safe deposit boxes and an exterior ATM. The credit union is offering eight-weeks of "New Neighbor Promotions" in connection with the new branch opening. Details: (877) 732-2848.
---
The Daily Business Report is produced by SD METRO. Contact: Manny Cruz (619) 287-1865. manny@sandiegometro.com.
---