Daily Business Report — Oct. 24, 2012
Sprawling Warner Springs Ranch Put Up for Sale
The U.S. Bankruptcy Court has authorized CBRE to market the sale of the 2,380-acre Warner Springs Ranch on behalf of Warner Springs Ranchowners Association in a bankruptcy proceeding. The ranch includes a 27,000-square-foot main lodge, 250 furnished bungalows and cottages, an equestrian center, aquatics and tennis center, a family camp with dormitories and recreational facilities, a 35-acre private airfield, a 144-acre golf course with clubhouse, residential homes, gas station/mini market and post office. The golf course and resort components closed in January. The post office and airfield are still in operation. John Warner took over the ranch in 1844, developing a successful cattle operation and trading post. The ranch became a resort when approximately 100 cabins were built in the 1920s and 1930s. The golf course was added in 1965 and about 150 guest cottages were built in the 1980s.
San Diego Council Adopts 'Sunshine' Ordinance
The San Diego City Council voted unanimously to approve Councilman Carl DeMaio's "sunshine act" ordinance designed to impose disclosure and transparency reforms at City Hall. The ordinance will require the city to post information online for access by the public, including: the text of all contracts for consultants, goods and services over $25,000; written justification from the mayor for any sole source contract valued at more than $25,000 in a given fiscal year; list of all vendors that received payments totaling $25,000 or more from the city; all MOU's (Memorandum of Understanding) with each of the city's recognized employee organizations for the past five years; employee compensation information online.
Cubic Executive Appointed to the County Fair Board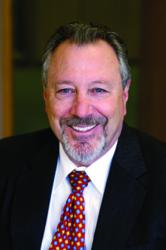 Gov.Jerry Brown has appointed Steve Shewmaker, president of Cubic Transportation Systems, a subsidiary of Cubic Corp., to the San Diego County Fair Board. The nine-member fair board oversees the 22nd District Agricultural Association, a state agency that owns and operates the 340-acre Del Mar Fairgrounds, the 65-acre Horsepark and the Del Mar Golf Center. The association also operates the Surfside Race Place, a year-round satellite horse racing facility, and leases the land used by the Del Mar Racetrack.  The board is probably best known for organizing the annual San Diego County Fair. Shewmaker, who has been president of the Cubic subsidiary since 2008, was apponted to a four-year term.
Cubic Receives Defense Contract to Develop
Next Generation System for Military Snipers
Cubic Defense Applications has received a $6 million contract by the Defense Advanced Research Projects Agency (DARPA) to develop the next generation of the One Shot crosswind and range measurement system on rifles used by military snipers. The system is compact enough to have the option of mounting on the rifle or the spotter-scope, enabling military snipers to rapidly hit their targets at maximum effective ranges of weapons more accurately under crosswind conditions, according to Cubic. Cubic, the prime contractor for the program, has partnered with Trex Enterprises, also of San Diego, to develop and test a prototype system, that if successful, could lead to delivery of 10 additional systems within 15 months.
"If military snipers could neutralize enemy targets with a single round, they could potentially save many lives," said Steve Sampson, vice president of advanced programs for Cubic Defense Applications. "One Shot XG seeks to allow our snipers to immediately obtain downrange crosswind, direction and range to target to provide ballistic corrections.
City Council Plans $25 Million Bond Issue for
Road Work, New Libraries and Fire Station
The San Diego City Council has agreed to move forward on a planned $25 million bond issue to pay for road resurfacing, new libraries and a fire station in Mission Valley. Under the plan, $9.9 million would be spent on 20 miles of street resurfacing, and the rest would be used on a 15,000-square-foot expansion of the Skyline Library, to replace the sea wall bulkhead at Mission Beach, and for construction projects involving a fire station in Mission Valley and library branches in Mission Hills and San Ysidro. Annual debt service was estimated at $1.8 million, for a total of $54 million over 30 years. Council members approved a $75 million bond issue earlier this year. City staff will return to the council early next year for approval of the actual bond documents. (City News Service).
Sheraton San Diego Hotel & Marina Names Sales, Marketing Director
Russ Mitchell has been named director of sales and marketing for the Sheraton San Diego Hotel & Marina. Mitchell has more than 20 years of sales and marketing experience. He formerly was director of sales and marketing for the U.S. Grant in Downtown San Diego and held positions at The Westin South Coast Plaza, The Westin Gaslamp Quarter, Sheraton Suites San Diego and other Westin properties in California.
March of Dimes Holds Chefs & Master Mixologists Auction
The March of Dimes Signature Chefs & Master Mixologists Auction will be held on Thursday, Nov. 8, at El Cortez — a benefit to raise funds for its pregnancy and baby health programs. The event is at 5:30 p.m. at 702 Ash St. in Downtown San Diego. Tickets cost $250 and tables are $2,500. The event is chaired by Michele Arthur and Yolanda Walther-Meade and will feature lead chef Bernard Guillas of the Marine Room and chef Andrew Spurgin. "A Night at the Speakeasy" — the theme — will team San Diego's top chefs and cocktail mixologists for an evening of food tastings, drinks and auction. For information, call Amber Lingle at (858) 300-6402.
Nominations Open for Most Admired Companies
SD METRO is soliciting nominations for 2012's Most Admired Companies in San Diego County. Send us your nomination of a company you believe demonstrates the highest level of honesty, integrity, business practices and service to its industry and community. Nominations may be emailed to Rebeca Page at rebecapage@sandiegometro.com or Bob Page at bobpage@sandiegometro.com. The deadline is Nov. 16. Our Most Admired Companies report will be published in December.
____________________________________________________________________________________
The Daily Business Report is produced by SD METRO.
Contact: Manny Cruz (619) 287-1865. manny@sandiegometro.com.
____________________________________________________________________________________