Daily Business Report — Oct. 25, 2012
Rancho Valencia Resort to Reopen Friday
Following a $30 Million Renovation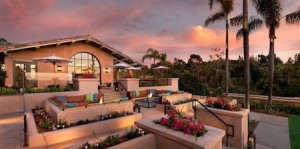 Rancho Valencia Resort & Spa in Rancho Santa Fe opens its doors Friday following a $30 million renovation. "The resort's 49 all-suite, guest rooms average 1,000 square feet and feature custom-made, rustic furnishings, high-beam roofs, walk-in closets, spacious bathrooms with deep soaking tubs, fireplaces, intricate design pieces and private patios boasting fireplaces and whirlpools," said Simon Chen, the general manager. Changes include a new restaurant, Veladora, and a new boutique, Sheridan. The fitness center features a new 1,000-square-foot Yoga Pavilion that will host a number of Yoga sessions and retreats. Overseeing the project are Rancho Valencia's new ownership team consisting of the Jacobs family, Jeff, Hal, Gary and Paul, longtime San Diegans and former high-tech Qualcomm executives; entrepreneur and co-founder of Fiji Water, Doug Carlson; and San Diego real estate developer and entrepreneur Jeffrey Essakow.
Supervisor Jacob Calls State Fire Tax 'Wrongheaded and Unjust'
State officials have started mailing notices to tens of thousands of San Diego County property owners warning that they will soon be billed $150 annually to help shore up Cal Fire's budget. County Supervisor Dianne Jacob called the action "wrongheaded and unjust." Residents of Alpine, Dehesa and other communities in Jacob's Second District report receiving the notices in recent days. They consider the new fire tax an unfair burden, noting they already pay state property taxes to help fund public safety and often community fees for additional fire protection. Lawmakers in Sacramento approved the tax last year over the strong objection of Jacob and the rest of the San Diego County Board of Supervisors. "The $150-a-year tax unfairly targets property owners who already pay state taxes to fund public safety and those who also pay special fees in their communities for additional fire protection," said Jascob. "It amounts to triple taxation. The mailing of the notices is an unfortunate reminder that the state is failing to adequately fund Cal Fire and is turning to already-burdened property owners for a bailout.  If the state can't see the light on how wrong this is, hopefully the courts will."
NASSCO Delivers Final Cargo, Ammunition Ship to the Navy
NASSCO has delivered USNS Cesar Chavez to the U.S. Navy, marking the end of a U.S. shipbuilding program that has spanned more than a decade. USNS Cesar Chavez is the 14th and final ship of the T-AKE class of dry cargo-ammunition ships built by General Dynamics NASSCO for the Navy. NASSCO began constructing the 689-foot-long ship in October 2010. It has a projected 40-year service life. T-AKE 14 is equipped to fulfill a variety of Navy global combat logistics requirements. With a cargo capacity of more than 10,000 tons, the primary mission of USNS Cesar Chavez will be to deliver food, ammunition, fuel and other provisions from shore stations to combat ships at sea. The ship is named after the late civil rights leader.
San Diego Real Estate Firm Buys Chicago
Class A Office Tower for $95 Million
Sovereign Capital Management Group, a San Diego-based real estate company, has purchased Congress Center, a Class A, 524,800-square-foot, 16-story office tower in downtown Chicago, for $95 million. The property was acquired through a joint venture between American Recovery Property Trust and New York-based Northwood Investors. Major tenants include the U.S. General Services Administration, North American Company for Life and Health Insurance and AkzoNobel.
Mayor's Staff Projects Budget Surplus in FY 2013-14
Mayor Jerry Sanders' staff told the City Council's Budget Committee Wednesday that San Diego should see a budget surplus of $4.9 million in the coming fiscal year. Despite some uncertainties, the mayor's staff projected a surplus up to $94.2 million by fiscal 2018. The staff projects moderate growth in sales, property and hotel room tax revenue. That growth, however, could be undone by if the larger economy goes south. The report notes that the dissolution of redevelopment agencies by the state could leave the city's general fund on the hook for debt service for the construction of Petco Park and a prior expansion of the convention center. That would be a $14 million hit to the budget, according to the report. However, the mayor's staff expects the current system, in which revenue still being generated by former redevelopment agency activities cover the debt payments, to continue for those projects. (City News Service)
Nominations Open for Most Admired Companies
SD METRO is soliciting nominations for 2012's Most Admired Companies in San Diego County. Send us your nomination of a company you believe demonstrates the highest level of honesty, integrity, business practices and service to its industry and community. Nominations may be emailed to Rebeca Page at rebecapage@sandiegometro.com or Bob Page at bobpage@sandiegometro.com. The deadline is Nov. 16. Our Most Admired Companies report will be published in December.
—————————————————————————————————————————————————————————————
The Daily Business Report is produced by SD METRO.
Contact: Manny Cruz (619) 287-1865. manny@sandiegometro.com.
—————————————————————————————————————————————————————————————