Daily Business Report — Oct. 3, 2012

New Downtown Library Will Top Off Its Landmark Dome on Friday
The San Diego New Central Library on Friday will celebrate the topping out of the library's landmark dome. The event at 5 p.m. at 222 Park Blvd. in Downtown will include a raft of speakers: Mayor Jerry Sanders; City Council members Kevin Faulconer and Todd Gloria; Qualcomm co-founder Irwin Jacobs; Shawn Rosenberger, vice president and general manager of Turner Construction Co.; and design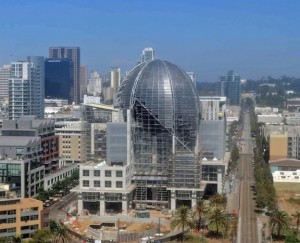 architect Rob Quigley, Tucker Sadler Architects. Turner Construction Co. is the contractor. The library features bay view terraces, roof gardens, a cafe, flexible meeting space, a 350-seat auditorium and a three-story reading room under the lattice dome.  The 294,673-square-foot, nine-story structure will include a 76,000-square-foot charter high school, six meeting rooms, 22 wifi-enabled study rooms, 407 computer stations, 1.25 million volumes, and more than twice the space of the former central library. (Photos courtesy of Turner Construction Co.)
Cruise Ships to Hog San Diego's
Waterfront on Thursday and Friday
Six cruise ships carrying a total of 13,500 passengers will be arriving in San Diego on Thursday and Friday, an economic boost for the region and no doubt a bit of congestion at the waterfront. Port officials said the visits are expected to generate about $8 million for the local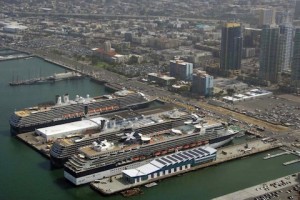 economy. Some of the ships will be restocking and refueling in San Diego. On Thursday, Holland America's Westerdam and Zuiderdam ships and Princess Cruise's Star Princess ship will be in port carrying a total of 6,300 passengers. In port the next day will be Celebrity Century, Princess Cruise's Sapphire Princess and Disney Wonder carrying a total of 7,200 passengers. Each ship is scheduled to arrive in port between 6:30 a.m. and 7:30 a.m. Passengers visiting for the day will begin disembarking about 8:30 a.m. or later. Traffic is expected to be heaviest in the mornings on North Harbor Drive as cruise passengers disembark and embark and trucks deliver supplies for stocking the cruise ships.
Democrats Hold Majority Registration in San Diego County
An upswing in Democratic voter registration makes the party the majority in San Diego County, the chairman of the county Democratic Party said Tuesday. Democrats had about 4,000 more registered voters than Republicans as of Sept. 30, according to the Registrar's office. Countywide, about 1.48 million people are eligible to vote. "While some states are making it harder to register and participate in this election, in California it's easier than ever for eligible voters to make their voices heard," said Jess Durfee, head of the local Democratic Party. Tony Krvaric, who leads the Republican Party in San Diego County, told City News Service he expects to see the voter rolls fluctuate and remain close, and believes the Democrats are benefiting from a paid registration effort. "At the end of the day, the key will be who shows up to the polls, and we are confident Republicans will outperform registration by a healthy margin, regardless of who ends up with the final advantage in county voter registration," Krvaric said. The GOP held a slight lead last month, its first in two years. (City News Service)
24 North County Times Newsroom
Employees Receive Layoff Notices
Twenty-four newsroom employees of the North County Times have been given 60 days layoff notices by the newspaper's new owner, Doug Manchester, owner of U-T San Diego. The layoffs include six city and community news reporters, an education reporter, three sports writers, a photographer, copy editors and the editor. Altogether, about 80 people will lose their jobs as U-T San Diego looks for efficiencies. Those who learned they will be let go include the circulation department, several advertising account representatives and senior managers. (City News Service)
Gemological Institute of America to Host
Jewelry Industry's Largest Recruiting Event
The Gemological Institute of America will host the jewelry industry's largest recruiting event on Friday when more than 25 recruiters from gem and jewelry companies look to hire hundreds of workers. The GIA Jewelry Career Fair will be held from 8 a.m. to 2:30 p.m. at GIA headquarters at 5345 Armada Drive in Carlsbad. Industry experts including GIA's president and CEO Donna Baker, Erica Courtney of Erica Courtney Inc., celebrity stylist George Blodwell, designer Martin Katz, Kathryn Ramirez, group director of Tiffany & Co., Discovery Channel  personality Jordan Tabach-Bank and more will speak about careers in jewelry, jewelry trends and job success in today's market. The event is free and open to the public.
San Diego Press Club to Present
Excellence in Journalism Awards
The San Diego Press Club's Excellence in Journalism Awards program will be staged Oct. 23 at the San Diego Hall of Champions in Balboa Park (5:30 to 9 p.m). Besides awards in 135 media categories, the club will present the Andy Mace Award for Outstanding Contributions in Public Relations to Barbara Metz, owner of Metz Public Relations, and the Harold Keen Award for Outstanding Contribution in Journalism to Hal Clement, retired anchor for KGTV/10. New this year will be two San Diego Press Club Directors Distinguished Service Awards to be presented to First Amendment attorney Guylyn Cummins, and the Southwestern College newspaper staff for persevering in exposing corruption within the school administration, in the face of great opposition and academic threats.
Governor Appoints 2 to San Diego County Fair Board
Adam Day, 43, of Alpine, the assistant tribal manager for the Sycuan Band of the Kumeyaay Nation, has been reappointed to the San Diego County Fair Board by Gov. Jerry Brown. Stephen Shewmaker, 62, of San Diego, president of Cubic Transportation Systems, received a first-time appointment to the Fair Board from the governor. Day has been assistant tribal manager for the Sycuan Band since 2002. Day serves as vice chairman of the San Diego County Planning Commission. The position does not require Senate confirmation and there is no compensation. Day is a Republican. Shewmaker was senior vice president at Thales Transportation Business from 2003 to 2006 and senior vice president of business development at Cubic Transportation Systems from 1982 to 2003. Shewmaker is a Democrat.
Publisher Douglas Manchester to Appear at SDSU
Doug Manchester, owner of U-T San Diego and the North County Times, will reflect on his real estate and publishing ventures during an Oct. 18 appearance at San Diego State University, his alma mater. His appearance, open to the public, is sponsored by the Corky McMillin Center for Real Estate in SDSU's College of Business Administration. The event is from 7:30 to 9:30 a.m. in the Parma Payne Goodall Alumni Center. General admission is $35; no charge for faculty and students.
---
The Daily Business Report is produced by SD METRO. Contact: Manny Cruz (619) 287-1865. manny@sandiegometro.com.
---