Daily Business Report — Oct. 30, 2012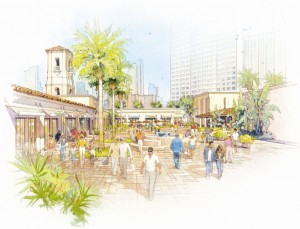 Old Police HQ Property Undergoing
$40 Million Renovation and Restoration
The old police headquarters building next to Seaport Village is undergoing a $40 million restoration and renovation to turn it into a shopping, dining and entertainment complex that will be called "The Headquarters." Terramar Retail Centers, which holds a 40-year lease with the Port of San Diego on the site, is conducting the renovation and said it will maintain the architectural style of the original building. Built in 1939, the property served as the headquarters for the San Diego Police Department until 1987. It is listed on the National Register of Historic Places. Architect David Marshall, president of Heritage Architecture & Planning, a San Diego firm specializing in historical preservation, assisted Terramar with identifying the historic building elements to be restored and reused. These include 27,500 roof tiles, large and ornate wood doors, ironwork, light fixtures, 20 skylights, windows, 15,000 square feet of historic courtyard pavers and many other design/building elements indicative of the period. The former cell block doors that led the way from the prisoner tunnel to the cells will be restored and used as part of an onsite museum that will recreate the old cell block. The renovation project will convert three existing buildings which make up the property into a collection of up to 30 shops and restaurants. The  main courtyard will feature fountains and colorful landscaping.
Construction is expected to be completed by October 2013. Architectural design is being overseen by Terramar vice presidents Alex Liftis and David Ristau, working  in conjunction with architectural firm Carrier Johnson.
Comic-Con to Stay in San Diego Through 2016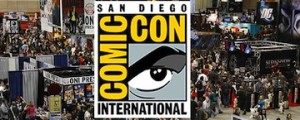 The wildly popular Comic-Con International convention, which attracts comic book and movie fans from around the world, will be held at the San Diego Convention Center through 2016, its operators and Mayor Jerry Sanders announced Monday. City officials and the organizers of the celebration of pop culture said they agreed to a one-year extension of their current contract. Details, such as room rates at area hotels, still need to be worked out, said David Glanzer, Comic-Con's director of marketing and communications. Comic-Con, the largest annual attraction in San Diego, draws nearly 130,000 attendees annually and has outgrown the convention center, which prompted tourism officials from other cities to tempt organizers of the show to move elsewhere a few years ago. In the last couple of years, the convention has spread into nearby hotels and parks. "This plan is working right now," Glanzer said. "If we can all continue to work together over the next few years, we should all be happy campers." City officials hope to start construction on an expansion of the center next year and have it open for business in 2016. (City News Service)
Scripps Ranch Office Building Sells for $10.4 Million
A 60,870-square-foot office building at 10150 Meanley Drive in Scripps Ranch has been purchased for $10.4 million by Double Black Diamond Properties LLC. The office property's second floor is currently leased to Paychex Inc., a publicly traded company specializing in payroll, human resources, and benefits outsourcing.  Paychex occupies 30,435 square feet of space in the building on a seven year lease. Voit Real Estate Services represented the buyer in the transaction. The seller, PV Meanley Drive LLC, was represented by CB Richard Ellis.
County Supervisors to Consider
Increasing Political Contribution Limits
The San Diego County Board of Supervisors is scheduled today to take up a proposal to do away with a $1,000 limit on the amount of money that political parties are allowed to contribute to candidates in county elections, City News Service reports. The proposal, if passed, would end the restriction on party contributions and increase the $500 donation limit for individuals, in step with the area's inflation rate. The board would schedule a public hearing, probably on Dec. 4, before giving final approval to the amendments to county campaign finance laws.
New La Jolla Brokerage Firm Formed
Charles Adolphe, a commercial real estate professional, announced the formation of Adolphe Commercial Real Estate, a brokerage agency. The firm is located at 5666 La Jolla Blvd., No. 15, in La Jolla. Adolphe said the firm specializes in all areas of commercial real estate brokerage with a focus on industrial and office properties throughout the county. The company serves real estate owners, buyers and tenants in the purchase or lease process. Adolphe most recently was a senior vice president with Grubb & Ellis.  Prior to that he was a director with Cushman & Wakefield and before that was a vice president with Burnham Real Estate.
San Diego Firm No. 1 in Renewable Chemicals and Biobased Materials
San Diego renewable chemicals developer Genomatica took the No. 1 spot "30 Hottest Companies in Renewable Chemicals and Biobased Materials" rankings for 2012-2013, according to Biofuels Digest at Advanced Biofuels Markets in San Francisco. The rankings, which recognize innovation and achievement in biobased chemicals and materials development, are based 45 percent on votes from invited international selectors, 45 percent on votes from subscribers of Biofuels Digest and Biobased Digest, and 10 percent on votes via Twitter.
---
The Daily Business Report is produced by SD METRO.
Contact: Manny Cruz (619) 287-1865. manny@sandiegometro.com.
---