Daily Business Report — Oct. 5, 2012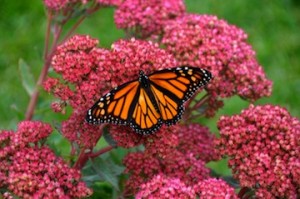 Flight of the Butterflies
Epic journey of the monarch butterfly and a scientist
"Flight of the Butterflies" — opening today at the Reuben H. Fleet Science Center — follows the epic journey of the iconic monarch butterfly in one of the most incredible migrations on earth and the equally epic quest of determined scientist Dr. Fred Urquhart, who spent 40 years trying to discover the mysteries surrounding their journey and secret winter hideaway. Based on a true story, the film immerses viewers in a journey of perseverance that spans thousands of miles and several generations. Audiences will join scientists in tracking monarch butterflies to their mysterious Mexican winter haven where they will discover a truly spectacular sight: hundreds of millions of live butterflies in one of the most amazing places on earth. The monarch butterfly is a true marvel of nature. Weighing less than a penny, it makes one of the longest migrations on earth across a continent, with pinpoint navigational accuracy, to a place it has never been. For information on the film, call  (619) 238-1233 or visit www.rhfleet.org.
2 UC San Diego Scientists Receive $1 Million
Grant for Pioneering Biological Research
UC San Diego professors Steve Dowdy and Yitzhak Tor have received a $1 million grant from the the W.M. Keck Foundation for pioneering biological research leading to the development of disease-fighting drugs. Dowdy, a professor in the department of cellular and molecular medicine, is collaborating with Tor, professor of chemistry and biochemistry, to develop a novel type of therapeutic platform that taps into the natural cellular process of RNA Interference and has the potential to target many of the undruggable disease genes involved in cancer, pandemic flu and Alzheirmer's disease, and many other genes. Dowdy and Tor were the first UC San Diego scientists to be awarded funding in the foundation's competitive Medical Research Program category for pioneering biological research, including the development of promising new technologies, instruction or methodologies.
Architectural Foundation to Present
2012 Orchids & Onions Awards
The San Diego Architectural Foundation will stage its 2012 Orchids & Onion Awards for architectural excellence and mediocrity on Oct. 11 at 6 p.m. at the Museum of Contemporary Art in La Jolla. The awards part of the program begins at 8:30 p.m. in the museum's Sherwood Auditorium. This year, 149 qualifying nominations were received, 134 for Orchids and 15 for Onions. Members of the 2012 selection jury are Robin Wilson Carrier, Robin Wilson Interior Design; Nathan Lee Colkitt, Colkitt & Co.; Catherine Herbst, Rinehart Herbst; Marcie Harris, Marcie Harris Landscape Architecture; Christopher Puzio, artist and designer ; and Gregory Strangman, LWP Group. Ticket prices range from $40 to $115. Visit www.orchidsandonions.org.
U.S. Green Chamber of Commerce
to Sponsor Business Trip to China
The U.S. Green Chamber of Commerce will hold an orientation meeting on Oct. 18 to present information on its first business trip to China next April. The meeting will be at 6 p.m. at the Procopio Attorneys Office, 12544 High Bluff Drive, Del Mar. The focus of the China trip is to foster collaboration and discussion between American and Chinese businesses on the state of renewable energy, the manufacturing sector and environmental practices. A delegation of over 100 businessmen and women from across the country will tour three major Chinese cities as ambassadors of the United States' sustainable business movement.
Higgs Fletcher & Mack Hire a Partner
Gregory F. Brucia has been hired as a new partner at the Higgs Fletcher & Mack law firm. Brucia has 16 years experience in securities and transactional corporate matters. While attending Hofstra University School of Law, Brucia was the Editor-in-Chief of the Hofstra Law Review and the recipient of the Hofstra Service to the School Award. Brucia started his legal career in the capital markets practice at the New York offices of the law firms of Shearman & Sterling and Baker & McKenzie.
---
The Daily Business Report is produced by SD METRO. Contact: Manny Cruz (619) 287-1865. manny@sandiegometro.com.
---