Daily Business Report — Nov. 16, 2012
County Unemployment Rate 8.6 in October
Nonfarm employment up by 8,900 jobs over the month
The unemployment rate in the San Diego County was 8.6 percent in October, up from a revised 8.5 percent in September and below the year-ago estimate of 9.8 percent, the state Employment Development Department reported today. This compares with an unadjusted unemployment rate of 9.8 percent for California and 7.5 percent for the nation during the same period.
Between September and October, total nonfarm employment increased from 1,252,700 to 1,261,600, a gain of 8,900 jobs. Agricultural employment decreased by 300 jobs, or 3.1 percent. Government reported the greatest month-over gain, adding 7,000 jobs. More than half of the job growth in this sector came from local government (up 4,200), primarily from a gain in local government education (up 4,000). State government added 2,800 jobs, while federal government remained unchanged.
Between October 2011 and October 2012, total nonfarm employment increased by 23,500 jobs, or 1.9 percent. Agricultural employment gained 100 jobs, or 1.1 percent. Professional and business services posted the greatest year-over gain, adding 8,100 jobs. Administrative and support and waste services (up 6,300) contributed to more than 75 percent of the job growth in this sector.
Nathan Fletcher Joining Qualcomm Inc.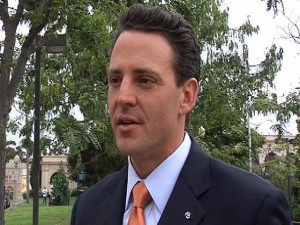 Failed mayoral candidate Nathan Fletcher  is casting his vote for a new career—with tech giant Qualcomm, CarlsbadPatch reports. In a Facebook posting Thursday morning, Assemblyman Fletcher announced that he will join Qualcomm as senior director of corporate development after his Sacramento term ends Dec. 2.  "I believe in the power of innovation to improve people's lives," Fletcher said. "Qualcomm brings innovation to people across the globe. They are a great community partner and provide good paying jobs for San Diegans. I am proud to join their team and look forward to helping advance these endeavors." Fletcher lost the June primary for San Diego mayor, which ultimately went to Rep. Bob Filner (D-San Diego). He was third with 24 percent of the vote, trailing Councilman Carl DeMaio and Filner. 

Fletcher, who represents portions of San Diego and Escondido as well as Poway, says he will help develop global strategies for advancing Qualcomm's mission in multiple areas, including wireless health initiatives, mobile education, and the protection of intellectual property. Fletcher's posting said he will not be involved in government relations or lobbying activities.
Tony Young Quitting City Council to Join Red Cross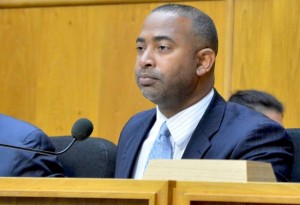 City Council President Tony Young is resigning to take a new position as CEO of the the American Red Cross San Diego-Imperial Counties chapter, he told Voice of San Diego Thursday. Rumors of Young's departure have been circulating for days. He confirmed the move in a phone call Thursday evening. "This is a great opportunity to continue to serve the residents of this region in a really special way and I'm really excited about that," Young said.
The city charter requires a special election in District 4 within 90 days of Young's departure. That will come at a cost, as 10 News noted Wednesday: The San Diego County Registrar of Voters estimates the cost for a district-only special election at $355,000 to $385,000. That could be trimmed, though, by about $100,000 if it were to be tied to the special election to replace Juan Vargas in the state Senate. Vargas has been elected to Congress. Jill Esterbrooks, Young's communications director, said the new Red Cross CEO would take over on Jan 1, 2013.
Though the city council is generally considered nonpartisan, Young's resignation will at least temporarily throw off the City Council's current political balance. With Young, Democrats hold a 5-4 majority and are more likely to help incoming Democratic Mayor Bob Filner usher in his new agenda. Without him, the council will be evenly split until the special election and there's a chance District 4 voters could pick a Republican to take Young's seat.
Young, a moderate Democrat, has served as council president since December 2010. That means he's largely dictated the council's agenda and discussions for nearly two years. The City Council must vote on a new leader in coming weeks. (Reported by Will Carless and Lisa Halverstadt, Voice of San Diego.)
Toy Maker to Pay $225,000 Consumer
Penalty for Deceptive a Young Girl
Horizon Group USA Inc., manufacturer of the "Disney Princess" jewelry making kits, has been ordered to pay $225,000 in costs and penalties for distributing deceptively packaged craft items in a consumer protection case in San Diego Superior Court brought by City Attorney Jan Goldsmith and District Attorney Bonnie Dumanis. The prosecutors alleged in the civil complaint that Horizon's "Disney Princess" jewelry making kits were packaged in containers that were constructed or filled as to "facilitate the perpetration of fraud, in violation of state consumer protection laws." The City Attorney's Office received a consumer complaint about the "Disney Princess" kits from the concerned mother of a young girl who had purchased a kit with money she had saved up. When the child opened the box containing items to make jewelry, she was disappointed to see that half of the package was empty. There was no way for the child to know there were empty
compartments in the kit because stickers on the outside of the package completely covered the empty compartments and all the visible compartments had items within.
Horizon cooperated with prosecutors and agreed to the judgment imposed by Superior Court Judge Judith Hayes without admitting wrongdoing. The judgment prohibits Horizon from committing similar violations in the future. "It's unfortunate that a company would market a product that misleads children," said Goldsmith.
Villa Real Apartment Homes Sold for $20.1 Million
TMG Carlsbad Apartments LLC has purchased the Vista Real Apartment Homes at 2701 Avenida de Anita in Carlsbad for $20.1 million. Douglas P. Wilson served in the capacity of receiver for the seller, Helix Associates, a limited partnership that owned and operated the community for more than 30 years. TMG Carlsbad Apartments is an entity formed by Triumph Management Co., a private real estate investment firm headquartered in Beverly Hills. Villa Real is a two-story, 15-building complex built in 1978 and has 163 one- and two-bedroom units, pool and spa, fitness center, tennis and racquetball courts, covered parking and on-site laundry facilities. The new owner intends a renovation program. Cushman & Wakefield brokered the sale.
Filner to Keep Public Safety Chiefs
Mayor-elect Bob Filner announced that he will keep Fire Chief Javier Mainar and Police Chief William Lansdowne in their current positions and vowed that the days of denigrating public servants in the city are over, KPBS reports. And one of his first acts will be to request the City Council take $22 million from San Diego's liability fund to pay for public safety upgrades. The money is part of a $27-million settlement paid to the city by SDG&E for damages related to the 2007 wildfire. Filner said this will help the departments restore services after years of budget cuts. Among the potential upgrades, $8 million would go toward a new police communications system and $9 million would go toward a new fire station.
Ocean Research Vessel Reuben Lasker to be a
New Tenant at the Crosby Street Pier Downtown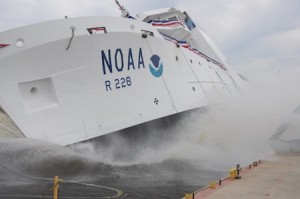 The Reuben Lasker, an ocean research vessel operated by the National Oceanic and Atmospheric Association, is going to be a new tenant at the Crosby Street Pier adjacent to the Tenth Avenue Marine Terminal. The Board of Port Commissioners on Tuesday approved a 10-year lease, with one five-year option, to the General Services Administration. The lease, which is to begin in September 2013, is anticipated to create about 24 new jobs and generate an estimated $27 million annually in direct and indirect economic contributions.
Women's Museum to Hold First Juried Show at Liberty Station
The Women's Museum of California will mount its first juried show at its new museum gallery space in Liberty Station this December. Titled "Capturing the Wonder of Women," the multi-media exhibition is the museum's first major show curated by Li Huai, UC San Diego Visual Arts faculty member and international artist. Art critic Robert Pincus will act as special guest juror. The opening reception with artists will be held Dec. 7 at 6 p.m. The public is invited and refreshments will be served. "This exhibition features a wide range of artistic works created by members of our complex and colorful community," said Curator Li Huai. The Women's Museum is located at Barracks 16, 2730 Historic Decatur Road.
---
The Daily Business Report is produced by SD METRO. Contact: Manny Cruz (619) 287-1865. manny@sandiegometro.com.
---