Daily Business Report — Dec. 10, 2012
Kilroy Realty Submits Scaled-Back Plans to City
For $650 Million Carmel Valley Development
Kilroy Realty Corp. has submitted revised plans to the city for One Paseo, a proposed $650 million mixed-use development planned for a 23-acre parcel bordered by Del Mar Heights Road and El Camino Real in Carmel Valley. The development, scaled down from an original proposal, would include 608 residential units, 471,000 square feet of corporate office space, 198,500 square feet of shops and restaurant space, a 48,000-square-foot cinema and 21,840 square feet for professional office space. Kilroy Realty said the timeline depends on how quickly the planning and approval process moves forward. It anticipates that when approved, One Paseo will start construction in late 2013 with initial openings in mid- to late 2015. The project will generate an estimated $630 million in direct new economic activity through $154 million in new permanent job wages from 1,590 permanent jobs and 3,800 construction jobs, according to the developer.
24-Story Downtown San Diego Office
Building at 600 B St. Sold for $49 Million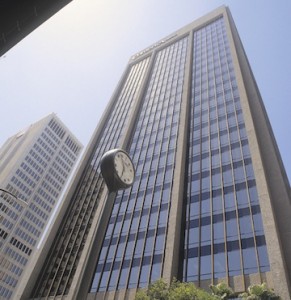 The Downtown San Diego high-rise building housing Bridgepoint Education, several law firms and some city of San Diego offices has been sold for $49 million to Lincoln Property Co. in a joint venture with Angelo, Gordon & Co. The 24-story office building at 600 B St., which is 85 percent occupied, was sold by Nomura CDO. "San Diego is a strategic growth market for our company, and the acquisition of 600 B Street is a tremendous opportunity to significantly increase our asset base in the region," said Brig Black, a senior vice president for Lincoln Property Co. He said the lobbies and common areas of the building were recently renovated and available office space has floor-to-ceiling glass and views of San Diego Bay and Balboa Park.
College Services Center opens at S.D. Miramar College
The new College Services Center at San Diego Miramar College that was financed by the Propositions S and N construction bond program has opened. The one-story building houses the campus' Facility Services Department and has office and conference space. Officials said the facility centralizes much-needed equipment and storage on campus. Joel Hermosillo of Gafcon Inc. was project manager for the construction. The facility was designed by architect gkkworks. C.W. Driver was the construction manager.
Single-Family Homes Selling for 17 Percent
More Than a Year Ago, Realtors Group Says
The most recent local housing statistics — released today by the Greater San Diego Association of Realtors — show median prices of resale properties continue to climb. The median price of single-family (detached) homes in San Diego County was $408,000 in November, up 2 percent from the previous month and 17 percent higher than November 2011. November resales of condos and townhomes (attached properties) were even stronger, up 6 percent from October and 27 percent higher than November 2011. Year to date, median prices of all existing properties are up 6 percent compared to 2011. The number of sales of existing homes drooped in November as inventory remains at historic lows. Single-family home sales were down 13 percent from the previous month, and condos/townhomes sales were down 5 percent. However, the number of resales rose compared to a year ago, and year to date they are up 12 percent compared to 2011.
Flux Power Stepping Into
Solar and Grid Storage Market
Escondido-based Flux Power, a fast-growing energy storage company, is moving more aggressively into the grid storage and solar market. The company announced a new partnership with Terra Steward, an energy independence and sustainable living product supplier. Terra will market Flux battery systems to home and business owners looking for more comprehensive solar installations that come with battery back up and energy storage options. "There is going to be huge demand from the solar industry," said Flux CEO Chris Anthony. As the industry grows, it's also evolving and events like Hurricane Sandy have alerted home and business owners to the virtues of energy storage systems paired with their distributed solar generation capacity. The smarter the system, the better, because it will increase flexibility and possibly enable system owners to island themselves so they can continue to have and use power even if the grid it out.
Law Professor: Federal Law to Get
Most Scrutiny in Gay Marriage Cases
The U.S. Supreme Court accepted two cases involving same-sex marriage Friday, one involving federal law and the other involving Proposition 8 in California. A San Diego law professor believes the federal Defense of Marriage Act is most likely to receive the bulk of the justices' scrutiny, City News Service reports. The justices took up the U.S. ban on same-sex marriage because it's a federal law that is applied unevenly across the country, Julie Greenberg, a professor at the Thomas Jefferson School of Law, told City News Service. The justices also agreed to an appeal regarding Proposition 8, the same-sex marriage ban approved by California voters in 2008. Greenberg said several lower courts around the country have declared the Defense of Marriage Act, also known as DOMA, unconstitutional, so it applies in some jurisdictions and not in others. DOMA defines marriage at a federal level, making it a critical case to decide, she said. "What was pretty certain was the Supreme Court would take the DOMA case," Greenberg said. "It was less certain they would take up Proposition 8."
---
The Daily Business Report is produced by SD METRO. Contact: Manny Cruz (619) 287-1865. manny@sandiegometro.com.
---